Volunteering in Crete
This page may contain affiliate links, see our disclaimer here.

---
There are many opportunities for you to get involved in volunteering in Crete, Greece.
Tips for your journey:

If you speak Greek, it is likely that you will be able to become involved in many informal ways in volunteer projects.
If you do not speak Greek you may consider a formal program which will give you an opportunity to serve, learn and explore Crete all at the same time.
Please note that as a volunteer, you will usually be responsible for arranging and paying for your own travel to the pickup or commencement point of a volunteer program.
On some programs, you need to pay for your food or board or both during your stay.

Some fancy programs are more like guided holidays and can be quite expensive.
A few suggestions are made below of organisations where you can find an organised volunteer program. Please contact the organisations directly.
---
Sea Turtle Conservation Projects
The Archelon Sea Turtle Protection Society is based in Athens and has been organising volunteer projects in different parts of Greece, including Crete, for many years. The Mediterranean turtles are some of the most endangered in the world.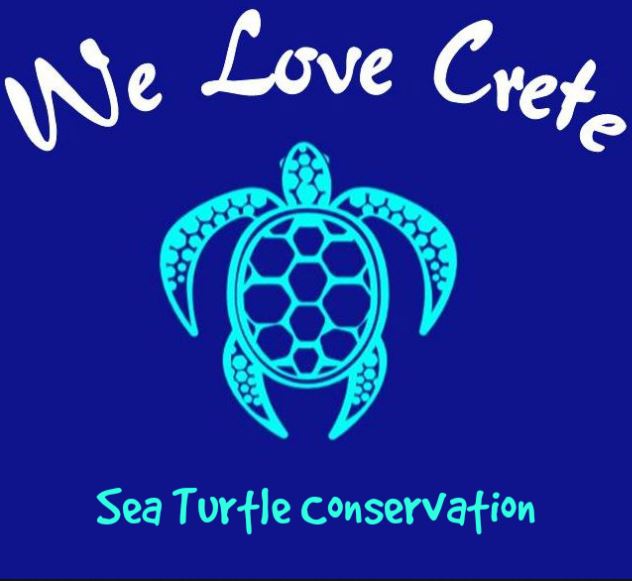 Sea Turtle Conservation is the chosen charity of the team here at  We Love Crete.
Sea turtles are endangered by human activities and development on beaches and need our help.
See how to get the bus to turtle projects near Matala Beach. Of course, you need to apply via Archelon's website first. Make a difference this summer, meet like-minded people, and get a lot out of volunteering in Crete.
---

Teaching English
You can teach English through Global Volunteers who organise summer holiday English conversational education for children in Gazi, to the west of Heraklion, in Crete.
---
Help The Donkeys

This is a chance to help donkeys who have suffered and the humans who care for them. In beautiful rural Crete, the stories of the donkeys and those helping them will warm your heart and make you want to 'walk with donkeys'.
Suzanne, Alistair and the donkeys can be found near the village of Anatoli in Lassithi, in eastern Crete.

This is a real experience of authentic Crete, yet is only minutes away from beautiful beaches and the cosmopolitan town of Agios Nikolaos. This is a small family-run operation and very grass roots (excuse the pun). Enjoy volunteering in Crete at this donkey retreat in eastern Crete.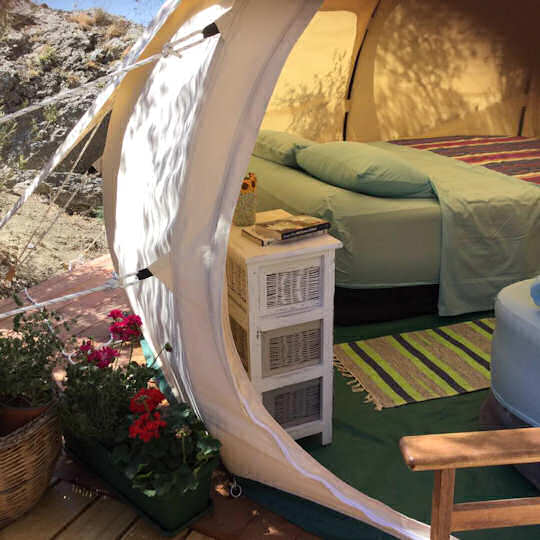 A good way to experience farm life in Crete and help support the work of the "Walk with Donkeys' team is to stay 'Glamping With Donkeys' at Agios Giorgos near Anatoli in eastern Crete, not far from Ierapetra town.
Dinner, delicious organic wine, and breakfast, teas and coffees and sanctuary visit included in price. The wild nature and fresh air is free.
Tents are available from April to October. Turn off your mobile phone, listen to the sounds of nature, just bring your comfortable walking shoes.

---
Volunteering in Crete
Helping Disadvantaged Kids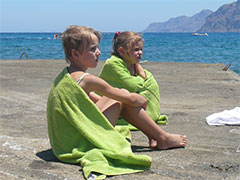 Many of us know how fulfilling and life-affirming a beach holiday can be. Sadly, some kids have never experienced this simple pleasure. Some have never seen the sea.
'Crete for Life' has been providing beach holidays for disadvantaged kids for many years, and opportunities for volunteering in Crete.
The results are just so heart-warming, and Olimpia and her team need lots of help to keep up this great work.
---
'Workaway' for a Local Family


Through Workaway you can find Irini and Vassilis or other families and make your own arrangements to live and work for a short time in Crete. You might help picking olives in November and December, and at other times of the year you might help with cleaning, gardening and other collaborative work with Irini and Vassilis. In exchange you have a wonderful local experience, not to mention Irini's wonderful cooking!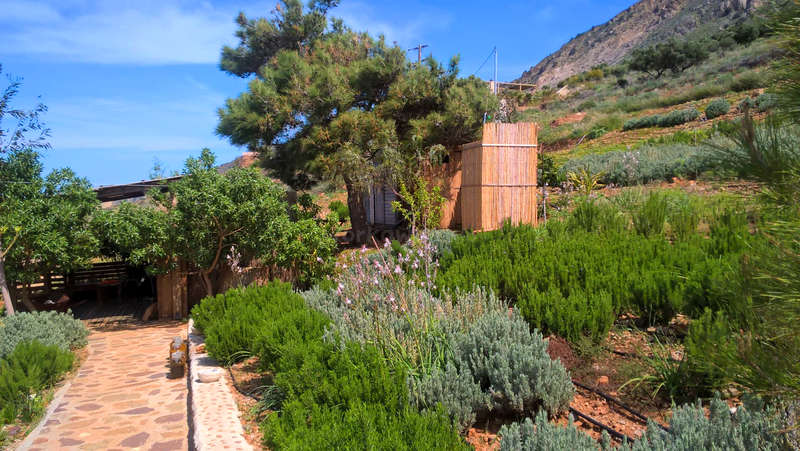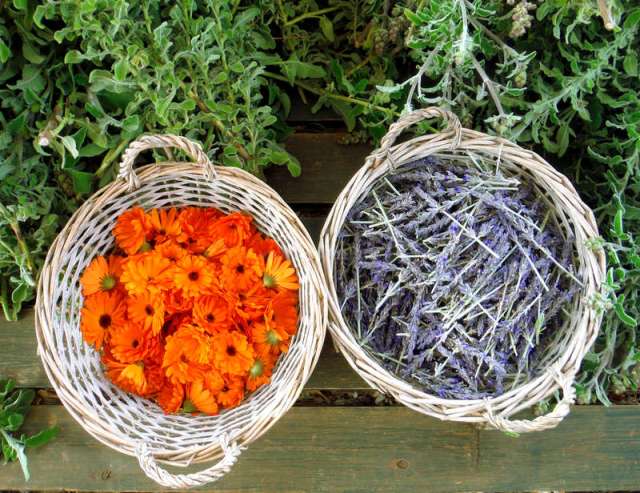 Through Workaway you can find Alex, Ari and Serena on their organic farm. The type of help they are looking for is:
Gardening
Building
Babysitting / child care
General maintenance
Cooking / shopping
Farmstay
Help with eco project
Help in the house
Language practice
Art projects
Teaching
Currently on the land are herbs, fig and pomegranate trees and there is a greenhouse now with tropical plants.
---
Volunteering in Crete - Nature Park Helper

Biotopoi (Biotopes) Nature Park in Crete
Volunteer at Botopoi Nature Park near Rethymnon in Crete. The Nature Park is a beautiful wild Cretan ecosystem with plants and the small animals of the island. This is a not-for-profit public activity based on volunteers from all over the world.
From April to October, guests are guided through the park, exploring and learning about the Cretan flora and fauna.
More information and apply here.

"We need helping hands mostly for gardening, watering, taking care of plants and animals, building, painting and cleaning common areas such as the kitchen and bathrooms. For the Cretan spring-and wintertime we prefer a handy man or woman!

In the experimental learning center, we have school excursions visiting, in the summer holiday program, starting in June, there are 40-50 kids (age of 5 -12), during the day."



---
Beach Clean Ups in Kissamos
Improve Water Quality
Kissamos Beach Cleanup - get involved with the local community in the west of Crete and help clean up the beaches. The removal of rubbish and plastic from our oceans, seas and beaches is a global concern. Pitch in while you are on holiday.
---
Go Abbey Road
American Student Trips
Explore Crete, Santorini and Naxos with Abbey Road - they specially design trips for high school students from America. Don't be just another tourist - travel smart. participate in various community service projects with local partners.
---
Do You Need Volunteers?

Volunteering in Crete - do you need volunteers for a project in Crete? Holiday makers are keen to give back to the communities in which they travel. Some visitors want a complete package and a summer program, but some are independent travellers who just want to work for a day or so. Contact us at We Love Crete, and we will assess your program for suitability for our web listings.
---
Getting to Crete

Take a 1 hour flight from Athens to Heraklion with Aegean Airlines or Olympic Air, with many flights available per day.
Or take a 9.5 hour overnight ferry from Pireaus port of Athens to Heraklion port.
More on flights and ferries below.
Car hire in Crete is a really good idea as it is a large island 60 km by 260 km. There is so much to explore.
When you book with our car rental partners - Rental Centre Crete - you are supporting a local company with excellent service and an easy online booking procedure. We are sure you will be well looked after by the team. Choose from hybrid or non-hybrid vehicles.
---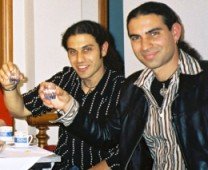 "We trust you have enjoyed these tips from the team at We Love Crete. Evíva!"
Contact us with further questions or feedback. We love to hear about your travels in Kríti and Greece. Let us know of any updates or additions, errors or omissions. Help us make this website the best it can be. Kaló Taxidí!

---