Volunteering in Crete
There are many opportunities for volunteering in Crete, Greece.
If you speak Greek, it is likely that you will be able to become involved in many informal ways in volunteer projects.
If you do not speak Greek you may consider a formal program which will give you an opportunity to serve, learn and explore Crete all at the same time.
A few suggestions are made below of organisations where you can find an organised volunteer program. Please contact the organisations directly.
Please note that as a volunteer, you will usually be responsible for arranging and paying for your own travel to the pickup or commencement point of a volunteer program. In addition, some programs need you to pay for your food or board or both during your stay. Some fancy programs are more like guided holidays and can be quite expensive.
---
Sea Turtle Conservation Projects

The Archelon Sea Turtle Protection Society is based in Athens and has been organising volunteer projects in different parts of Greece, including Crete, for many years. The Mediterranean turtles are some of the most endangered in the world.

www.archelon.gr



---

Teaching English

You can teach English through Global Volunteers who organise summer holiday English conversational education for children in Gazi, to the west of Heraklion, in Crete.



---
Help The Donkeys


This is a chance to help donkeys who have suffered and the humans who care for them. In beautiful rural Crete, the stories of the donkeys and those helping them will warm your heart and make you want to 'walk with donkeys'.

Suzanne, Alistair and the donkeys can be found near the village of Anatoli in Lassithi, in eastern Crete.

This is a real experience of authentic Crete, yet is only minutes away from beautiful beaches and the cosmopolitan town of Agios Nikolaos. This is a small family-run operation and very grass roots (excuse the pun). They can organise accommodation in a nearby village.
---
Archaeological Fieldwork - Volunteers

Participate in a dig at Azoria near Kavousi in Crete during 2017

The American School of Classical Studies in Athens runs this program in partnership with the Greek Ministry of Culture and many others.

Azoria Project - Archaeological Dig 2017



---
Volunteering in Crete
Helping Disadvantaged Kids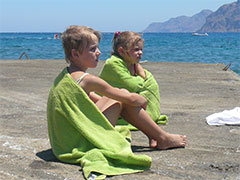 Many of us know how fulfilling and life-affirming a beach holiday can be. Sadly, some kids have never experienced this simple pleasure. Some have never seen the sea.
'Crete for Life' has been providing beach holidays for disadvantaged kids for many years, and opportunities for volunteering in Crete.
The results are just so heart-warming, and Olimpia and her team need lots of help to keep up this great work.
---