Travel Greek Islands
Trip Planning
This page may contain affiliate links, see our disclaimer here.

---
Travel Greek Islands of Santorini & Crete - suggestions about accommodation in Greece...
We answer your travel questions...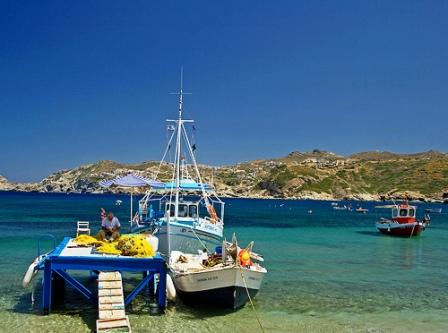 ---
Crete & Santorini

Hi, your website is great and I loved reading your itinerary suggestions for other travellers.

My husband and I will be spending 5 days on Santorini (19-24 May) and 10 days on Crete (24 May-3 June). I would love to hear your suggestions.

Regarding Santorini, would you recommend that we stay in two different villages across the 5 days or is one place enough? We love the sound of Oia but the lodging is pricey. Any suggestions? What do you think of the village of Imerovigli?

After reading about Crete we decided to devote 10 days to the island but I still don't think it will be enough time. Here's our thoughts on an itinerary:

Land in Heraklion by ferry from Santorini and spend 3 nights in Agia Pelagia. From there we would explore the Palace of Knossos, scuba dive for a day, enjoy the beach or explore the Amari valley.

Then 1-2 nights in Rethymnon. We'd like to do a daily walk with Happy Walker.

Then perhaps 2 nights in Sougia as a base to hike the Samaria Gorge. We then thought of 2 nights in Paleohora with a day trip to Elafonisi. Could we take the ferry from Sougia instead? Is there a better base than Sougia for doing the gorge?

We then thought we'd spend two nights in Chania before flying from the Chania airport. I think we will stay in the old part of the town and I read about the area around Vamos which sounds interesting to explore.

It's hard to give up going to the eastern part of the island near Agios Nikolaos and I'm also drawn to the villages near Plakias.

Any suggestions on an itinerary and lodging (4 star)?

Also, if we could scuba dive in only one island, would you choose Crete or Santorini and from which location?

Thanks for your ideas!

Maggie, USA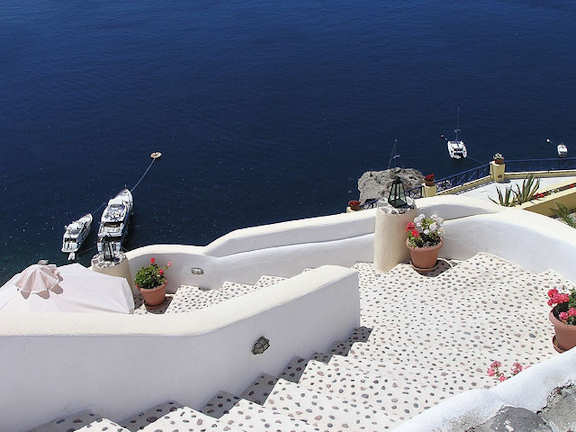 ---
Travel Greek Islands
Crete & Santorini



Dear Maggie, we have offered some suggestions below. You already have a really clear idea of what you want to see, and a very exciting yet doable itinerary. We have not put a day by day itinerary but have restated your accommodation dates below.

Santorini - Travel Greek Islands
Imerovigli is wonderful, it has some of the best views on the island and is quiet. It is best to get a transfer from the airport – it is only 15 minutes. We recommend Uranos Houses because they are traditional, small, have terrific views and great service. Ensure to ask for a house close to the edge of the caldera. This is four star rated with reasonable mid-range price per night per studio.
Uranos Houses Santorini

A cheaper option in Imerovigli is the Prekas self-catering apartments which are also very nice and for your dates a cheaper price per night per apartment.
Prekas Apartments Santorini

The other village to think about staying in Santorini is Megalohori and the beautiful Vendema Resort, however this is a five star hotel.
Vedema Resort Santorini

Airport Transfer
For getting from Heraklion Airport to Agia Pelagia we recommend Crete Cab, a one way transfer is €41.00, see the booking page here:
Crete Cab

Agia Pelagia - Travel Greek Islands
Agia Pelagia is one of our favourite beaches in Crete and we trust you won't be disappointed. The water is so clear and beautiful. The best place to stay there is the Out of the Blue Resort which has such privacy and greenery on the point. This is a five star resort with a good price for your dates per bungalow per night.
Out of the Blue Resort, Agia Pelagia

The cheaper option would be Andy's Plaza which is nothing remarkable but clean and close to the water with only a short walk. The main thing about Agia Pelagia is that it gets very steep very quickly and a lot of the hotels are a horrible walk away from the water, which many poor people do not realise when booking. Andy's Plaza would be much cheaper per studio per night for your dates.
Andy's Plaza

Knossos
A Day tour to Knossos from Agia Pelagia is very easy as it is only 25 kms away, and you can be picked up from your hotel. Knossos tour info here...

Rethymnon Hotel - Travel Greek Islands
Yes if you stay in Rethymnon you can choose from a different daily walk with Happy Walkers each day of the week for €30. In Rethymnon you must stay within the walls of the old town and we highly recommend the four star Veneto for your dates.
Veneto Boutique Hotel, Rethymnon

Samaria
Sougia is a good base after walking the Samaria. With your itinerary, what you would do is get a bus from Rethymnon to the start of the Samaria walk, walk the gorge and arrive at the southern coastal village of Agia Roumeli, then take the afternoon ferry to Sougia. Then you could stay two nights in Sougia. Contact Alex at Tourline to arrange a transfer from Rethymnon to the start of the Samaria walk which is at Omalos Plateau.

Sougia
Sougia is a very small village and accommodation is simple, also it is best to book well ahead of time due to small availability. The Lotos Hotel is right on the beach, a simple clean lovely Greek place.
Hotels Chania - see below

Paleohora - Crete Hotel
Paleohora is a bigger village but a lovely one and a perfect spot to take a day tour to Elafonisi. Double check that you can do this day trip in May – www.paleochora-holidays.com/selino-travel.htm - we recommend Aris Hotel. Another option is the Zafiri hotel which has reasonable rates. Aris Hotel, Paleohora

Chania - Travel Greek Islands
One of our favourite towns in Crete, so atmospheric and charming, and we of course recommend you stay in the old town. Our pick is the exquisite Casa Delfino which is four star and for your dates would be available.  Casa Delfino, Chania

Airport Transfer
For getting from Chania to Chania Airport we recommend Taxi Reservations, a one way transfer is €35.00, see the booking page Crete Taxi Reservations

Scuba Diving
Maggie, sorry but we cannot comment on Santorini scuba diving but we can say that the dive team operating out of Agia Pelagia is really good and the waters there are generally very very good and clear, with a good variety of underwater life to see. They depart from the beach of the Out of the Blue Resort. See the following page: Agia Pelagia

Your dates for Travel Greek Islands
Santorini (19-23 May)
Agia Pelagia 3 nights (24-26 May)
Rethymnon 2 nights (27-28 May)
Sougia 2 nights (29-30 May)
Paleohora 2 nights (31 May - 1 June)
Chania 2 nights (2-3 June)

See more about ferries in the south of Crete...
---
Travel Greek Islands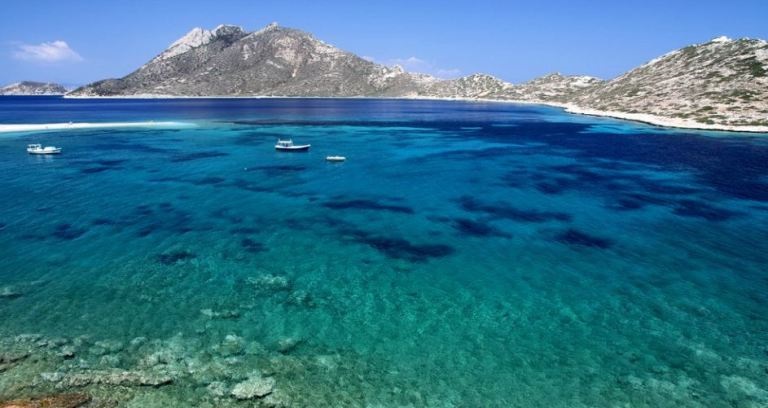 Agios Pavlos Beach with Nikouria Island in the background - Amorgos Greece