Looking for a Small Studio in Crete Village
by Eliz
(U.K.)
I am in my mid-seventies, and would like to spend 3 to 4 weeks in Crete.

I am looking for a small studio flat in Margarites Village, Rethymnon or a similar village.

I do not drive, therefore, would have to depend on buses.

Do you have any suggestions as to who to contact in this regard?


Lovely Homes in Small Villages
Hi Eliz,
It sounds like you have a wonderful visit to Crete planned. There is nothing like living in a village to really get to know the area and the people. Margarites is a beautiful village with lots going on and close to Rethymnon town, just 25 km. Yes, you can take the bus there very easily.
Village House – Margarites Village
We suggest you contact Rosette who owns a small home in the village. Here it is on the internet with a few pictures and some very good reviews, this is a two bedroom home which actually sleeps 5 people, so it might be a bit too big for your needs. I am sure you could ask Rosette for a special price for your long stay.
Village House – Margarites
Eva's House – Margarites Village
You could also contact Kostas who has a lovely traditional house named "Eva's House" in the village of Margarites. He rents it out through Airbnb:
Details about Eva's House
, this lovely home sleeps 5, however you could ask for a special price too.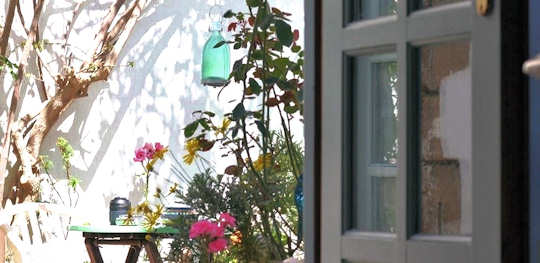 Charming Room – Pigi Village
In the village of Pigi, is a smaller and cheaper place which loads of charm, which might suit you better. Contact Kezia to ask about this room:
Charming Room in Pigi
. Pigi is closer to Rethymnon, just 10 km, and closer to the beach, just 3 km, and only 21 km from Margarites village.
Buses
Here are the
bus timetables for Rethymnon to Margarites and return
. There are two buses a day each way, but not on Saturdays and Sundays. The trip takes about 40 minutes and costs €3.50.
Rethymnon to Margarites
06.30 13.00
Margarites to Rethymnon
07.00 14.00
There are regular buses from Rethymnon to Pigi – take the bus for 'Kyrianna' – timetable below
Rethymnon to Kyrianna Daily
06:30 08:00 09:15 10:30 11:45
13:00 14:15 16:45 18:00 19:15
20:30 21:45 23:00
Kyrianna - Rethymnon Daily
07:00 08:45 10:00 11:15 12:30
13:45 15:00 16:15 17:30 18:45
20:00 21:15 22:30 23:30
More Info
Here are our pages which might interest you and help with this visit
Rethymnon Town
Margarites Village
Kalo Taxidi! Bon Voyage!