Historical Museum of Crete

This page may contain affiliate links, see our disclaimer here.

---

The Historical Museum of Crete
27 Sofokli Venizelou Avenue, Heraklion
The exhibitions of this museum show the history of Crete from 330 AD to the end of WWII.
This collection is housed in a beautifully restored three storey neoclassical mansion near the seaside in downtown Heraklion, the capital of Crete. The museum is in easy walking distance from the pedestrian central streets, and from the Liondaria Square. The building itself has been declared a Historical Building and a Work of Art.
Museum collections include:
---
Visit the Museum by Bus

Herakion Hop On Hop Off Bus
This is a relaxing way to see Heraklion and get your bearings around the city.

The bus visits:
More tips for visiting the Historical Museum of Crete.
Enjoy the interactive media exhibitions
Audio guides are available in English

If you are not a history buff, allow 1 hour for the visit
At the shop and bookstore, right next to the entrance, are a range of books published by the Society of Cretan Historical Studies, and other books on Cretan history and culture
Take a break at the cafe at the museum
Or pop across the road to Cafe Mare near the seaside
This is a very active museum which is part of the cultural life of Crete, do not be surprised to find a current exhibition at the time of your visit
Check opening hours on their website before you set out, as holidays and opening times may change

---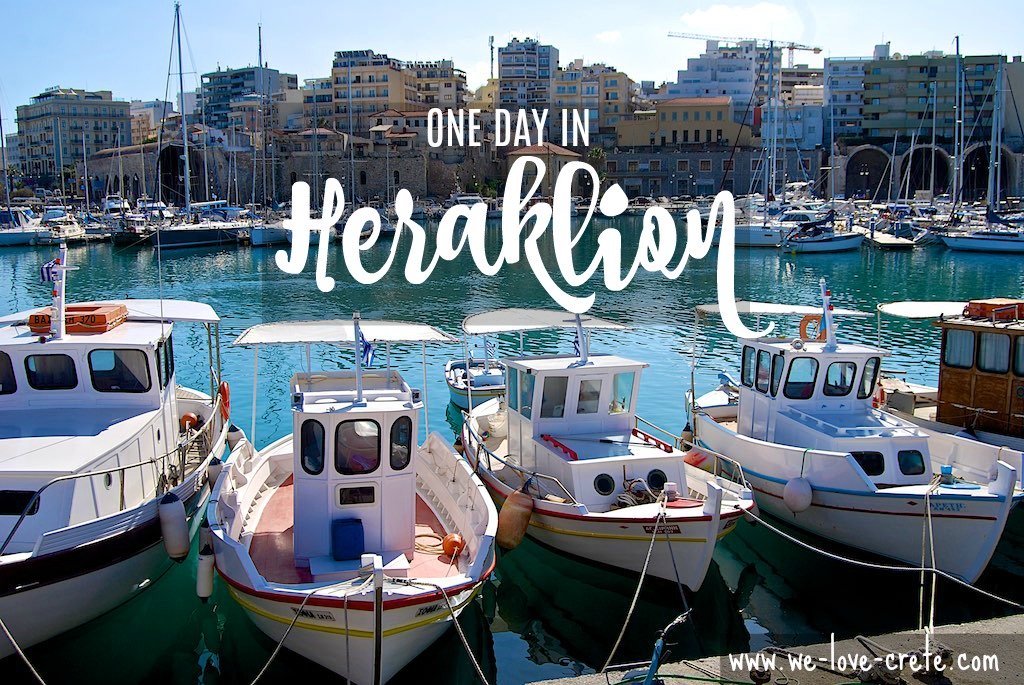 Independent Walking Tour of Heraklion

When you make your independent walking tour around Heraklion, you will want to visit the following fascinating spots:
Knossos Palace
Archaeological Museum of Crete
Natural History Museum of Crete
Historical Museum of Crete
Liondaria Square
25th of August Street
Koraii Cafe Quarter
1866 Markets
Old Harbour and Venetian Arsenal
Koules Venetian Fortress
Agios Titos Church
Kournaros Square
---
Walking Notes
Day 1 in Heraklion

Needless to say,it is imperative to see Knossos Palace as a priority, which is 5 km out of town, and the Archaeological Museum. Visiting these two fascinating locations, as well as enjoying lunch and dinner will make a very full day on your first day.
Knossos Palace - get there early and allow 3 hours

Lunch at Plani or O Magos

Archaeological Museum - allow 2 hours if you are not a history buff
Enjoy great shopping along the pedestrian streets - especially Dedalou Street

Dinner at Efta Baltades or Veneto

Evening drinks in the Koraii cafe bar quarter
Day 2 in Heraklion

We help with some suggestions below for your independent walking tour around Heraklion.
Start early with breakfast of bougatsa at Liondaria Square, see the Morosini Venetian Fountain

Walk down 25th August Street, see the Venetian Loggia and neoclassical architecture

See beautiful Agios Titos Church and Square
Follow 25 August Street down to the water, see the Old Harbour and visit Koules Venetian Fortress
Then continue west along the seafront, along Venizelou Avenue, until you come to the Historical Museum of Crete
Allow 1 hour for the exhibitions if you are not a history buff
Have a coffee break at the museum cafe or by the sea at Mare cafe-bar
Continue on to the Natural History Museum of Crete (especially good for kids), also on Venizelou Avenue by the sea, allow 2 hours for the visit

Enjoy a lunch break at the museum or at Mare cafe-bar

Then walk back to Liondaria along Chandakos Street, enjoying its many interesting shopping and displays, it is a little out of the way and not a busy or famous shopping street, but no less interesting
From the Liondaria walk up 1866 Street to enjoy the street markets
At the end of the markets you will arrive at Kournaros Square where you can enjoy a relaxing coffee in the shade, see the old Turkish coffee house and the Bembo Fountain.
In the evening relax in the Koraii cafe bar quarter for cocktails, dinner, drinks and coffees, perhaps a game of backgammon known as tavli
We suggest a unique Cretan dinner at Peskesi

More about Heraklion here
More about the Heraklion Region here
---
Historical Museum of Crete
Accommodation Tips
Kings Blue - Port View Apartment - located very close to both the Old Harbour and the Historical Museum of Crete, this makes a comfortable and central place to stay in the town of Heraklion. 350 metres to the museum.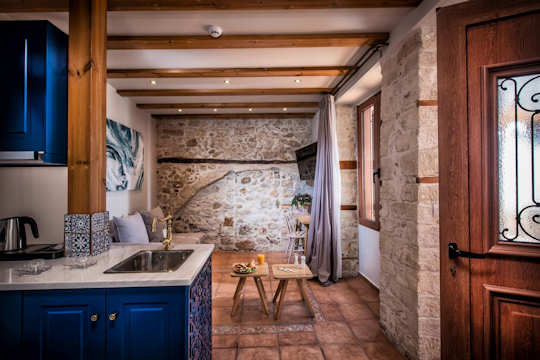 The Veneziano Boutique Hotel is a beautifully renovated noble home is tucked in a side street yet very central to the walking and shopping streets of central Heraklion. Enjoy a little bit of history and a whole lot of style here in this exquisite hotel. Only 650 metre walk to the museum.


Mirabello is a budget hotel set a few streets back from the Liondaria, in an easy central location. This hotel is family run with only 25 rooms and represents good value. Located only 280 metres from the Historical Mueum of Crete.

---
Video
Below is a video of the Historical Museum of Heraklion:
---
Getting Here
The Heraklion International Airport is 5 km from the city centre. Regular flights arrive from Athens, Greece and many European cities.
Local buses depart every 20 minutes or so from the airport to the city centre.
Taxis are available - prebook here with Crete Cab to minimise fuss - the journey to the city centre takes around 10 minutes.

Take a 1 hour flight from Athens to Heraklion with Aegean Airlines or Olympic Air, with many flights available per day.
Or take a 9.5 hour overnight ferry from Pireaus port of Athens to Heraklion port.
More on flights and ferries below.
When you book with our car rental partners - Rental Centre Crete - you are supporting a local company with excellent service and an easy online booking procedure. We are sure you will be well looked after by Harry and his team. Choose from hybrid or non-hybrid vehicles.
---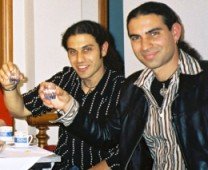 "We trust you have enjoyed these tips from the team at We Love Crete. Evíva!"
Contact us with further questions or feedback. We love to hear about your travels in Kríti and Greece. Let us know of any updates or additions, errors or omissions. Help us make this website the best it can be. Kaló Taxidí!

---
Historical Museum of Crete