Crete News
Up to date News from Crete, Greece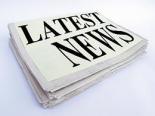 Crete News comes from YOU, the online world and the press.
Newspapers
Kathimerini is a major Greek newspaper published in both Greek and English, other dailies are Ta Nea, To Vima and Athens News.
Find local news on Chania Post, Chaniotika Nea, Patris and Mesogios daily news, also Apokoronas News and Kissamos News.

Living In Crete, Interkriti and Sfakia Crete each have an online forum for participation and news online.

Do YOU Have A News Story
About Crete in Greece?
Do you have a great news story about Crete? Something you want people to know about? Share it!
---




Online Newspapers
Newspapers with online sections include eKathimerini in English, and Ta Nea, To Vima, and Athens News.




See the latest news from eKathimerini below:

---
Crete News 

Other sources of news and information in English about Crete include websites from Interkriti, Living in Crete and blogs such as Brits in Crete and West Crete.

Crete is divided into four prefectures or provinces, from west to east they are Chania, Rethymnon, Heraklion and Lasithi. Each municipal government has a website, often with large sections in English. Each smaller local government area or dimos also has a website with local information, these are also good sources for Crete news.
Dimos of Chania - in the west of Crete
Dimos of Rethymnon - in the central west
Dimos of Heraklion - the centre of the island
Dimos of Agios Nikolaos - in the east of Kriti
---
Summer Festival Programs
Each local government area will create dynamic programs for their summer festival and place information and programs on their respective websites. From June to September there are exquisite options to choose from all over the island, from musical concerts of all flavours, to art exhibitions, street theatre and plays, beach concerts, to concerts in the old forts with the atmosphere of summer seeping into the performances.
In addition, many other festivals occur throughout the year, such as Carnival in February, the wine festival, food festival and sporting events.
2017 Summer Festival Heraklion - Progam of Events
2017 Summer Festival Rethymnon - Program of Events


---
More News and Info...
See our facts page for more information about geography, currency, weights and measures, declared holidays, opening hours, hospitals, main towns and more...

See still more info on our Crete info page, with interesting facets of life on Crete...
More information and news regarding different regions of Crete are here also on our more Crete info page...
Also for daily news and articles go to our blog page or our Facebook page...
Please tell us YOUR news...