Crete Cafes
This page may contain affiliate links, see our disclaimer here.

---
Crete Cafes in Heraklion, Agios Nikolaos and beachside locations on the island...
Crete has a fabulous café life, aside from the bars, restaurants and tavernas, locals and visitors alike enjoy its modern, funky cafes.
Whether you enjoy frenzied, fun gatherings where everyone is crammed within one inch of each other, or enjoy tranquil relaxing afternoons playing tavli or backgammon with your friends, you can find great Italian coffee, of any size or shape your heart desires.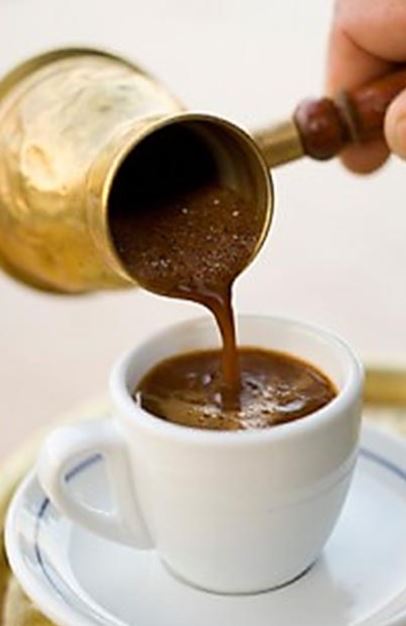 Greek coffee being poured from a briki or μπρίκι
Let's go for a coffee!
Πάμε για καφέ!
Don't forget to try a Greek coffee or έναν ελληνικό καφέ, this strong finely-ground style of coffee is still available everywhere, especially in the kafenions where it is standard and where no shiny Italian coffee machine would dare to set foot.
The Greek coffee is similar to the Turkish coffee, made of very finely-grounded roasted coffee beans and it has a very strong taste. Greek coffee is roasted to a slighter blend and when cooked, and unlike Turkish coffee, taken off the heat before it has reached the boiling point leaving a creamy kamaki, the Greek equivalent of crema.
It is prepared in a specific small one-handled pot made of aluminum or copper, which is called a briki or μπρίκι.
---
Near the Liondaria in Heraklion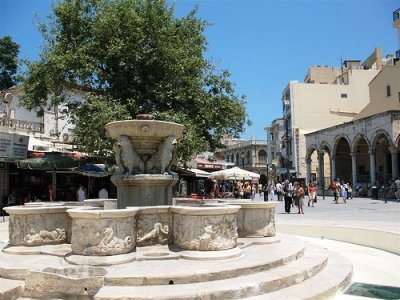 Chances are, when you are in Heraklion, that you will visit or meet friends at the Liondaria. This Venetian fountain is the hub of the town, and very popular with tourists. The little plateia around the fountain gets very full, and all the cafés around it too.
There are some lovely big trees and cooling shade; one of our favourite cafés is just a step behind all the madness, down a little laneway called Katanoléon.
News Café Bistro is on the corner of Kantanoleon &, Minotavrou Street, Heraklion, opposite Theotokopoulos Park.

The shopping here is excellent; within the journey from the Liondaria to News Café you will find your SIM card, exotic jewellery, haute couture, stunning home wares, a wonderful bookshop and a fine bakery. Just next door is the Greek telephone office OTE and also another of our favourite shopping streets, Chandakos.
---
Crete Cafes – Veneto Café in Heraklion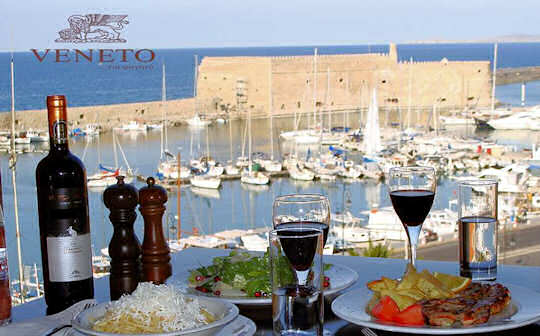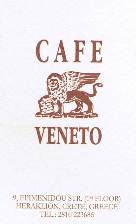 Sitting up above the old Venetian harbour, from this cafe bar you can see the small brightly coloured fishing boats, their nets in large piles on the dockside, yachts from all around the world sliding noiselessly in and out of the harbour, and gaze across the waters to the rough stones of the Venetian fortress ''Castello del Molo", from the 16th Century.
Inside, the long bar and high ceilings lend an aristocratic air to the cafe. The location just around the corner from both Korai and 25th August Street is handy to other cafes and restaurants.
We love relaxing at night on the open air terrace of the Veneto Café on 9 Epimenidou Street, watching the twinkling lights of the harbour below.
---
Crete Cafes – Parko 240 in Heraklion
In the heart of Koraii, an area of pedestrian streets and narrow alleys in the centre of Heraklion, is the expansive outdoor cafe bar Parko 240, taking up a large corner, surrounded by other cafes and bars, at times oozing crowds and an eclectic mix of rhythms, at other times quiet, slumbering through siesta or the morning hours.
Koraii, where the young and old of Heraklion gather to talk, party, drink, take coffee or while away the hours playing backgammon, known as tavli.
Crete cafes don't get much better than this. If you only have time for one bar in Heraklion for a quick drink and a sample of the buzz, this would be the hotspot.
Koraii is the part of Heraklion that visitors often miss, so ensure you follow the pedestrian streets from Dedalou and explore the laneways. You will find organic restaurants, internet cafes, a real Italian trattoria, and bars of every shape and style.
In the evenings, the crowds spill out onto the sidewalks, the faces are mixed, students, fashionable couples, lawyers, sons and daughters of olive farmers, and the unusual sight of a Norwegian traveller in teva sandles.
Milatou and Idaiou Streets, Heraklion
---
Dish Bar - Agios Titos Square, Heraklion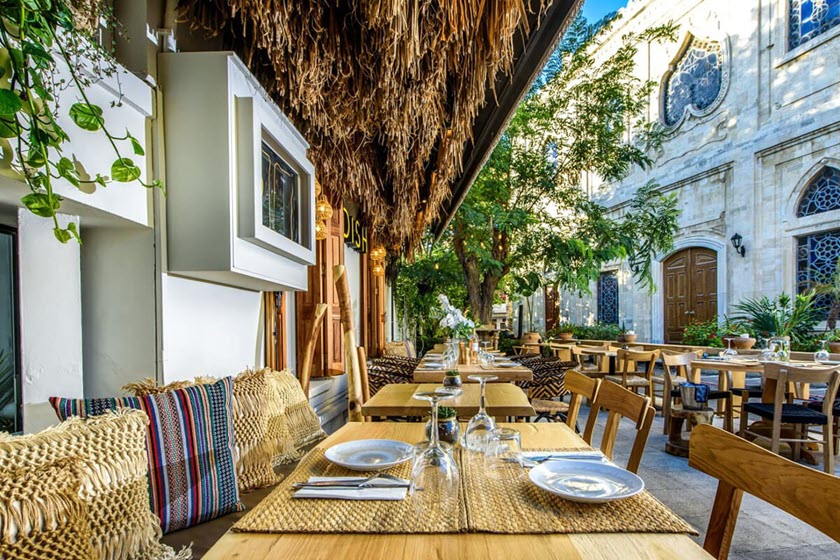 Dish Bar

Dish Bar is a night-time café bar pub in an atmospheric setting at 3 Papagiamali on Agios Titos Square. Great vibe, good food, good service, characteristic setting, very stylish. This is our pick for after dinner drinks. 
---
Marina Cafe - Heraklion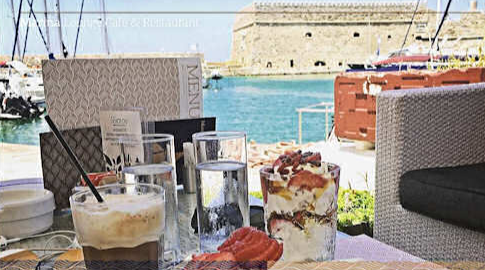 Marina Cafe

Marina Café in the old harbour of Heraklion is our first port of call (excuse the pun) for coffee with new visitors to the city. This allows a very relaxing way of seeing the old port and absorbing the essential maritime feel of the town. Position, position, position and good coffee before tackling the walk around the harbour to the Castello del Molo. Its a hard life but someone has to do it. 
---
Almyra Bar Cafe - Agia Pelagia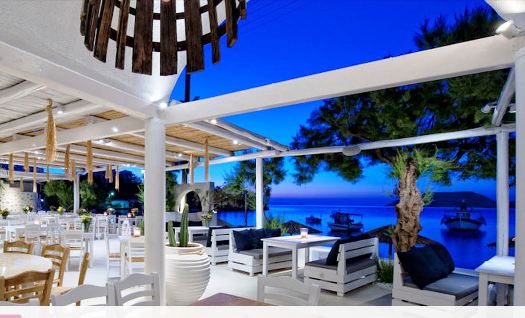 Just 23 km west of Heraklion in the seaside village of Agia Pelagia is this hot spot right next to the Med, bar, cafe, seafood restaurant and boutique of Almyra. Just gaze out over the water after a day of swimming in the clear waters here, sit under the tamarisk trees and watch the moon set into the horizon. One of the most romantic places in Crete. We won't say more :)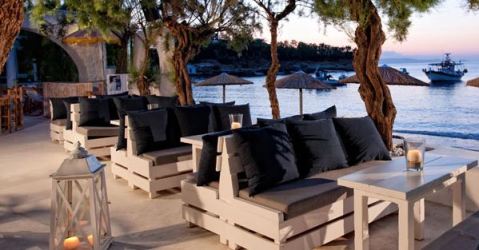 Almyra Seafood and Cocktails - the essence of the Mediterranean
---
Raki Ba Raki
Rethymnon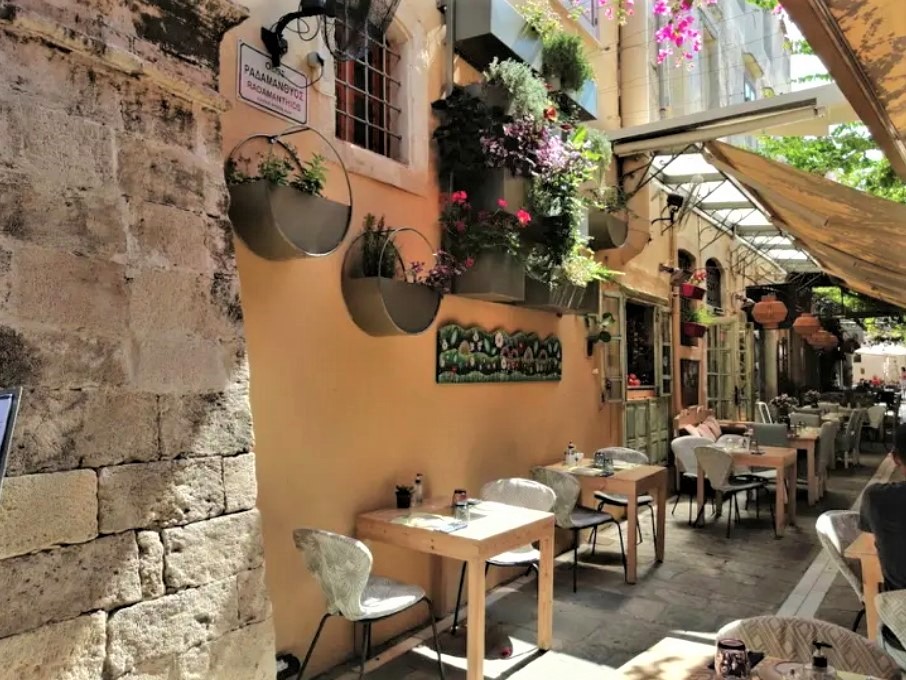 Find yourself a spot to sit in the narrow lane ways of the old town of Rethymnon. Choose 1600 Raki Ba Raki, an exquisite melding of a kafenion and a rakadiko, with modern twists offered by the gastronomic masters of Avli.

This is a place to have your coffee, a drink, a raki or a meze. More importantly it is a place to sit awhile, contemplate, chat, relax, discuss and possibly even argue, with humour, and solve the important problems of the day.
Xanthoudidou 22 & Radamanthios, Rethymnon Old Town.
---
Gioma Meze Bar
Agios Nikolaos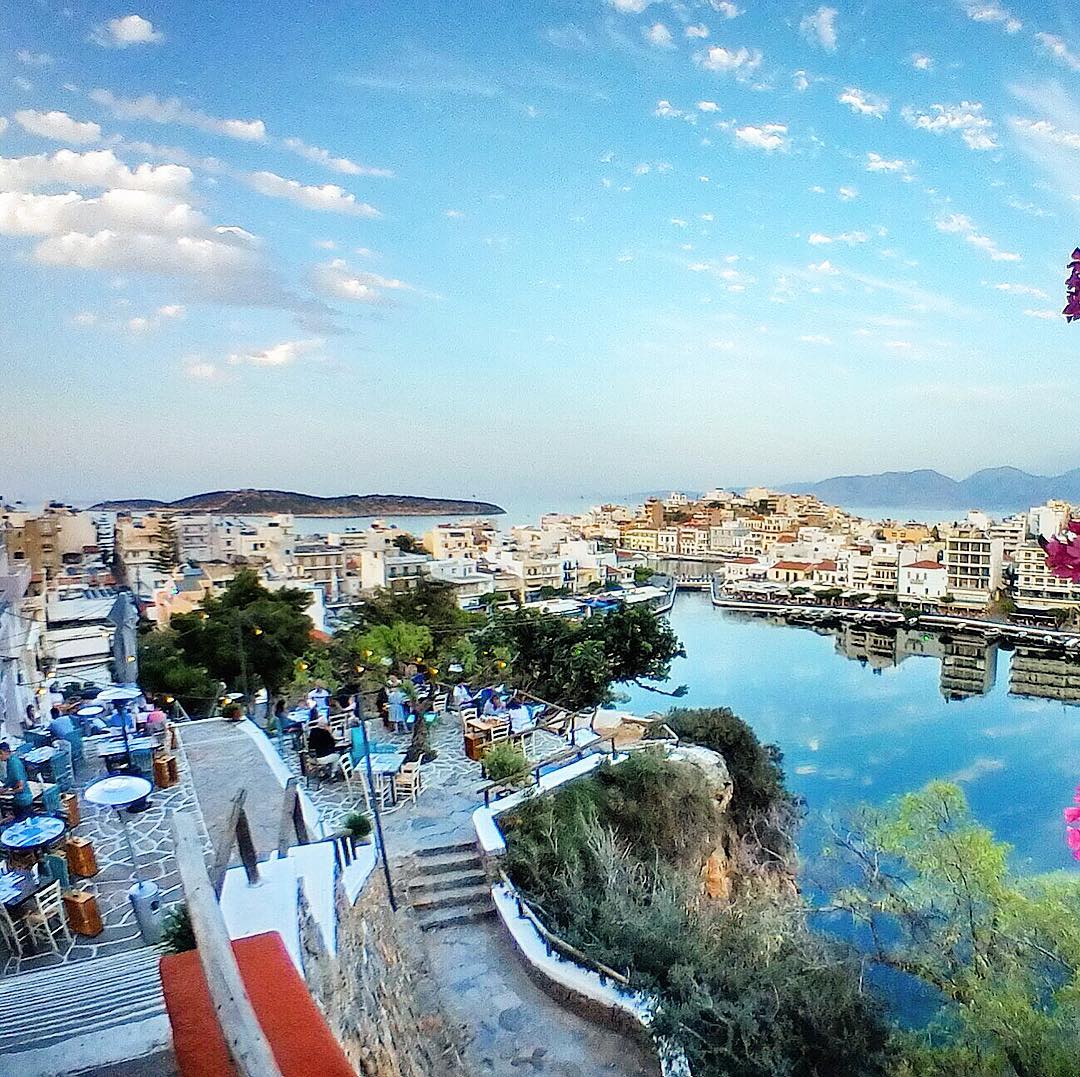 Gioma Meze Bar is a popular spot high above lake Voulismeni. This restaurant has snuck into our cafe page because it is just such a fantastic view for a drink at any time of the afternoon. Open from 12 noon to 12 midnight, you will find fantastic service here. Take the time to enjoy the view of Agios Nikolaos, the lake and the sea, all the way across Mirabello Bay.
12 Dionisiou Solomo, Agios Nikolaos
---
Crete Cafes –
Cafe du Lac
Agios Nikolaos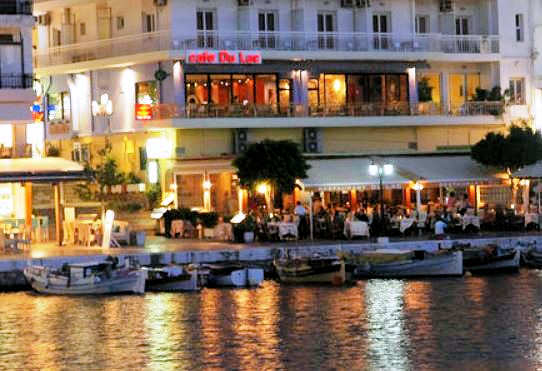 Café du Lac - Agios Nikolaos - overlooks Lake Voulismeni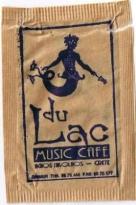 One of our favourite spots to sit and relax, dream and take in the view is Café du Lac in Agios Nikolaos, looking out over the beautiful Lake Voulismeni, over the lakeside tavernas, across the way to more cafes and tavernas, checking out the scene.
Depending on the season, there is hustle and bustle or just peace and quiet. We love this spot at dusk, watching the birds skimming over the lake.
This cafe bar is cozy and bohemian, with internet access, music, and is part of a hotel with a restaurant too.
17A on 28th Octobriou Street, Agios Nikolaos

---
Maria Beach Cafe - Kastelli Kissamos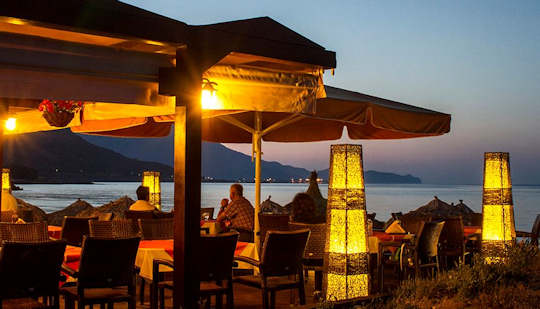 Crete cafes - sitting directly on Mavros Molos Beach to the west of Kastelli Kissamos town, Maria Beach Cafe Bar is the essence of beachside chill. Watch the dusk turn the skies all colours from tangerine to indigo and every colour in between in the comfort of this lovely cafe - bar - taverna. After an afternoon of beach lounging, try an ice cold frappe or cappuccino frappe. In the evening come back and try the seafood, the Kastanakis family will look after you.
Agamemnonos Street, Mavros Molos Beach, Kissamos


---
Crete Cafes - Polioudakis House - Asteri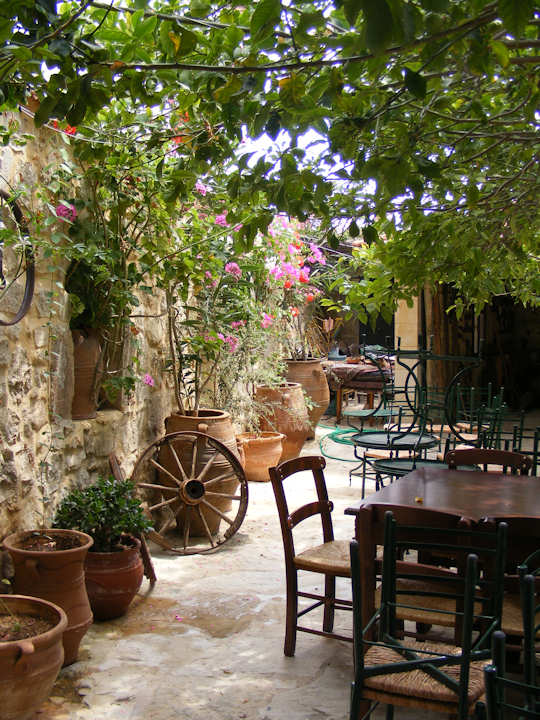 Polioudakis House Cafe known as 'Poliou House', Asteri Village Rethymnon

Manolis and Giorgos Polioudakis or Πολιουδακης run The House of Poliou or To Spiti tou Poliou taverna, cafe and heritage museum in the village of Asteri in Rethymnon, Crete. This village is on the way to the Arkadi Monastery and the round trip from Rethymnon would be 44 km.
Make sure you take some time to absorb the history and the stories of Crete while sitting and relaxing in this typical village courtyard or avli, or visit on a Thursday night for some music and dancing. See the cafe featured here on the video below. Warning - it will make you pack your bags for Kriti!


---
If you have a contribution for Crete cafes, write to us and let us know, send pictures and why you love it, on our safe contact form.

Getting to Crete
Take a 1 hour flight from Athens to Heraklion with Aegean Airlines or Olympic Air, with many flights available per day.
Or take a 9.5 hour overnight ferry from Pireaus port of Athens to Heraklion port.
More on flights and ferries below.
Car hire in Crete is a really good idea as it is a large island 60 km by 260 km. There is so much to explore.
When you book with our car rental partners - Rental Centre Crete - you are supporting a local company with excellent service and an easy online booking procedure. We are sure you will be well looked after by the team. Choose from hybrid or non-hybrid vehicles.
---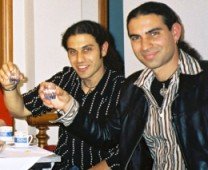 "We trust you have enjoyed these tips from the team at We Love Crete. Evíva!"
Contact us with further questions or feedback. We love to hear about your travels in Kríti and Greece. Let us know of any updates or additions, errors or omissions. Help us make this website the best it can be. Kaló Taxidí!

---