Moustakia Sarikia and Stivania
Proud Customs of Crete
This page may contain affiliate links, see our disclaimer here.

---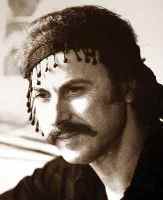 Moustakia Sarikia and Stivania
Do you know what these are? There are just some traditions, costumes and fashions that define a place and a people, and these are some of the traditional customs that give Crete her character.

---
Moustakia
Moustakia Sarikia and Stivania - firstly, you will notice many of the men wear moustaches moustakia μουστάκια, this is considered a very proud Cretan custom.
Above you can see Nikos Xilouris, one of the most beloved musicians of Crete, who of course had a moustache and here is wearing his sariki or headscarf. Xilouris was photographed in the '70s.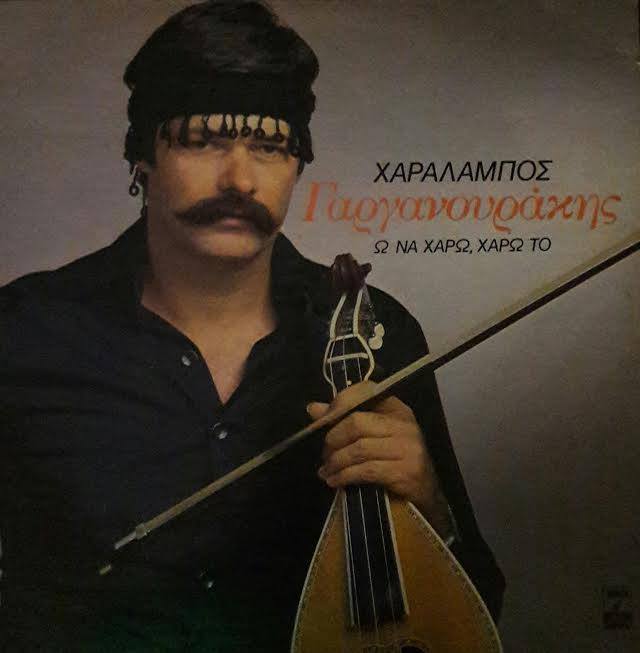 Garganourakis, a beloved and respected Cretan musician, wears a moustache, pictured here in the early days of his career in the mid 60's, and later, until recent times.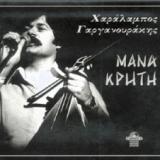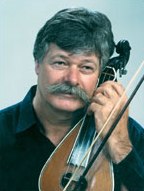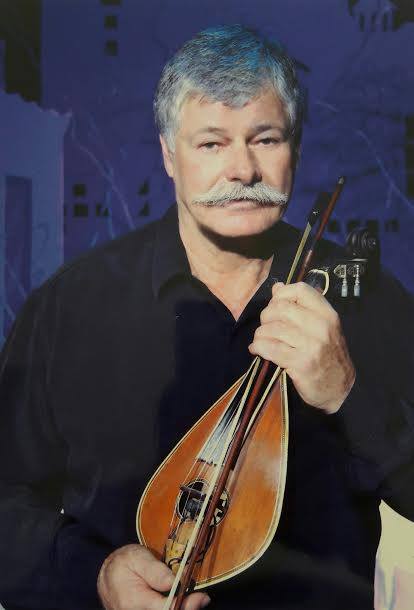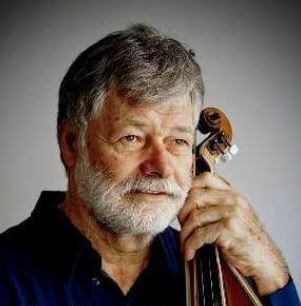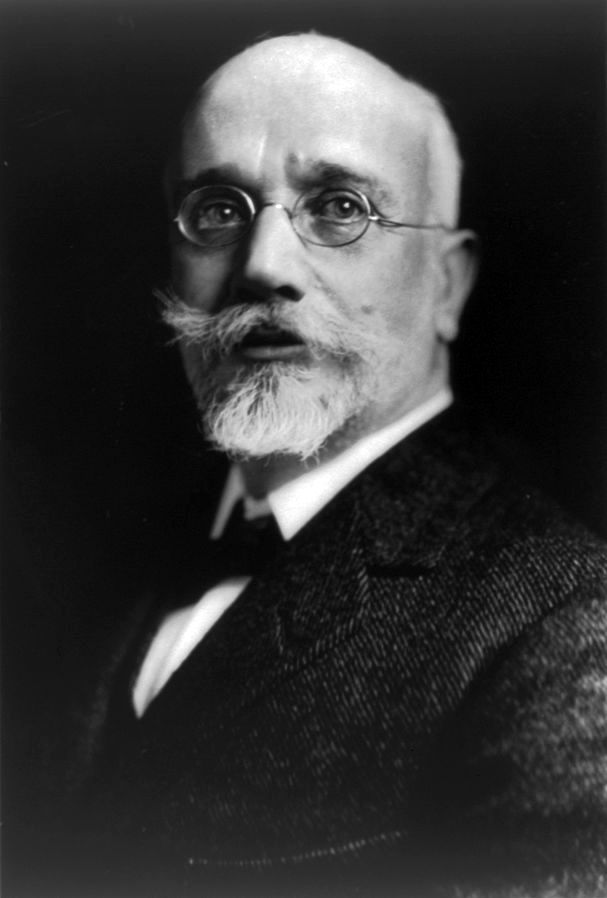 Moustaches have continued as a proud Cretan tradition, as one of the liberation leaders of Crete who went on to become Prime Minister of Greece, Eleftherios Venizelos, seen here in the early 1900's.

Long before 'hipsters' made moustaches popular again, young Cretan men continued to wear them. Antonis Martsakis, who came to popularity in recent times, wears a striking moustache and traditional Cretan folk dress, continuing a proud culture with his lyre and voice.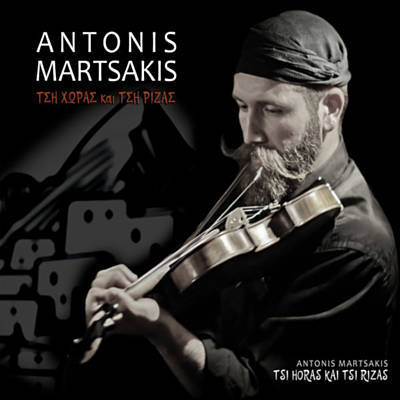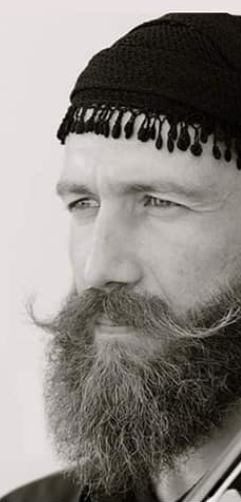 ---
Sarikia
A defining element of the traditional costume of Crete, which nowadays you will only see worn by the dancers at special occasions and high up in the remote mountain villages, and perhaps on special occasions, is the headscarf known as a sariki σαρíκι or plural sarikia σαρíκια.
Sarikia are hand-woven and hand-knotted in the mountain villages.  They are made of special material. Sarikia are traditionally made with brisimi or μπρισίμι yarn which is 100% vegetable silk. Ask the ladies to show you how they do iwith traditional knotting methods. The headscarf is worn in a particulr way so that fringes or κρόσσια are hanging by the temples.

A good place to find them is the mountain town of Anogeia.
In Heraklion, find them at the Cretan Workshop at 7 Chandakos Street, not far from the Liondaria Fountain.
Or in the 1866 Markets, number 78, you will find the 'Cretan Tradition' with lots of items including sarikia.
Sarikia are also made in white, and these white ones are made for special days; weddings and christenings. They are traditionally worn in weddings by the groom, the best man and close relatives, and in Christenings by the baby's father and godfather.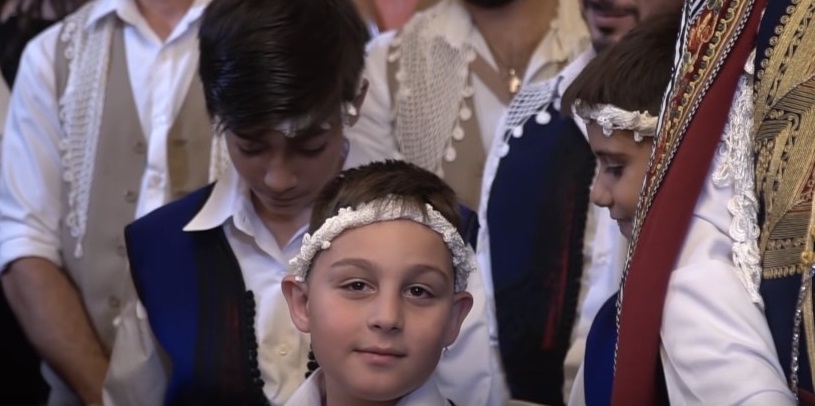 Giorgos from Chania talks to Aegean Airlines about the right way to wear a sariki.

---
Stivania
Still handmade and worn with great pride, are Cretan boots. These are generally black, for everyday use, and white are now used for dances and special occasions. These boots are made from leather, for each person individually, by a master craftsman.
You must sit to have your own fitting done. These boots are called stivania στιβάνια. They are very practical for the rough mountainous terrain and tough weather conditions of the farmers, shepherds and workmen of Crete.
The stivania are made with flexibility around the ankle, and over time form creases around that area. This is one way you can tell if a Cretan man is wearing his stivania or just a modern work boot.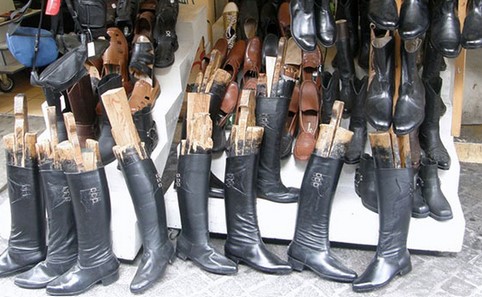 In Chania town is an area called stivanádika στιβανάδικα the 'stivania workshops', where the boots are made.To visit here, go to the old town of Chania in the west of Crete and go to Skridlof Street, just off Chalidon street and near the Chania Market.
Or visit the Irakliote village of Anogia or Agia Varvara and ask for the tsogári, the bootmaker. Because these are hand-made and individual leather boots made to last, expect to pay for their value.
---
Moustakia Sarikia and Stivania
Below is a beautiful video of a proud Cretan - Nikos Gialedakis - from Askifou making stivania, sadly he passed away a year or so after this video was made...
One of the best ways to see Cretan men wearing moustakia sarikia and stivania is at a village wedding, or high in the mountain villages and especially in Anogeia or Sfakia.
Here you can see the moustakia, sarikia and stivania in the traditional costume worn by dancers at the Agreco Farm near Rethymnon, Crete: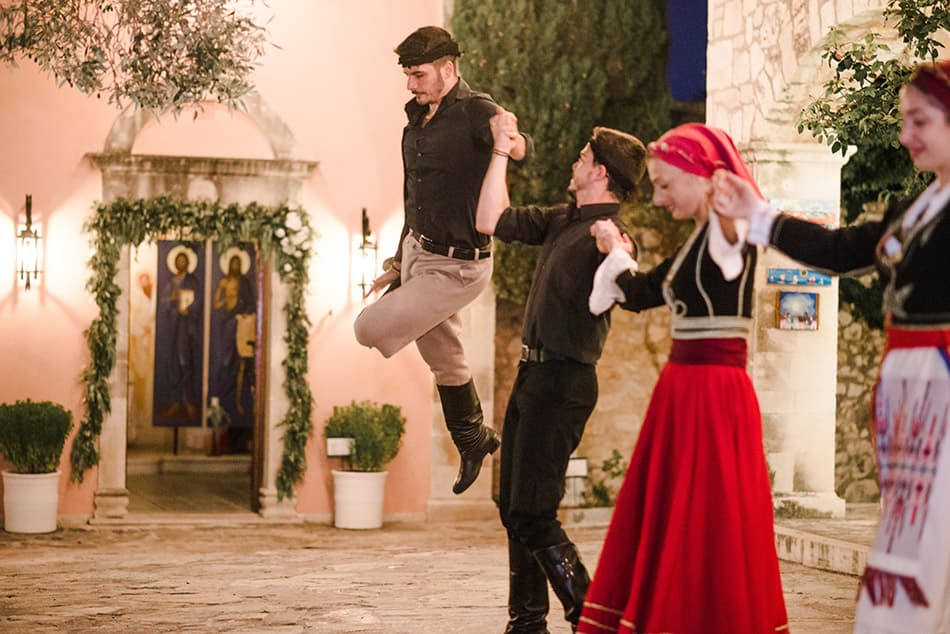 Here you can see the traditional costume worn with sarikia and white stivania by dancers from Crete dancing the pentozali.

Below you will see the traditional costume worn with sarikia and white stivania by dancers from Crete dancing the pentozali. This performance includes the display of figoures or φιγούρες special improvises jumps, spins and ad lib moves, to show finesse and expertise. Each dancer is supported by their fellow dancer as they do their display, then they move to the end of the line.
In this joyful wedding video of a modern couple in Crete - Ioanna and Kostas - who are also baptising their daughter, you will see the proud Cretan traditional costumes and traditions celebrated, including sarikia and stivania.
If you listen carefully you will hear some mantinadas μαντινάδες too!
The heart strings are pulled listening to the song 'Ts'agapis Ke Tou Erota' by Michalis Kounalis. This song title is 'Of Love and Love' and refers to Erotokritos and Aretousa, the two main characters in the classic Cretan novel Erotokritos. Agapi is the Greek word for love of family or lovers or friends and erotas is the Greek word for love between lovers.

---
Getting Here
Take a 1 hour flight from Athens to Heraklion with Aegean Airlines or Olympic Air, with many flights available per day.
Or take a 9.5 hour overnight ferry from Pireaus port of Athens to Heraklion port.
More on flights and ferries below.
Car hire in Crete is a really good idea as it is a large island 60 km by 260 km. There is so much to explore.
When you book with our car rental partners - Rental Centre Crete - you are supporting a local company with excellent service and an easy online booking procedure. We are sure you will be well looked after by the team. Choose from hybrid or non-hybrid vehicles.
---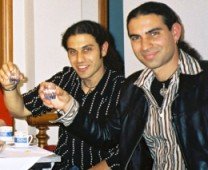 "We trust you have enjoyed these tips from the team at We Love Crete. Evíva!"
Contact us with further questions or feedback. We love to hear about your travels in Kríti and Greece. Let us know of any updates or additions, errors or omissions. Help us make this website the best it can be. Kaló Taxidí!

---
Moustakia Sarikia and Stivania