Rhodes Restaurants and Bars
Rhodes Island Greece
Rhodes Restaurants and Bars

Coming from Crete to Rhodes, we were eager to explore the restaurants, cafes, bars and nightclubs...
We mention some to continue your enjoyment of the historic old town....the lanes and courtyards softly lit at night were some of our favourite impressions of Rhodes old town.
---
Ippotikon
Restaurant Ippotikon at 5 Evreon Martiron Square (above) is close to Marine Gate inside the walls of the old town. It is a romantic, historic setting for a beautiful meal, with views across the square from the tables on the upstairs balcony. The building is listed as an international monument by the national heritage organisation.

---
Romeo Garden
Just off Sokratous Street at 7-9 Menekleous Street in the old town is another large restaurant in a historic setting - Romeo Garden Restaurant - with an atmospheric terrace where live music is added to the menu in summer. Traditional Greek food and plenty of company make this a memorable experience. Try the wood fired pizzas...mmmm.

---
Rhodes Restaurants - Melathron
| | |
| --- | --- |
| | At 41t Sokratous is the Melathron Restaurant (above) at the more romantic and intimate end of the spectrum, a beautifully restored location with loads of Mediterranean mood styling. |
---
Dinoris
We can never resist a relaxed courtyard setting with soft lights for an evening meal. Dinoris Restaurant (above) is located at 14A Museum Square in the old town and offers traditional Greek menu with a modern flair.

---
Rogmi tou Kronou Bar
Rhodes Restaurants & Bars

Rogmi tou Xronou or Crack in Time is a very cool music cafe bar in the old zone of Rhodes, run by the Diakogeorgiou family. A self-confessed "Rock and Roll" bar, it has live music every now and then and is a favourite hang-out for locals.

The ambience is very relaxing, as can be seen in these photos by Antonis Diakogeorgiou, and it exists as a modern bar on one of the oldest squares of Rhodes.
Rogmi tou Xhronou, Rock Bar, Rhodes, Greece
---
Rhodes Travel

To assist your Rhodes holidays we have prepared the following pages:

Getting from Crete to Rhodes – plenty about the sights to see in Rhodes as well as ferry and flight information.

Accommodation on Rhodes Island Greece – we have chosen beautiful atmospheric small hotels in the old town of Rhodes, this is where the real heart of the town is, an historic gem in the Mediterranean.
Rhodes is a stopping point for ferries from the Dodecanese islands, where you can have a wonderful holiday on your way to Crete, then take a ferry on to Karpathos and Crete.
See more about romantic Lindos in Rhodes here...

See more about ferries from Turkey to Crete here...
See more about Karpathos Island here...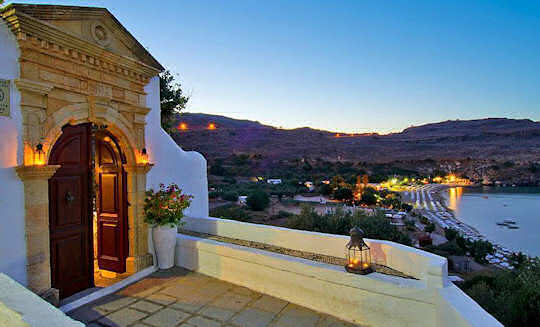 Lindos Village, Rhodes