Kos to Santorini Ferry
by Evelyn
(Australia)
Thanks for the tip on ferry from Bodrum to Kos @9.30am. We are leaving Bodrum in Turkey on the 5th Sept.

What time does the first ferry leave for Thira on that day? I am not so keen to get into Santorini too late in the day.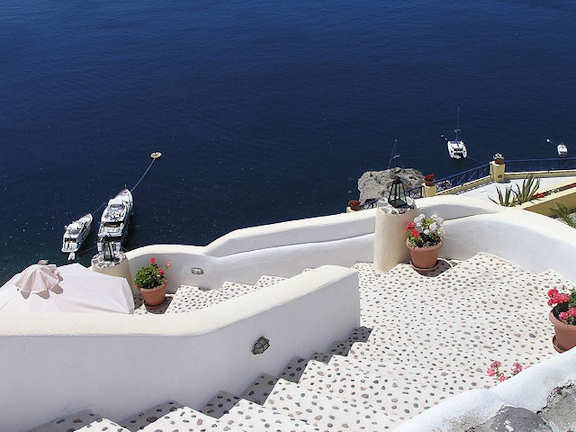 Ferry or Flight from Kos to Thira
Yiasas Evelyn
July and August are peak summer season, September starts to be shoulder season and although the weather is perfect, there are fewer services for some transport routes. See the timetables on Blue Star Ferries which run this route. They sail on 11 Sep only, the sailings leave late at night and arrive early in the morning. The crossing takes 5 hours and 5 minutes. Often there is only one sailing every few days for certain routes in the Greek islands.
The quicker option is to fly Aegean Airlines from Kos to Athens to Santorini which will get you there in one day and more quickly, allowing more time exploring Thira.
Kos KGS to Athens ATH Two Flights per day on 5 Sep – flying time 1 hour
Athens to Santorini JTR Ten Flights per day on 5 Sep – flying time 45 minutes
If you are in Kos for the day you might want to see the Sanctuary of Asclepieos which is 4 km, a little way, out of Kos Town and very beautiful. This healing sanctuary was dedicated to God of Medicine. This is where Hippocrates studied, who became the father of modern medicine. The sanctuary which dates from 400 BC. The view from the sanctuary is magnificent and the energy is wonderful, you know why a healing centre was located here. The entrance fee to the site is around 3 Euro.
In Kos town you might want to see the beautiful
plateia
and very old platana tree where Hippocrates taught, this is not far from town. The tree is so old that it is now held up by scaffolding. In town you can also see a wealth of history including the ancient odeon, Castle of the Knights of St John and the Roman mosaics.
For lunch try Platanos taverna near the tree, or Barbouni taverna or Agkyra for some fresh seafood.
All the best with your journey from Turkey to Greece. Kalo Taxidi!