Hotels in Chania
by the Beach
...just walking distance to the water...
Hotels in Chania - we have chosen small guesthouses next to the beach, our guideline is that it must be within walking distance to the water, just right for a comfortable beach holiday.
Chania is the home of white sandy beaches, high mountains and dramatic gorges. Chania town elegantly flourishes around one of the prettiest Venetian harbours in the Mediterranean.
Samaria Gorge beckons adventure-seekers to this region of Xania, and beaches such as Falasarna and Elafonisi entice nature lovers and mermaids alike. 
Beach side accommodation is shown on the map below from west to east in Chania... 
| | |
| --- | --- |
| | This is the budget symbol, keep a look out for this on each article below, and throughout our site. |
---
Kastelli Kissamos - West Crete
There are many of things to see when in Kastelli; the town was active during the Greco-Roman period and relics from this period are still to be found. The ruins of Roman baths, cemetery and the mosaic pavements can be seen in town.
In town there are shops, restaurants and a small fishing port, fringed with tavernas, just outside the centre. In town are car hire facilities, internet cafés, supermarket, petrol station and banks. A little further outside is the port of Kastelli, where ferries to the mainland and Kythera come and go.
South of Kastelli are the ruins of the ancient city of Polyrhinia, a once powerful Dorian city. One of its ports was Falassarna, the westernmost town of Crete.

See more about Kastelli-Kissamos town, and the beautiful Balos Bay...
Hotels in Chania by the Beach

Mediterranean Studio Apartments
"The apartments are quite new..." says the owner Dimitri Skoutelis "The area is surrounded with many trees and flowers in a large garden with kiosks near by our big pool, where you can sit and relax having a drink in our bar. You can also enjoy your meals in our restaurant. We can serve you traditional Cretan, Greek and European cuisine. This a good selection for hotels in Chania".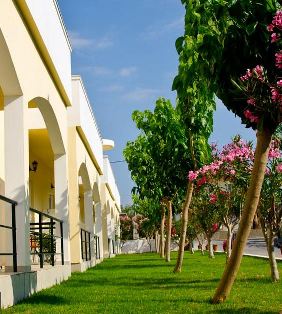 In Kissamos, a small town just 40 km from the capital Chania in the west of the island, are these modern apartments only 30 metres from the beach.
Kissamos Bay, surrounded by long peninsulas, is beautifully protected and the beaches are lovely.
More about Mediterranean Studio Apartments, Kastelli-Kissamos
---
---
Paleochora, South West Crete
Hotels in Chania by the Beach
Aris Hotel
Paleochora, Chania
Paleochora is a vibrant village on the south west of Crete's glorious beaches. With plenty of history, local activity as well as a busy tourist season in summer, Paleochora town is a fascinating Cretan town in Chania prefecture, 75 km from Chania town.




Close by are the White Mountains, and Elafonisi Beach , and Paleohora has a ferry connecting the unspoilt southern beaches of Chania and Rethymnon such as Sougia, Loutro and Prevelli.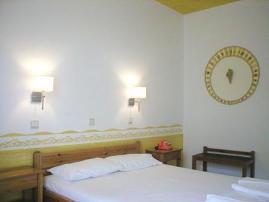 The small Aris Hotel, run by the Liatakis family, is set back a little from the town and beaches of Paleohora, yet within a comfortable walking distance from there. Days on the various beaches, or windsurfing, swimming, boating and dolphin watching are relaxed and easy from this town full of Cretan character.

This is a simple friendly hotel, ideal as a base to explore Paleochora Beaches and western Crete.
More information and bookings at Aris Hotel, Paleochora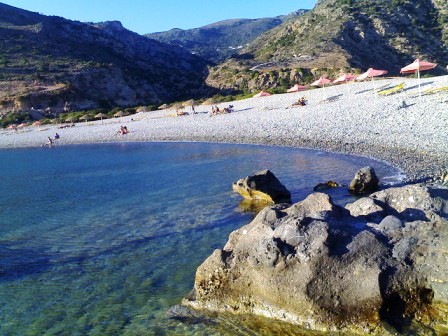 ---
Hotels in Chania Crete
Maleme & Platanias Beach

Hotels in Chania by the Beach
Summer Lodge
Maleme, Chania
Maleme is a small historical seaside village 20 km from Chania on the north coast of Crete. With a lovely long sand and pebble beach, it is a quiet relaxing beach destination close to more upbeat coastal resorts and the large city centre of Chania. This is a less crowded and organised beach than others on the north coast.
Summer Lodge is a great choice for budget travellers, just 400 metres from the beach close to Platanias village and Chania town, this is a tranquil, small, simple hotel run by a lovely family who really attend well to their guests.
With a shady, leafy garden and pool, this is the perfect place for relaxing on those hot summer days, and the white washed walls inside and out lend to the very Greek feeling of the place.
Most rooms have private balconies or terraces, and breezes from the flower gardens. Vassili is ever helpful and can advise plenty of excursions, from simple groceries or shopping to exploring historic sites and further afield to the inland gorges.

More information about the Summer Lodge, Maleme
---
Hotels in Chania
Kalives, Apokoronas Region
Apokoros Family Hotel
Kalives, Chania
Just 15 km from Chania town on the north coast of Crete lies the village of Kalives on a picturesque bay, with two rivers running into the Aegean. Remains of a Venetian castle look over the town from the hill named 'Kastelli' and 5 km close by are the ruins of Aptera, a once powerful city from the 7th century BC.
With a choice of tavernas and cafés ringing the plateia or square, with its lovely plane tree, which is over 400 years old, visitors can experience the real taste of a Greek seaside village.
The surrounding region of Apokoronas holds many delights for travellers, ancient history, natural beauty and modern indulgences. Options for day trips in this region include a visit to Samaria Gorge, Agia Irini Gorge or the beautiful Lake Kournas, as well as many other beautiful beaches and seaside villages.
Apokoros Hotel View
At Kalives, just 20 metres from the sea, is the Apokoros Family Hotel. The self-catering apartments are ideally practical for the family on a budget, with lovely views from the balcony, the water so close and a short stroll into Kalives village. This is a family-run hotel, with owner Amalia giving her personal attention and true Cretan hospitality. The hotel is small and friendly with 8 rooms; 4 studios and 4 apartments.


More information and to book at the Apokoros Hotel, Kalives
---
Map of Beach Accommodation
---