Knossos Palace

The 'Birthplace of Europe'

---
The History of Knossos Palace
Knossos  Κνωσός was the oldest and most sophisticated city of the ancient western world. This site was the first inhabited area of ancient Crete, from as early as 7000 BC, and subsequently became the largest and most influential of Minoan centres.
The community on this site reached an incomprehensible level of sophistication, coming to their zenith between the years 2400-1400 BC. The city they created could be deemed modern by today's standards.
Reached by an impressive paved royal road, epic in proportion, the palace sits amid a lush and fertile basin, to this day lined with rows of olive trees and grapevines.

Minoan cities were unique, compared to neighbouring Mycenaean, Spartan and Athenian, in that they did not fortify their towns. This is a clear indication that they where not a warring people, and supported themselves with the trade of their unique agricultural goods and distinct and beautiful artistic crafts such as earthenware, jewellery, cosmetics and perfumes
Tips for independent visitors to the Palace archaeological site...
---
Knossos Day Tours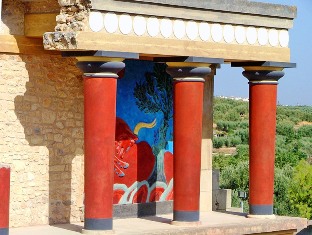 Day tours to Knossós Palace... with pick up and drop off from all major centres and hotels, with a fully experienced guide to interpret the palace ruins. Total tour time 5-6 hours.



---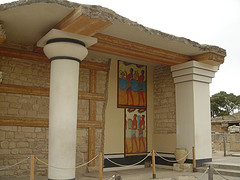 At the centre of the palace stand three and four storey buildings with throne rooms and spiritual chambers, central halls, bedrooms, bathrooms, intricate spiral stairways and light wells.

Also discovered were modern bathrooms with flushing toilets and sophisticated plumbing that fed in fresh spring water and plumbing for taking away waste water. There are tales that mention that the residents had central heating ducted through underground pipe systems utilising local thermal springs, although there seems to be some debate about this.
On the ground level and basements vast storage areas were excavated lined with large earthenware storage jars, ranging in size from rhytons to human size. The entire city was gracefully decorated, with frescoes and wall paintings of griffins, dolphins, bull-leaping figures, male processions with youths carrying ceremonial jars (rhytons) and beautiful women with sophisticated attire convening and enjoying a tête-à-tête.
---
Frescoes of Minoan Crete...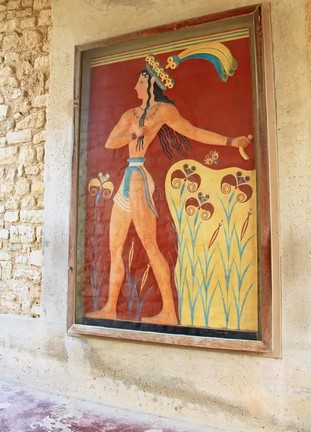 The Prince of the Lilies

The tihografia wall painting of the Minoan prince known as the Prince of the Lilies or the Priest King dates to roughly 1500BC. This painting which was restored by Evans' team, shows the sleek and proud postured Cretan youth with his long curly hair, wearing a headress of lilies.
He is believed to be leading a bull by its tether. It is controversial that in fact this painting may be a fusion of a number or paintings from as many as four paintings from the many stories that had tumbled on top of each other.
The frescoes of Minoan Crete can be seen on site at the Palace, as well as inside the small museum on site and the at Heraklion Archaeological Museum.
The ancient site of The Palace and City of Knossós is located in the central north of the island of Crete in Greece, 5 km from the capital Heraklion.

More on the ancient history of Crete...

More about the discovery of the Palace and Arthur Evans...
---
Below is a video of the Knossós Palace archaeological site as it stands today:
Below is a digital 3D reconstruction of the palace with our modern imagination and technology...
---
Images...
Below are some beautiful images of the Knossós Palace archaeological site as it looks today: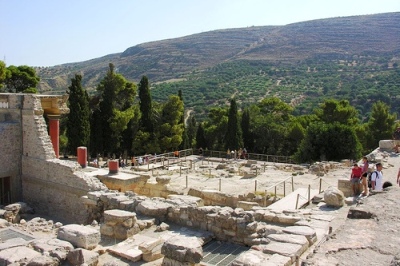 ---
On the Map...
Below you will see the location of the archaeological site on the island of Crete...