Travel Chania - Restaurants
Dining in The Old Town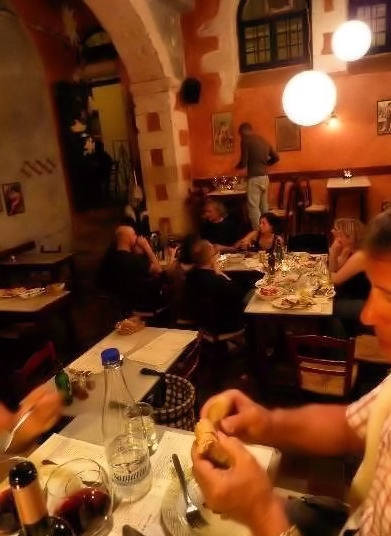 Travel Chania - Restaurants
Here we share some of the most enjoyable restaurants in the old zone of Chania town. These restaurants and tavernas are sure to provide an authentic experience, one you won't forget. If you only have a short time to enjoy the capital, here are some dining tips.
With Chania International Airport only 17 km from town, stepping back into history in the old town of Chania Greece couldn't be easier.
Our Chania hotels page shows a number of hand-picked guesthouses in the old zone - just around the corner from these atmospheric restaurants.
---
Travel Chania
Tamam Restaurant

Within a 16th century bathhouse, nestled into the narrow Venetian lane way of Odós Zambelioú, sits the charismatic Tamam Restaurant.

Unassuming from the outside, stepping within is like entering a wonder world. Dimly lit, with a tantalising aroma, you step into the top level of a multi-terraced bath house, fitted with wooden tables and traditional Greek-style raffia chairs.
Attention has been paid to the smart restoration to maintain plenty of atmosphere in the old baths. The service is exceptional; subdued, not invasive.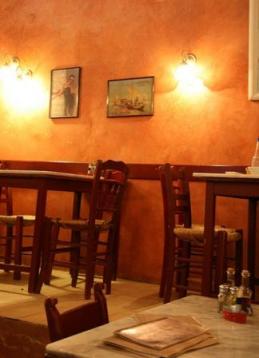 The menu, founded on authentic village cuisine, boasts simple traditional Greek dishes, prepared to culinary delight. We love to order a selection of mesedes, and they are mouth-watering. This food rivals our grandmother's cooking, and in many cases surpasses it.
Couples or small groups wanting a charismatic setting for hearty conversations over truly satisfying food and wine will love Tamam.

On the narrow terraces tables of two or four can be arranged, inside the bath larger groups, so this will not be an overcrowded or noisy restaurant.
Equally interesting is the outdoor dining (above), amongst the atmosphere of the narrow lane way. Tamam deserves its popularity; it is wise to book ahead. There are plenty of reasonably priced options for both meat lovers and vegetarians alike.
A truly sensual experience. We love Tamam!
49 Odos Zambeliou, Chania Old Town
---
Nama Café Bar Restaurant
Before or after dinner you will enjoy soaking up the atmosphere by the Akti Enoseos Marina of Chania. This modern cafe bar is the place to mingle or just sit and enjoy the sunset...
Located next to the 16th century dockside buildings of the Great Arsenal, tucked into the portside, Nama is modern Greece meeting history. Nibbles, coffee, drinks, you name it...
19 Akti Topazi, Old Town Chania