Crete Flowers & Flora Guides
The Beautiful Flowers of Crete...
Crete Flowers - from tiny ground covers to colourful orchids, the unusual eco systems of Crete are host to many unique flowering plants, some of which are only found on Crete, and it takes a guide to point them out when walking in the mountains and gorges.
In the towns and villages colourful cascades brighten many houses and corners everyday.
Crete walking tours are available, many have spring-time walks to enjoy the flowers with botanist guides, or a photography guide, or both.
'The Happy Walker' is a company based in Rethymnon that offers many different walks, including a different walk each day of the week. Many of these walks are easy grade.
'Aori Walks' is a small trekking company based in the White Mountains in Chania. Anne Deckel guides the walks through the highest points of that mountain range with her local knowledge. These walks range from one day to two weeks.
'Flowers of Crete' tours are run by passionate flower lovers Julia Jones and Rosemary John, they take visitors on walking, photography and art explorations and hold symposia on the ecology of Crete. Food foraging trips are very popular and help to share the traditions of Crete, precious knowledge handed down from yiayia about how to collect sage, rosemary, thyme, origanum, wild vine leaves and wild greens!
There are many parklands and national parks in Crete. The most famous is Samaria Gorge, however there are many other gorges with beautiful plants and flowers, such as Agia Irini Gorge.
The Mediterranean woodland scrub of the island is dotted with many species such as pine forests with Brutia Pines Pinus brutia. Holly Oak Quercus coccifera woodlands are widely spread. Higher up are cypress woodlands, where the local evergreen Maple Acer sempervirens grows, and thorny cushion shrublands.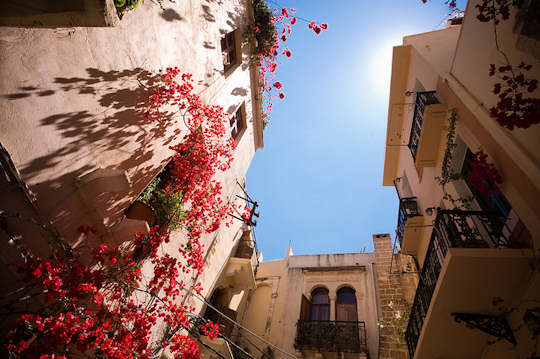 Old Town of Chania - a cascade of flowers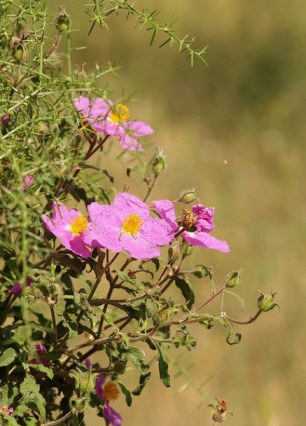 Cretan Rock Rose Cistus creticus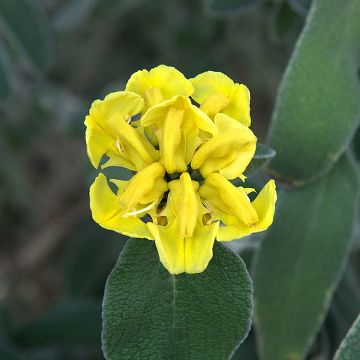 Jerusalem Sage  Phlomis cretica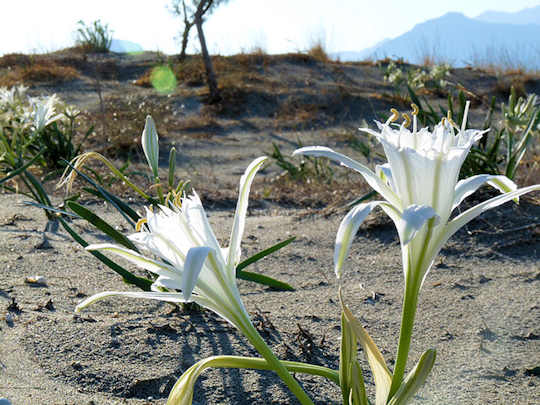 Sea Lily Pancratium maritimum, on the Beach at Plakias, Crete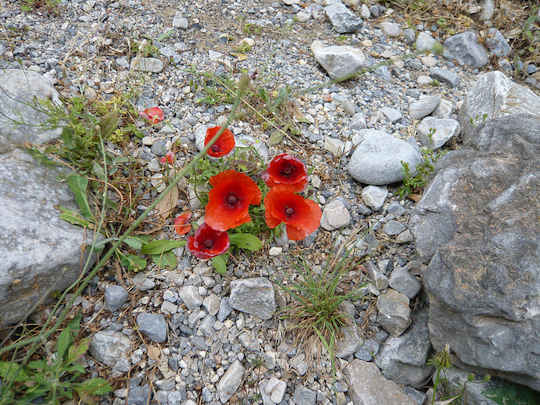 Surprising Poppies in the rocks Papaver rhoeas
---
Crete Flowers - Flora Guides
Useful flora guides for Crete are available to buy below.
• Walks with Crete's Spring Flowers by Jeff Collman

• The Flora of Crete by James William Stanfield

• Wildflowers of Crete by George Sfikas

• Flowers of Crete by Fielding & Turland

• Flowers of Crete by Marina Clauser

• Flowers of Greece by George Sfikas

• The Mountain Flora of Greece by Stid & Tan