Arkadi
Monastery in Rethymnon, Crete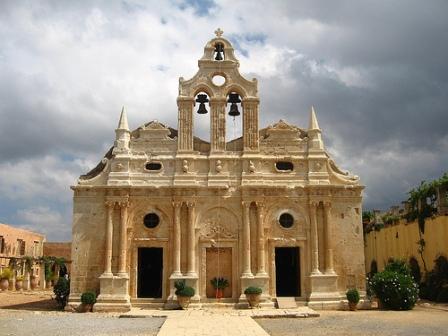 Arkadi Monastery – Moní Arkadíou - Μονή Αρκαδίου
The monastery is 23 km inland from Rethymnon town, set amongst rolling hills and gorges. Buses travel daily between Rethymnon town and the monastery.
To drive to this inspirational place, take the national highway east of Rethymnon for 5 km, then turn off inland and pass through the villages of Adele and Kiriana. The monastery is set strategically at the top of the small Arkádi gorge near the village of Amnatos.
The original monastery and large grounds was built in the 16th century. The location, grounds and architecture alone make this a very enjoyable visit.
History of Arkadi
This monastery played an important part in Cretan history during the rebellion against Turkish domination of the island. In 1866, the monastery came to the notice of the Turkish Pasha as many rebels were sheltering there and in the hills nearby. Hence the monastery became a symbol of insurrection and freedom fighting, and a safe haven for Cretans fleeing the Turks.
So the Turkish force of 1500 attacked the 950 or so men, women and children who were sheltering in the grounds. When the attack became successful and things looked grim for the rebels, the Abbott gave the order, as planned, to blow up the gunpowder stores and kill the rebels, women and children rather than fall into the hands of the Turks.
This is indeed what happened, and so many proud Cretans died that day, 9th November 1866. The news of the rebels actions swept across Europe at that time and lead to further support for Greek independence.
The façade of the church has been rebuilt in a breathtaking Venetian style, the interior church dates from 1587. There is a museum within the grounds of the monastery, which tells the story of the 1866 uprising. Here is kept the official banner of the rebellion, vestments and relics of the monastery. The monastery still functions as a religious centre.
Today, a visit to the monastery and grounds is an inspiring reminder of our modern freedoms, and a chance for a deeper insight into the Cretan spirit.
There is a café and gift shop outside the monastery, where you can find local honey, raki and handcrafts. Close by are the villages of Margarites, Pikris and Kapsaliana, where descendants of the rebels can tell you the story of the holocaust.

Many thanks to Nikos for this beautiful atmospheric photograph of the church of the monastery (above).
---
Images
Some beautiful images of the monastery below: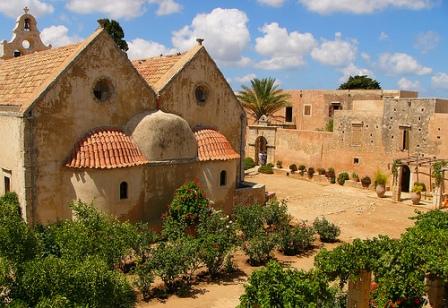 Μονή Αρκαδίου - Arkadi Monastery - Crete