Cretan Diet – Products
Buy Products from Crete Online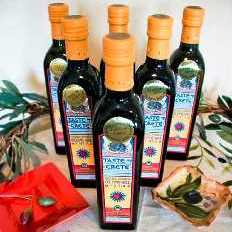 The beauty of the Cretan diet is its simplicity; fresh, natural and pure. No fancy sauces or preparations.
Mix fresh fruit and nuts and vegetables, plenty of olive oil and very little meat. Less sugar and saturated fats. A wine or two. Some raki.
Sounds good!
Proudly, Crete has one of the highest registrations of organic produce in all of Greece, which is a wonderful way of continuing land practices unchanged over hundreds of years and ensuring healthy eating and a healthy planet.
After winter rains, horta wildgreens flourish, and grannies are busy out in the country lanes with their bags collecting the lush dark green 'weeds'. There are actually many different types of horta...getting to know them and how to cook them is one of the pleasures of life in the country of Crete, learning about Cretan food.

Find authentic Cretan products listed below for sale.
Most of these products come from Taste of Crete, whose owners, the Psarakis family, are dedicated to providing quality Cretan products to their US customers, from authentic growers and farmers in Crete.
Their store is located in New Jersey at 400 Route 206 South, Hillsborough, or purchase online below.
• Taste of Crete – Extra Virgin Olive Oil

• Biolea Nerantze Olive Oil

• Biolea Olive Oil Stone Milled with Fresh Lemons

• Green Olives with Feta in Olive Oil

• Black Olives with Oregano & Chili Flakes

• Rose Wine Vinegar with Thyme

• Evangelia's Cookies with Olive Oil and Orange Juice

• Evangelia's Cookies with Olive Oil and Grape Syrup

• Evangelia's Cookies with Olive Oil and Wine

• Bravo Greek Style Coffee


---
Cretan Diet
Whatever your tastes, you will find something wonderful about Cretan food. Is it the atmosphere? Is it the air? The mountains? The soil? The fresh water? The Mediterranean? Is it the farmer or the cook?
This will take a few hours of diálogo dialogue... so let's pour another wine and discuss...

Dópio local, is a great Greek word to know if you are travelling. It can refer to just about any food or drink or preparation, and ensures your hosts know you want the real thing. Ask for dópio crassi local wine.
At a taverna you could simply say dópio fagitó… local food. Your hosts will know what you mean. At a fishing village of course ask for dópio psári local fish.
Don't forget your Greek coffee...because of course, much of your day in Greece is focussed around the kafe or the kafenion and coffee.
The preparation of the coffee is very important and a source of endless discussion in every household and indeed, every kafenion...of course this is also part of the Cretan diet...
See more about Cretan cuisine in this wonderful story by Chef Byron...
See more about the wild greens of Crete here...
---
Return from Cretan Diet to We Love Crete Homepage
---