Greece Skopelos

Green in the Greek Isles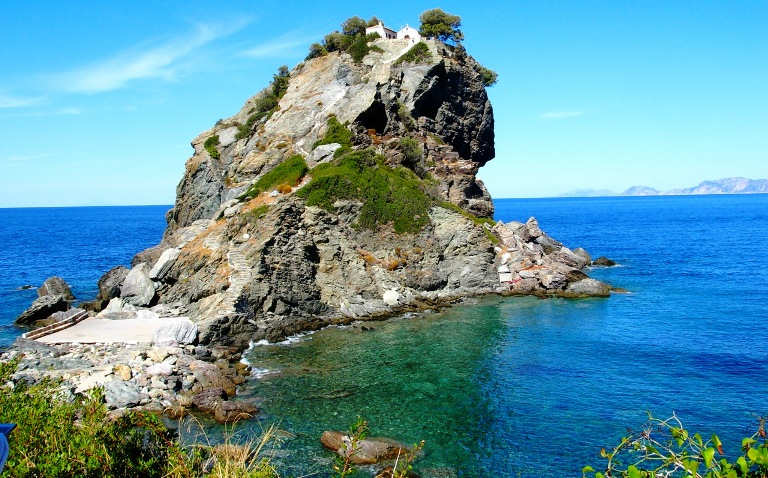 Greece Skopelos - Site of Agios Ioannis chapel as featured in Mama Mia the movie
Located in the northern Sporades, between Skiathos and Alonnissos, Skopelos Island is 21 km long and at its widest, 8 km across.
The island gained international attention after the 2008 movie 'Mamma Mia' was filmed there. In fact, the lovers' reunion scene was filmed on the dramatic ocean side cliff and church at Agios Ioannis (pictured above).
Prior to the movie, the island had already entered the hearts of many visitors to Greece for its unusual combination of aqua waters, beaches and dense forests.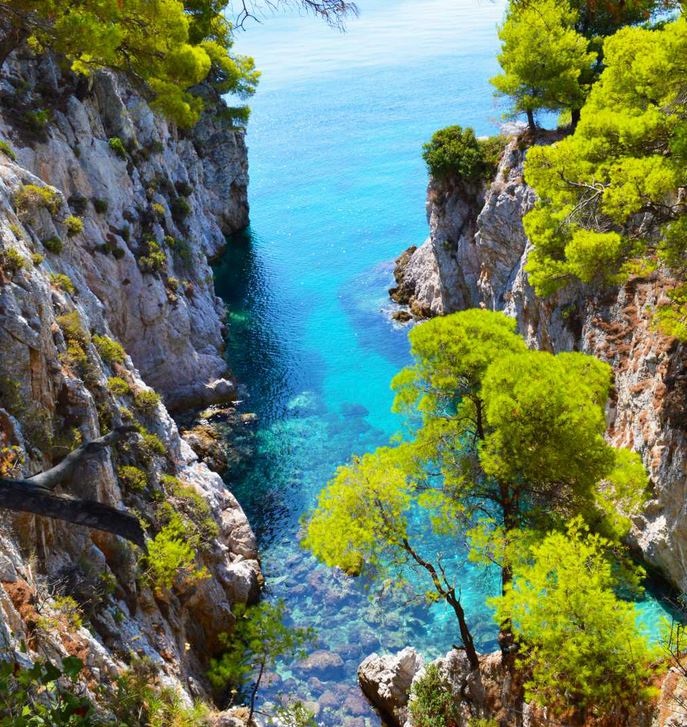 Simply stunning scenery in Skopelos
---
Activities and Exploring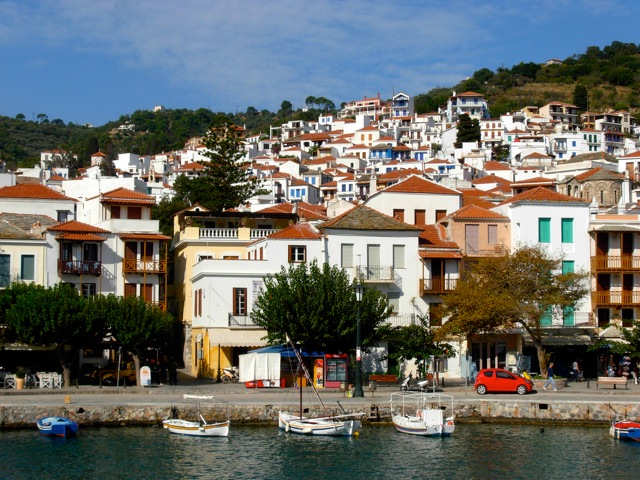 Greece Skopelos Town
The town of Skopelos (above) begs to be explored, with its winding streets and plentiful, affordable shops featuring local artisans and delicious restaurants. Walking downhill, we are surrounded by whitewashed houses and balconies draped in brilliant bougainvillea with the heavenly scent of jasmine. Visit the many churches and beaches, or enjoy an evening stroll by the bay.

Climb the incredible cliff site where the song 'the winner takes it all…' from 'Mamma Mia' was filmed. Gladly the island remains authentic and virtually untouched from its brush with fame, and lovesick pop songs, retaining its Greek character and plenty of wide open spaces.

Small boats offer day tours to secluded neighbouring islands.
The other main town on the island is Glossa, which is smaller and quieter and elevated, allowing spectacular sunset views across to Skiathos and the Pelion peninsula.

Exploring Skopelos
From a recent visitor...
The history and culture of the tiny island of Skopelos Greece beg you to experience all there is to see and do in this uniquely beautiful setting.
---
Accommodation
Greece Skopelos - Accommodation
Arts in Greece Skopelos
Skopelos Harbour by Vancouver artist Jackie Robertson-Smythe
Skopelos Foundation of the Arts is perched upon a hilltop overlooking the scenic, car-free streets of the whitewashed town below. 

Skopart was founded in 1996 by American artist Gloria Carr, who recognized Skopelos as the ideal place to locate an international art studio. Within three years, Carr had set up an international board and opened a residency program welcoming people from all over the world, eager to learn and create in the stimulating atmosphere of Skopelos.

Carr's daughter, Jill Somer, joined her mother in 2000 for a visit, and then chose Skopelos as her home, marrying a wonderful islander. Their daughter Zoe, now nine, is a charming and fluently bilingual guide who enhances her family's close ties to island life. Upon arrival we are welcomed by these three generations of Greek-American muses, followed by a traditional Greek feast, dancing and music.
Greece Skopelos Foundation for the Arts
Greece Skopelos - Skopart is a large, modern facility offering printmaking, photography, painting and ceramics. Participants awaken each morning to spectacular sunrise views from our balconies which overlook the remarkably green island, red tile roofs and charming harbour. The ceramics studio is a spacious open air facility.

---
Getting to Skopelos

The island has no airport, many visitors choose to fly to the neighbouring island of Skiathos and then take the ferry to Skopelos town. The ferry ride takes one hour and the scenery upon approach to town is magnificent.

---