Where to Stay Near Knossos, Crete
by Salvatore
(Italia)
Hi, let me first congratulate with you for your beautiful website. I looked at the questions and I have not found the right solution for me. I therefore ask you some advice.


I will go to Crete from the 6th to 18th of September for a tour of the archaeological sites. I will arrive at 5 pm in Heraklio.
I would avoid an accommodation in the city and devote myself to the visit of Knossos and the archaeological museum the 7th. Could you recommend a simple hotel or a bed & breakfast just outside Heraklion, maybe in Knossos?
Thank you very much for your attention
Kind regards
Salvatore
Accommodation Near Knossos
Hi Salvatore,
Thank you for your kind words and we are glad you enjoy the website. We agree it is nice to avoid the busy town if possible, especially if your interest is in archaeology.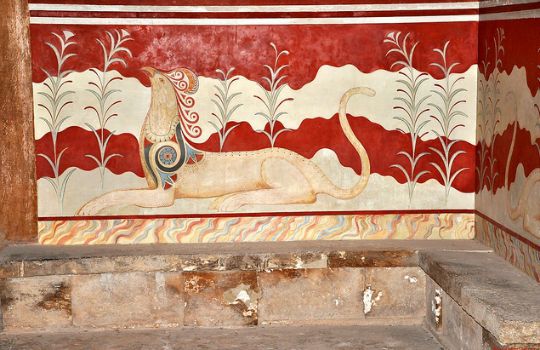 We suggest going directly from the airport to the small village of Archanes, as this only 16 km and will take you into the country.
This village is only 7 km from Knossos and 14 km from Heraklion.
In Archanes we suggest the Archontiko Studio, itself a historic building, beautifully restored.
In this way you will be rested and rejuvenated before visiting Knossos, which is a big site and needs a full morning or an afternoon to do it justice. We suggest getting there early to avoid the crowds, or ideally visiting in the off season, such as you are doing, September can still be a little crowded, so go early to avoid the queues.
We suggest taking a break in Heraklion town for lunch, and if possible, visiting the museum on a different day, because the collection is vast and best to be visited with a clear mind the next morning.
Heraklion has many lovely pedestrian streets with good cafes, tavernas, restaurants and bars and the market on 1866 Street is a marvellous collection of local fresh produce and artisanal crafts. Don't miss the area named Koraii, where you can relax and enjoy the hottest part of the day with a frappe and perhaps a game of tavli.
See more information here
Heraklion Region
Heraklion Airport
Heraklion
Archanes Village
Archontiko Studios
Minoan Palaces of Crete
Palace of Knossos
Tips for Visiting Knossos
We have a number of detailed history pages about Crete, for your information:
Ancient History of Crete - From 7000-3700 BC...
Ancient History of Crete - From 3700-600 BC...
Arthur Evans – Restorer of Knossos
We also have comprehensive history pages with outlines of each of the major archaeological sites including the four Minoan Palaces, Phaistos and Gortys.
Kalo Taxidi! Bon Voyage!