Voyage Crete Greece

This page may contain affiliate links, see our disclaimer here.

---
Traveller's Questions

Voyage Crete - Travel Crete - tips - ideas for your trip and accommodation suggestions.

Hi Guys, firstly you have a great website and its extremely helpful.

My wife and I are planning to be in Crete for 2-3 days in September. We would be coming from Athens and going to Santorini. Actually we were a bit confused and need some help. We were exploring two options.

Option One: Land in Chania, spend the evening and next day go to an olive farm, the closest to Chania we have been able to find is Agreco Farm in Rethymnon and next day travel to Heraklion see the Knossos, spend the night in Heraklion and catch the ferry to Santorini next day.

Option Two: Land in Heraklion, spend the evening there, next day go to Knossos and day 3 go to Cretan Olive Oil Farm near Agios Nikolaos.

We definitely want to go to an olive farm or a working vineyard, maybe if possible stay a night there, get a nice experience of the Cretan life. Also, we would like to visit Knossos :)

Thanks a lot in advance for your help.
Michele, France
---
Olive Farm Itinerary
Authentic Voyage Crete


Yiasas Michele,
It sounds like you really want to see the authentic Crete, we are happy to show you this. Your options give us a good idea of what you want to do.
September is a good time to visit Crete as the high temperatures of summer have dropped, the majority of tourists have departed, yet the climate is still very favourable and the water is swimmable. September is grape harvest time in Crete.

With such a short stay on the island, you want to maximise your choice of beautiful places and not to experience the more mundane places.

The other point is that Crete is a long thin island of quite some distance. So generally we tell people with limited time to choose one side of the island - east or west - and concentrate there. It is just too rushed to go from one side to the other in a short visit. To visit the west and the east, it would be best to allow 10 days.

The second olive farm you have found is in the east, yet Chania is in the west. So each option is different - Option One is west and centre of the island. Option Two is east and centre.

It would be best to choose one side of the island, in this way your trip will be more manageable.

We can say that really Chania and Rethymnon have the beautiful old towns with Venetian architecture, with little lane ways and characteristic harbours. So for this reason we would advise you to choose the west. That eliminates your Option Two.

In Agreco farm you can visit but not stay. In another farm named Dalabelos, you can visit the farm and get involved, and also stay, and there are activities all year round.

So below we have prepared a suggested itinerary for Option One – of course you can alter it with your own ideas.

We suggest staying in Archanes village instead of Heraklion on your final night as it is an authentic and beautiful village only 7 km from Knossos and still within easy distance of the port, for your departure to Santorini.



Tip - Use Chania Airport CHQ

---
Voyage Crete - Itinerary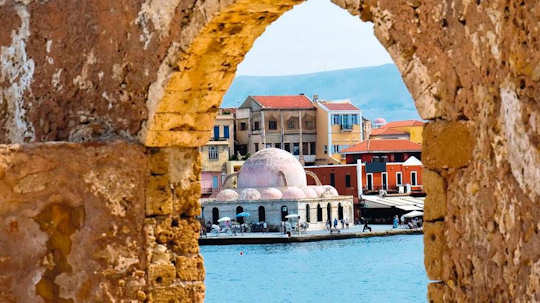 The Old Town of Chania as seen from the sea wall near the Venetian Lighthouse
Day One
Arrive at Chania Airport
Taxi to Old Town of Chania
Explore Old Town and Museums
Stay within the walls of the Old Town of Chania
Stay at Madonna Studios

Day Two
Pick up hire car
Drive from Chania to Rethymnon – see the Old Town of Rethymnon
Drive to Agreco Organic Farm - 7 km east of Rethymnon
Or Drive to Dalabelos Farm - 20 km east of Rethymnon town
Stay at Dalabelos Farm

Day Three
Drive from Farm to Knossos early 76 km
See Knossos Palace – get there early
Stay Archanes Village
Stay at Arhontiko Studio

Day Four
Drive Archanes to Heraklion Port 15 km
Take ferry to Santorini (Thira)
Departure at 8.30am


---
More Information

Information pages for Voyage Crete itinerary:
There are many more activities you could choose on any of these days; with this itinerary you will experience authentic Crete on her farms and life in her villages.

Bon Voyage! Kalo Taxidi!


---
Your Itinerary in Pictures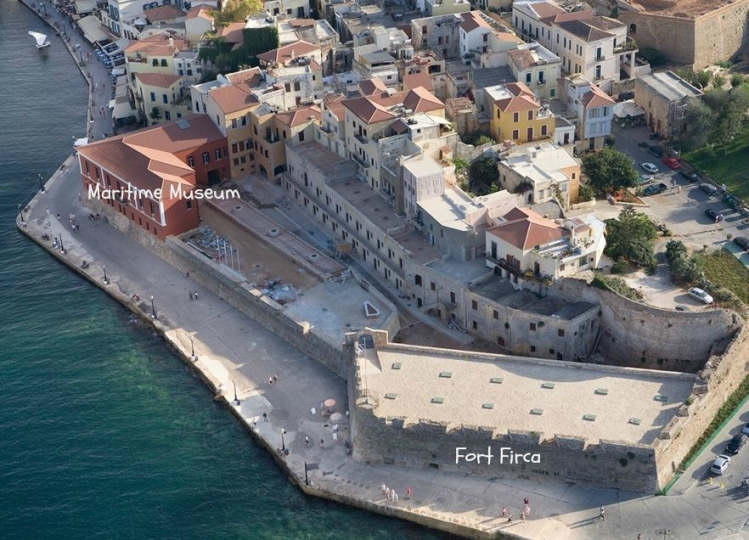 Chania Crete showing Fort Firca and the Maritime Museum, explore the old town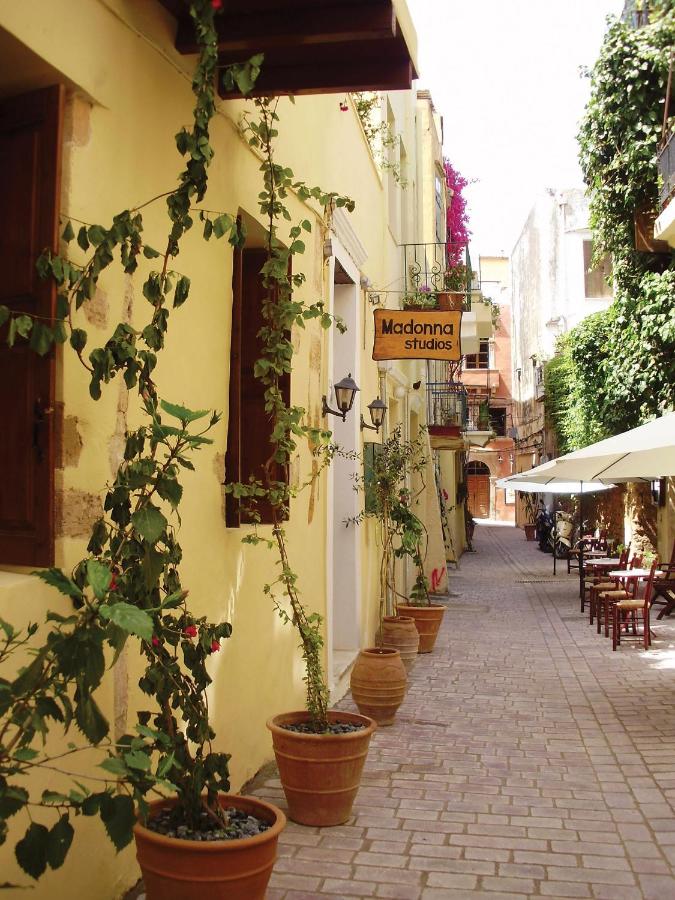 Madonna Studios are located in the narrow lane ways of the Old Town in Chania Crete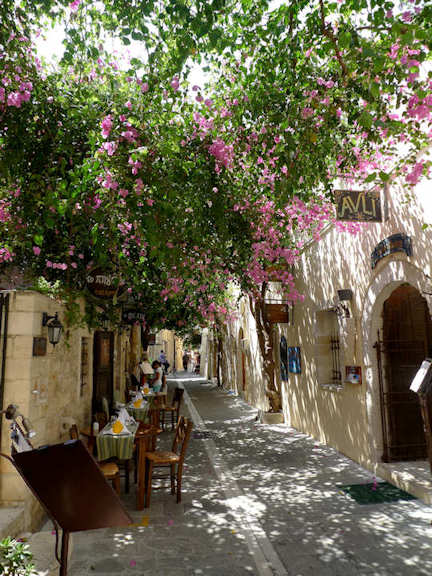 The old town of Rethymnon is full of character in its narrow lane ways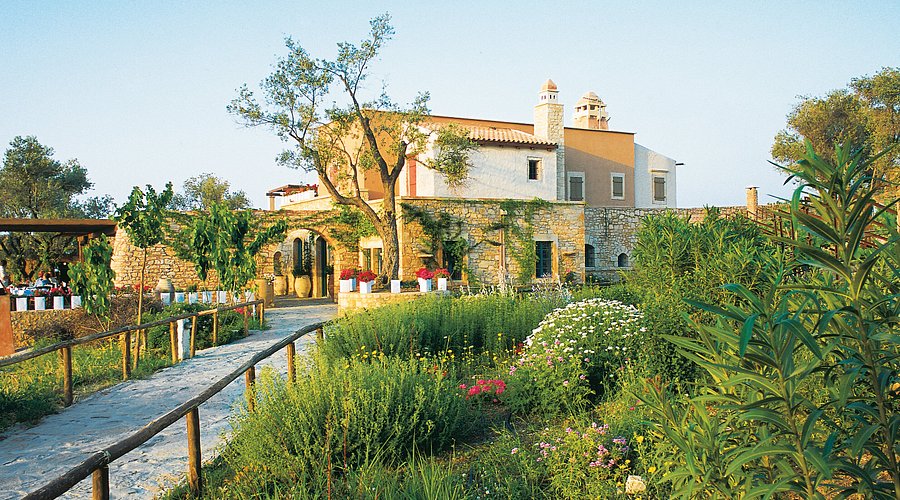 Agreco Farm just outside Rethymnon in Crete, an organic farm celebrating the traditional way of life in Crete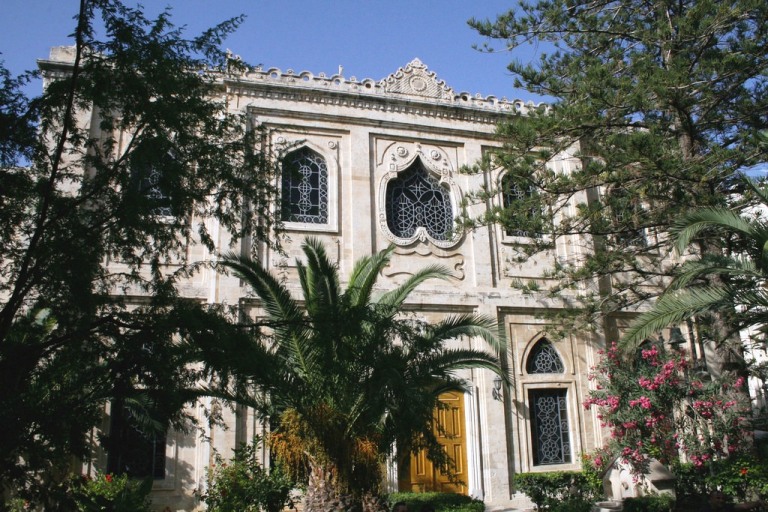 Voyage Crete - Agios Titos Church in Heraklion
Knossos Palace is partially reconstructed to reflect the culture of the Minoans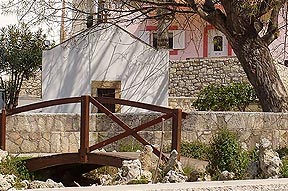 Archanes Village is 15 km from Heraklion Port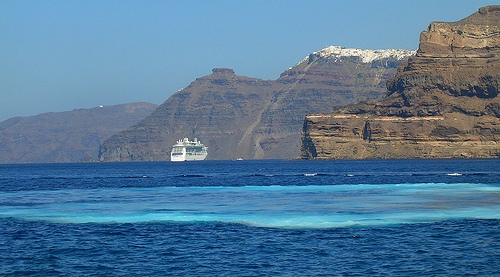 Voyage Crete - The ferry from Crete to Santorini is under 3 hours in summer
---
Voyage Crete
Some Other Trip Ideas

Five Days in the West of Crete by Car or Motorbike is a small e-book from the team at We Love Crete, designed to explore the back roads of the island.

Learn the secrets of the Minoans at the Knossos Palace
Drive through the country, visit wineries, take wine tastings, and visit the local tavernas
Get off the beaten track in the foothills of Psiloritis and experience the hidden Amari Valley
Have easy access to the route with our live-link map and clickable website addresses
Discover the history of Crete and a story of rebellion at the Arkadi Monastery
Packed with tips for accommodation that will save you Euros and add enjoyment to your travels
Five Days in the East of Crete by Car or Motorbike is a small e-book from the team at We Love Crete, designed to explore the back roads of the island.

These trip ideas include:

Drive through the country, visit wineries, take in the views of the Dikti Mountains, and visit the local tavernas
Get off the beaten track in the Lasithi Plateau and experience Psychro Cave
Have easy access to the route with our live-link map and clickable website addresses
Unravel the mystery of the ruins at Spinalonga
Discover the Ha Gorge or Zakros Gorge and the only palm forest in Europe
Packed with tips for accommodation that will save you Euros and provide authentic local experiences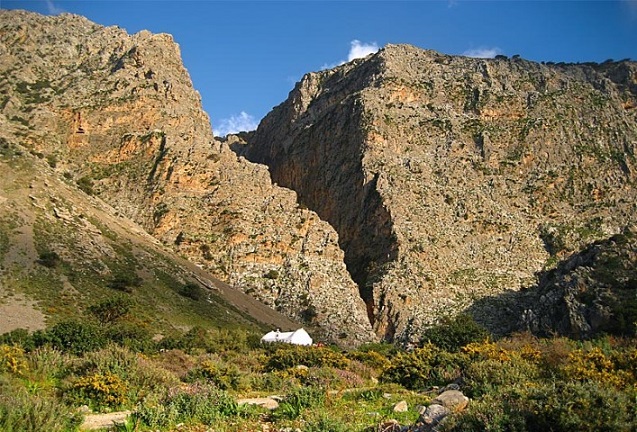 Ha Gorge in eastern Crete