Samaria is Fantastic - Would Recommend to Anyone FIT !
by Paul
(Hamburg Germany)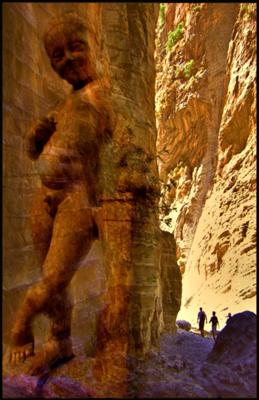 Remembering the Samaria Gorge
Hi, In the 80's I had the honour of being a tour guide on Crete.

Among other things, I used to take groups three times a week, down the Samaria Gorge, starting off from Plakias.

Although it WAS a very early start, and getting back in the evening, these trips were the best part of my job.

I had, of course, to come last in the group, to make sure that everyone was OK, and on time for the boat to Sfakia from Agia Roumeli, but I will never forget these times.

The pure beauty of the flowers and vegetation, of the smell of rosemary (I can smell it now) and the quality of the light.

I last walked the Samaria Gorge in 2003. It was a bit exhausting but still as beautiful.

I would recommend it to anyone who is reasonably fit, but please take proper walking shoes.

I am going to Crete this Friday to work on my house in the mountains behind Rethymnon.

I can't wait!

Have a great summer.....

Ya,

Paul


Remembering the Samaria Gorge
Algis Kemezys
Montreal, QC
Being a magical place brings magical thoughts or impressions. When I walked the Gorge a few years ago I was looking for Mimetoliths. Rocks and stones that looked like living beings.
Now, a couple of years later, I am still working with my photographs from Greece and today's photograph is in conjunction with what I heard while living on Crete.
The powers that be are always looking for the next God-Child. Some folks figure that the royal DNA of Zeus and others might once more become active and thus the birth of a god-child to guide us through our next crisis. I cannot say that this has occurred but I did awake with this image in mind ...
You can see my YouTube video called Mimetoliths, which was filmed on Crete here:
Mimetoliths
Efharisto Para Poli
Algis
Comment from We Love Crete
This documentary Mimetoliths 2006 was shown at the Culture Unplugged film festival. It also won Best Documentary at Panorama 2006 Film Festival in Thessaloniki, Greece.
This journey through Crete to discover the faces in stone and rock was undertaken by Algis Kemezys and the documentary written and produced by Byron Ayanoglu.
Many years later, now the 'Born in Stone' Exhibition was shown in Athens at the National Archaeological Museum in 2015.
Congratulations to Algis to have his creativity shared with so many, this exhibition represents so many images throughout the Hellenic world, which inspiration began in Crete so many years ago.