Maleme Beach
This page may contain affiliate links, see our disclaimer here.

---
Northern Chania, Crete

Maleme Μάλεμε
Located 16 km west of the town of Chania Greece in Crete, is this small village and this lovely, long beach with sand and pebbles. It is a quieter beach than many of the busy ones nearer to town. This is a continuation of the same long beach which runs from Chania to Kolymbari, a distance of 16 km, next to it is Agia Marina Beach.

There are many frequent buses that come to this village and beach daily, located here are a few shops, bars and a disco in summer. Off the coast is Agioi Theodori Island, which is very close and can be seen in daily walks along the beach, also there are lovely views to the peninsula of Rodopou.

In summer days this beach is also known for a big beach party, held every year towards the end of July, known as the Máleme Beach Party, with DJs, laser lights and the music pumped up loud.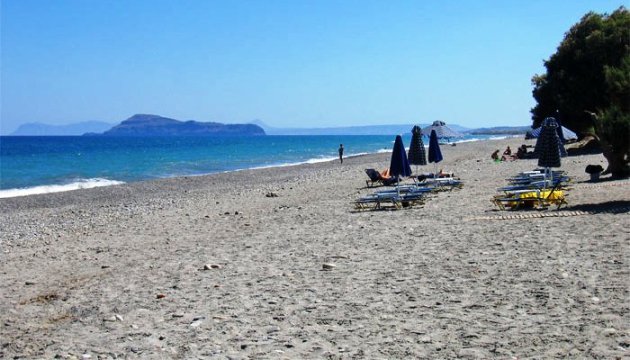 ---
Accommodation Nearby
Along the beach there are dotted hotels such as the Louis Creta Princess with pools, restaurants, many activities and all inclusive resort style accommodation. There are tavernas such as Kyma Taverna, which is set on grassy lawns right by the beach, and budget accommodation such as Summer Lodge. Inland cottages such as Maleme cottages set a different tone, with authentic renovated village homes providing cosy accommodation.
---

Electra Pension (above) is a small home-style place where Electra herself and Minos will look after you. Just 200 m from the beach and with only 8 rooms, this really is a home away from home with great Cretan hospitality and personal service. 
Close to the supermarket and tavernas, it has a pool, courtyard (above) and garden area for relaxing after visiting the beach. The bus is just a hop skip and a jump away which makes it a perfect spot from which to explore the island.
More information and bookings at Electra Pension...
---
Accommodation In the Country
Villa Rodia accommodates up to 4 in spacious luxury
Just 5 km inland you will find Athina Villas, (pictured above and below) stay in privacy 1.7 km from a village named Xamoudochori, set outside the village with views across the countryside.
These modern-built luxury villas are constructed of traditional materials of stone and wood, each including an expanisive terraced garden and pool.
The villas Rodia, Myrtia and Kissos accommodate 4, 5 or 7 people with each maissonette including delicious decorations and design, privacy and a pool.
Once you choose your villa, you will have the perfect location from which to explore the west of Crete, remember that a car is necessary for this accommodation.
The sumptuous main bedroom of Villa Rodia
---
Maleme Beach History
The Battle of Crete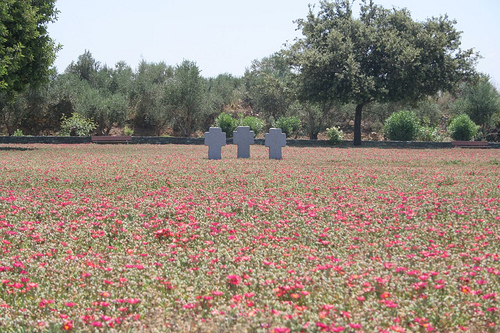 German War Cemetery by Konstantinos Mavroudis
A little bit back from the beach, is the cemetery for German soldiers killed during the Battle of Crete during the Second World War, in 1941. The paratroopers landed here on this beach to capture the airstrip nearby. The site was defended by Greek, Australian and New Zealand troops. Many men died on both sides before the Germans captured the airstrip and the hill known as 'Height 107' which was a crucial strategic vantage point. Every year on the 20th of May there are remembrance ceremonies held here, as they are elsewhere on the island.
---