Luxury Resorts Crete
Luxury Resorts Crete - enjoy a couple's massage on holiday for complete relaxation
---
Luxury Resorts Crete
Caramel by the Sea
Rethymnon Crete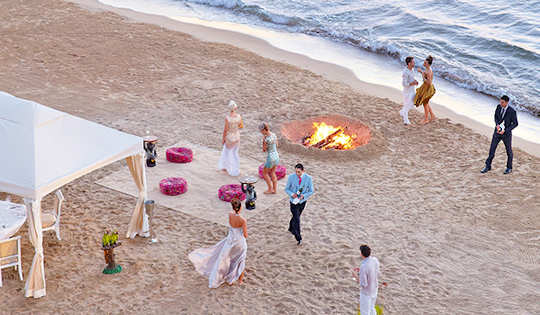 How about a pre-party party on the beach?
On the beach at Adele just 7 km from the atmospheric Venetian harbour in Rethymnon town is Caramel Grecotel Boutique Resort.
Spend a luxury weekend away as a couple, or arrange your special ceremony here, complete with accommodation for all the family, and a pre-party party for all your friends on the beach.
Choose from village bungalow-style suites, maisonettes and villas, surrounded by immaculately landscaped grounds with direct beach access.
Visit all the attractions and take winding country road journeys from this very central location on Crete, or just sit back and relax by the magic pool and take a massage in the spa. This is one of the newest luxury resorts on Crete, with links to its own organic farm, the food is local and fresh.
Architectural Digest named it as one of the top 15 new European hotels in 2016. A delight and actually quite an eccentric design for a hotel, this property showcases Cretan artistic flair and sensibilities, and is a treat for the senses. The beach ain't bad, either!

More on Rethymnon Beach...
More on the Old Town of Rethymnon...



Caramel Resort sits directly on the beach and is perfect for a romantic sand-between-your-toes outdoor ceremony.
---
Luxury Resorts Crete
Out of the Blue Resort
Agia Pelagia, Heraklion
Just 20 km from Iraklion town and 50 km from Rethymnon town, Agia Pelagia is one of our favourite seaside villages in Crete, combining wonderful views, natural rugged coastline, bays, inlets and sandy beaches with turquoise waters, a string of tavernas and great facilities.

The resort, which extends from the western end of Agia Pelagia beach over the headland and encompasses the beautiful Cladissos Beach, is cutting edge, and exhibits some of the best design in the country.
 
Out of the Blue Resort - Looking over Agia Pelagia Bay
We Love Crete is proud to present this spectacular resort. Physical beauty and plenty of open space await you at this garden filled resort, complimented by a fine selection of accommodation options, and fine dining experiences.
The outdoor studios are private and surrounded by lush green gardens, a walk down to Cladissos beach with its pretty tamarisk trees is a must. Diving is available from the resort, Divers Club Crete having operated from this location for many years.
With five restaurants and five bars to cater for, the resort produces its own organic produce from within and outside of the grounds.
This resort was previously known as the Sofitel Capsis Palace Hotel, and has recently been refurbished.
Part of the refurbishment was the installation of a spectacular Minoan village – creating history for children and adults alike and celebrating Crete and Europe's very first inhabitants.
With something for all ages, the resort keeps its own zoo, delighting children who are especially catered for.
...and of course We Love Crete wouldn't mention this resort unless it provided spa facilities including massage, so you can relax and unwind in blissful nourishing care...ahh.
See you in the water!
Information and bookings at Out of the Blue Resort – Agia Pelagia

Information about Agia Pelagia Beach


---
Luxury Resorts Crete
Vergis Epavlis Hotel
Agios Myronas Village, Heraklion

Luxury Resorts Crete - Heraklion in the centre of the island
When considering your total relaxation holiday, consider the aesthetics and services of this splendid guest house.
When considering your comfortable base from which to explore Kriti, consider Heraklion, for it is in the centre of the island, close to many modern services and points of interest.
When considering your rest, recuperation and recovery from a stress-mad world, consider a mountain village amongst rolling hills. All of these considerations will bring you to Agios Myronas and to the stunning new guest house Vergis Epavlis.
Located only 14 km from Heraklion town, a mere 14 km drive through rolling hillsides to Knossos and 60 km from Gortys and Phaistos, those planning to visit the major historic sites of Kriti will be very comfortable here.
With four luxuriously decorated suites, the guest house has been designed for complete privacy and pampering, with opulence at every turn.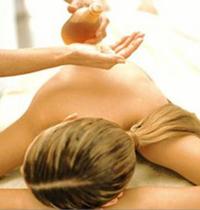 The spa Seasons and Senses offers beauty, hairdressing and relaxation therapies.
The lounge, dining room, bars and poolside snack bar provide plenty of nourishment, complimented by the taverna "Ethimiko" serving fresh local produce, located in the vibrant village of Agios Myronas.
We are proud to present this stunning retreat on one of our beloved local hillsides in Crete.
Information and bookings at Vergis Epavlis Hotel, Heraklion


---
On the Map
See the selected luxury resorts Crete marked on this interactive map, making it easy to choose your guest house by location within Crete.