Hotels in Nafplion
Down cobblestone lane ways...

Hotels in Nafplion - We have chosen four different places to stay in Nafplion, including a luxury option, and a Greece budget travel option, and two small guesthouses with the fine character of this fantasy medieval township.

Stumble in a dreamlike trance...discover this town's precious places, beginning in the medieval old town...glide down the narrow cobblestone lane ways...enjoy the beautifully restored neoclassical mansions with the bougainvillea languidly laughing down the walls and balconies and the tinkling fountains.
When you have recovered, climb up to the Palamidi Castle for wonderful views of the harbour and the Argolic Gulf, or walk the promenade along the foreshore and around the walking trail to sandy Karathona Beach...
---
Location Tip...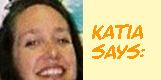 Nafplion is flat by the water's edge but quickly rises up from the harbour and the square. Some of the picturesque streets are quite steep. Keep this in mind when booking your guesthouse. I remember one very wobbly evening after a delicious dinner of fresh seafood and local wine, negotiating the stairs to our pension was a bit of an adventure!

This is the
budget
symbol.
---
Pension Eleni


Pension Eleni is a small, homey pension situated in the Psaromachalas quarter, high up over-looking the harbour and the Bourtzi Fortress. With personalised service and a very small number of rooms; you will be well looked after.
Availability and bookings at Pension Eleni
---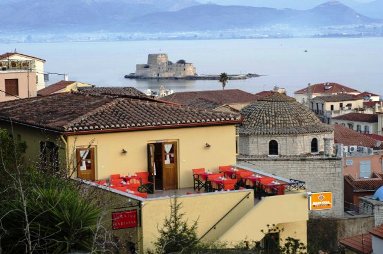 The Pension Marianna has a beautiful balcony with magnificent views taking advantage of its rooftop position to admire the harbour and the Palamidi Fortress.
This small guesthouse in the traditional stone style is cosy and atmospheric.
Availability and bookings at Pension Marianna
---
Small Hotels in Nafplion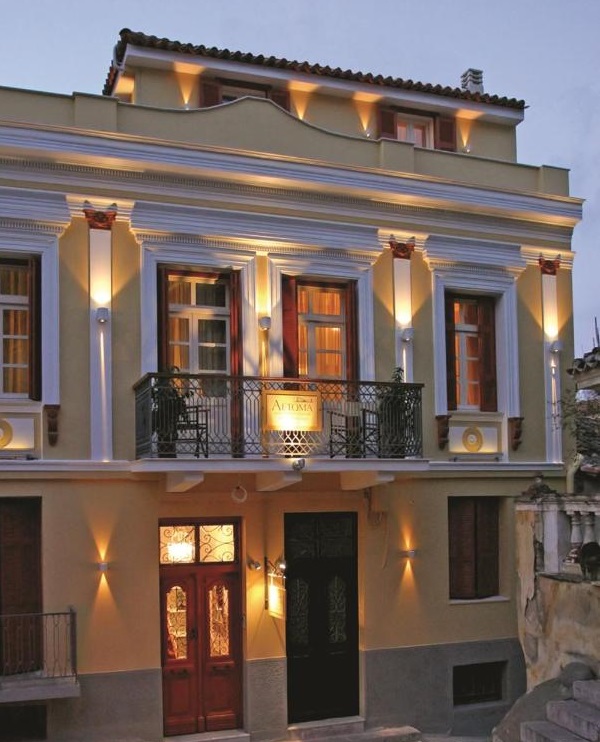 The Aetoma Tradtional Guesthouse is a beautifully restored neo-classical mansion that creates an elegant hotel. Its location is perfect for exploring this stylish town. With only five rooms and family service, you will be received with true Greek hospitality. This delightful boutique guesthouse is centrally located in Saint Spyridon Square.
Availability and bookings at Aetoma Guesthouse
---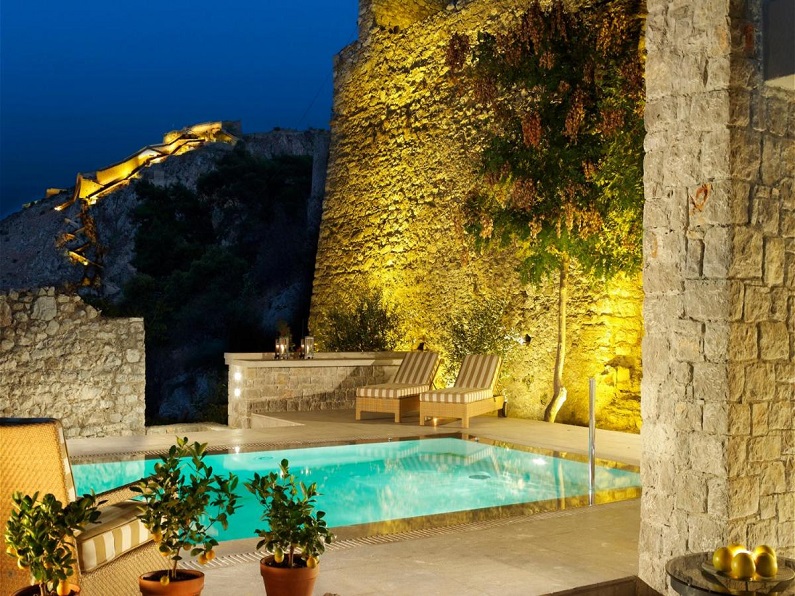 The Nafplia Palace Hotel crowns the hill behind the town and is the most beloved luxury hotel in town because of its exquisite location and views over the harbour, the restaurant and terrace bar have wonderful views.
Availability and bookings at Nafplia Palace Hotel
---
With these hotels in Nafplion you will find quality accommodation in Greece, and open a window to exploring one of the most beautiful historical towns of the Peloponnese.
The warm biscuit glow of the stone work in the streets of the old town is worth every moment; evenings in this enchanting town are magical.
You will be doing plenty of climbing to reach the top of the Palamidi Fortress, and walking around the point to the nearby beach of Arvanitia.
---
Hydra
Hydra port
Visit Hydra Island easily from Nafplion, for a day trip or as your next destination. See our tips for Hydra accommodation in sweet B&Bs close to the harbour.


---