Greek Seafood - Octopus

Greek Seafood - the essence of Greece is the sea, the seafood and sitting relaxing in a seaside taverna, eating, most likely, octopus!

The sight of octopus drying by the limani captures all those feelings, these images remind of us the fresh breezes of the sea, endless sun, and the promise of a tasty feast with good company, maybe some Mediterranean seafood; fresh fish and grilled octopus.

On the Rope, Antiparos, Greece


Octopus Drying near Blue & White Fishing Boat, Gythio, Greece


An octopus drying outside a fish taverna in Heraklion, with the old port in the background


Octopus by the Limani, Ios, Greece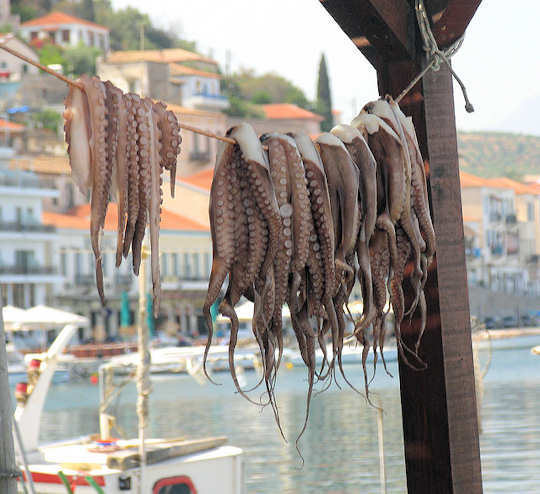 Fresh Octopus by the Taverna, Gythio, Greece


Taverna Colour, Santorini, Greece


Getting Up Close and Personal with Fresh Octopus, Thassos, Greece


No Doubt About It! Plaka, Crete, Greece
---
Do you have some images of Crete or Greece by the seaside or octopus that you want to share? Upload them here with the easy form...
The word for octopus in Greek is octapodi  χταπόδι, which of course means eight feet. Those feet are the tentacles that become delicious morsels when grilled.
---
Greek Seafood

All over Greece you will see fishermen seeking octopus, and ecstatic when catching one on the line. The most unromantic thing about fishing for octopus is catching one, as it needs to be killed and wacked on the rocks repeatedly. Arggghhh! Of course this is partly how it is tenderised to get it ready for eating.

This famous dish and also the crunchy little baby fish known as marides, and kalimari or squid are favourites, as well as a wide variety of other fish, it just depends on the catch of the day and what the taverna is offering.

Octopus can be prepared in a variety of ways including warm salads, fresh salads, octopus in vinegar marinade, or pasta bake, many people like it on the BBQ after soaking in marinade, as follows:
Marinade
·         5 cloves garlic
·         4 lemons
·         1 cup olive oil
·         1 cup red wine vinegar
·         1 tablespoon oregano
·         salt and pepper to taste
Soak the octopus overnight in this marinade, then use it to brush over the octopus when it is on the grill or BBQ, and finally use it on top of the cooked octopus. Mmmm ym!
Try to order your fish on the grill sti skara too, as it is fresh, juicy and delicious.

In Crete try the Psarotaverna Papadakis in Kastelli Kissamos, and Zepos Taverna on the waterfront in Chania town, Taverna Spinalonga in Plaka near Elounda.
Kali Orexi !!   Καλη 'Ορεξη  !!