Elafonisi

, Crete, Greece


This page may contain affiliate links, see our disclaimer here.

---
Trip Planning
Elafonisi - many people ask us their holiday questions and we are more than happy to help...
---



Knossos - Arhanes - Chania - Ελαφονήσι - Samaria

Hello, Firstly can I say how much I love your website! It is so useful and full of great information, while it also shines with how much you guys love Crete!

My boyfriend and I are planning to visit Crete from 24-29 September, which is not near the amount of time I want to spend there, but we are very limited. I live in London but he is only visiting for 3 weeks.

We are flying into Heraklion the night of 24th and flying out of Heraklion the morning of 29th.

My initial thought was to hire a car at Heraklion as soon as we fly in and head off that night, and then return it the night before we leave, so we would only spend the one night in before we fly out in Heraklion.

But now I am thinking of maybe the following:
25th - having a wee look around Heraklion in the morning, and then hiring the car and driving to Knossos, then on to Chania for the night
26th - having a look around Chania and then maybe driving down to Paleohora for the night.
27th - day trip to Elafonisi Beach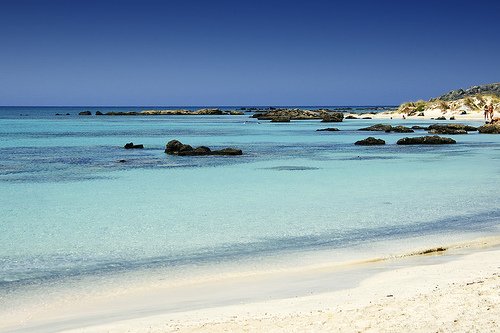 Elafonisi Beach - magical pink sands - day trip from Paleochora
28th - looking around Paleohora and Samaria Gorge, and then driving back to Heraklion at night to be back for our flight the morning of the 29th.
Even just looking at this makes me realise how much more time we need! But I guess my questions are:
1. Does this look at all feasible? Or am I missing something that is un-missable?
2. Do we need much time in Heraklion? We will be back there the night before our flight, though probably quite late. My other thought instead of Heraklion on night of 24th was to go to Agia Pelagia from the airport, then to go to Knossos from there on the 25th?
I would really appreciate your advice. Just to give you some background, it is my boyfriend's first time in Europe so all of this will be amazing to him. I have done a lot of Europe, including the Greek Islands, but I have always wanted to go to Crete. We are both quite beachy and laid back. Also, we are Australian so we are used to driving long distances!
Thanks you so much for any help and advice, I am sorry that this is such a long email!!
Mandy, Australia
---
---

Hi Mandy, Thanks for writing to us at We Love Crete...we are so glad you like the site...

Kriti is a special place and we are so glad to share it and happy to hear you will visit here...
This is an ambitious schedule, but a good one considering your time-frame and you will get to see some of the most spectacular attractions of the island, and some places which are "off-the-beaten-track". If you decide to drive yourselves from Paleochora to Omalos Plateau for the beginning of the Samaria Gorge Walk and then back to Heraklion, we suggest you hire a 4WD just to be on the safe side.
We have had a look at your timetable and suggested a few options below, including Elafonisi Beach.
Agia Pelagia
One thing to consider is that Agia Pelagia is west of Heraklion whereas Knossos is slightly to the east, so if you spent the first night there you would need to back track...so we have suggested your first night in a village quite close to Knossos.
Heraklion
No, we don't think that you really need to spend any more time in Heraklion on such a short schedule...Chania old town is the one to focus on...
Samaria Walk
The main consideration is the Samaria walk which is a one-way all-day walk and difficult logistically to do with your own transport, usually you need to leave a few days to do this because you need to take a ferry out and bus back to the parking lot where you have left your car. Or you could do an escorted tour from Paleochora to Samaria which returns you in one day and you get to do the whole walk, also you could do a day trip to Elafonisi.
Below we have shown day by day suggestions...
24 Sep - Day One
Arrive - pick up car at airport drive to Archanes 18 km 30 mins
Or take a transfer and ask them to deliver the car to Archanes
Stay Arhontiko Studio in Archanes Village, a beautifully restored old mansion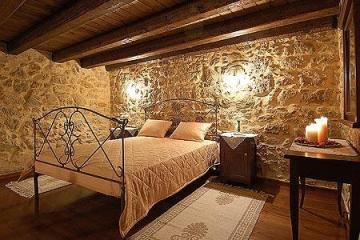 Arhontiko Studio, Arhanes
25 Sep - Day Two
Drive to Knossos early 12 km – 20 mins on country roads
Explore Knossos 2-3 hours
Drive to Chania 140 km 2.5-3 hours on national road
Optional stop at Agia Pelagia on way (YAY beautiful beach!)
Optional stop in Rethymnon town on way 
Stay Chania Old Town - Madonna Studios
26 Sep - Day Three
Explore old town of Chania in morning
Drive to Paleohora 74 km (leave a good 3 hours)
Stay Paleochora – Aris Hotel- a small family-run hotel
27 Sep - Day Four
Day trip to Elafonisi by boat from Paleohora
Stay Paleohora – Aris Hotel

28 Sep - Day Five
A very full adventurous day! Depart very early for Omalos Plateau 50 km – rough mountain roads – leave at least 2 hours and park car at Omalos (start of Samaria Gorge walk)
Explore only 2-3 hours of the walk (cannot complete the walk) then return to Omalos Plateau where car is parked
Drive to Heraklion via national road 175 km - a good 3-4 hours 
Stay Heraklion - Lato Hotel - a very convenient location next to the port with easy access to the airport by taxi
29 Sep - Day Six
Depending on how much time available - explore Heraklion town
Transfer from Lato Hotel to Heraklion Airport
---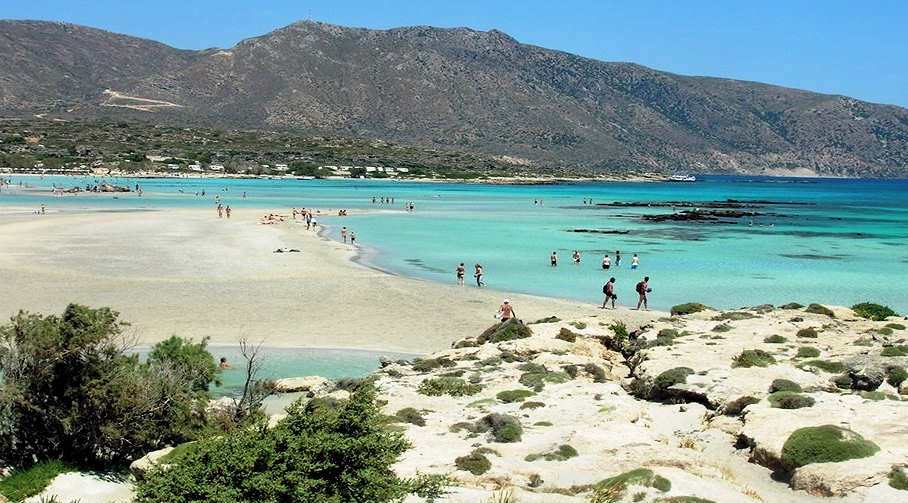 Elafonisi - Information
Elafonisi Beach is located in the far west of Crete - at the tip of the south-west coast - 75 km from Chania town. This is a completely protected natural area, with wide sandy beaches, little coves and islets of the most pristine white and pink sand.
Many people take day tours from the capital to Elafonisi for the day. One can also drive there (leave at least two hours each way), or take the local bus from Chania or from Kastelli-Kissamos. There are no permanent structures on the beach. In summer temporary amenities are available such as shops with food and drink, umbrellas and lounge chairs...
In summer, boat trips run daily from Paleochora to Elafonisi Beach. The boat leaves at 10.00 am and returns at 4.30 pm. You can book this trip upon arrival in Paleochora via Selino Travel or perhaps take a local private boat or water taxi. It takes about an hour on the boat and weather may cause cancellation at any time.
It is possible to drive over dirt roads from Paleochora to Elafonisi - a 4WD is needed for this trip.  Palaiochora to Elafonisi is about 40 km on steep, rough back roads, leave at least one and a half hours. Magnificent views.
The E4 European walking path joins Elafonisi and Paleochora, this section of the walk is 18 km and runs along the coastline, following around some beautiful bays, with not a lot of cover, exposed to the sun, it is best to start early and takes around 3-4 hours, depending on your fitness.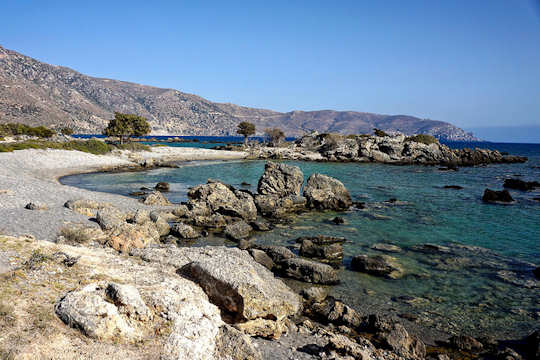 Along the E4 path from Elafonisi to Paleochora
The following information pages for the itinerary above:
---
Your Itinerary in Pictures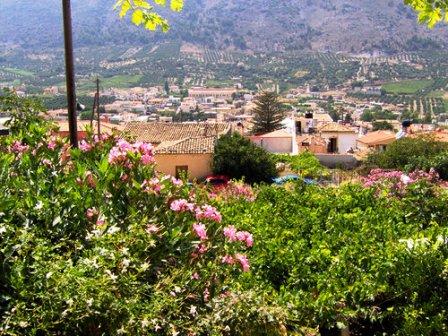 Archanes Village, Heraklion, Crete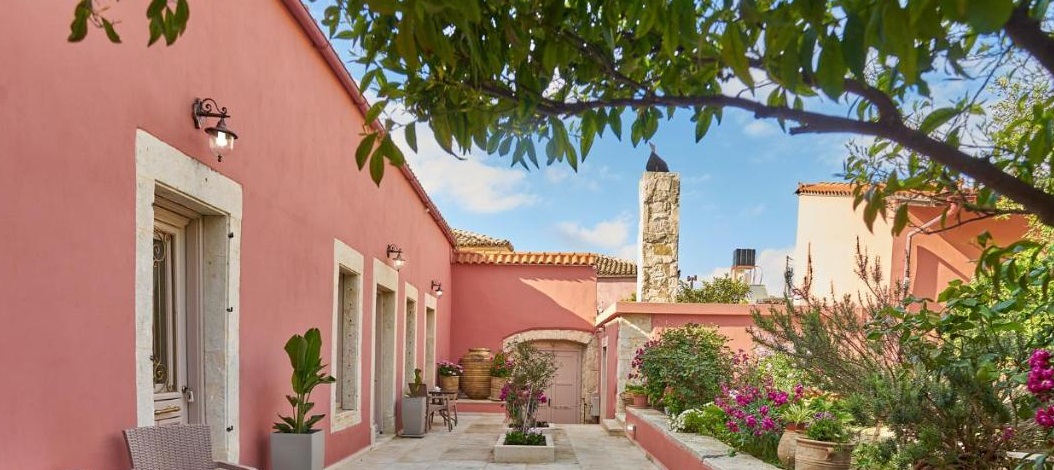 Arhontiko Studio in Archanes Village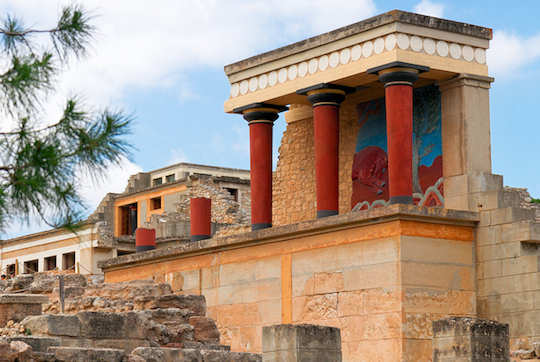 Knossos Palace, Frescoes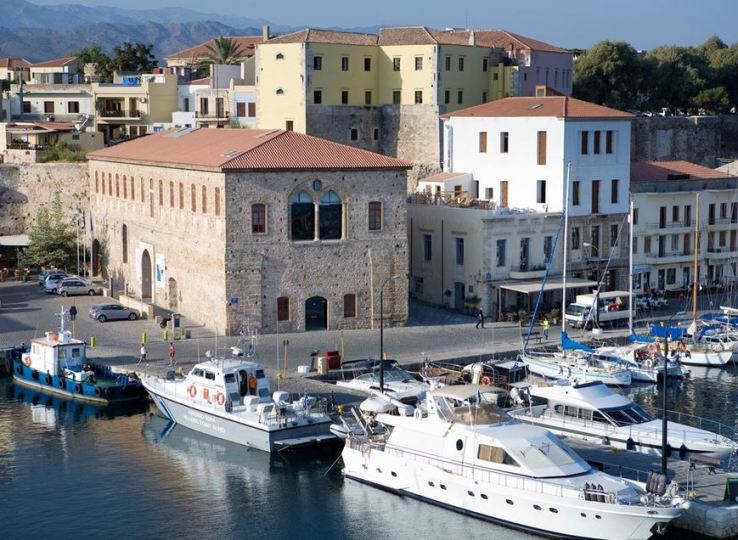 Chania harbour, the Old Arsenal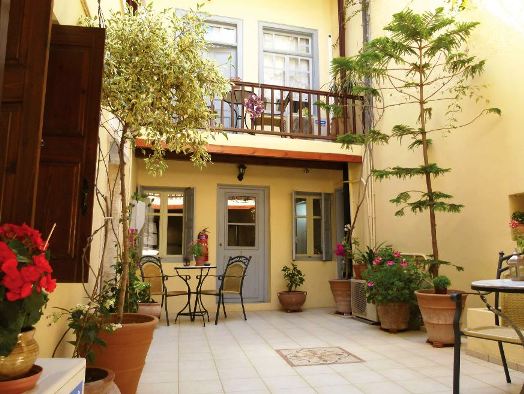 Madonna Studios within the walls of the Old Town, Chania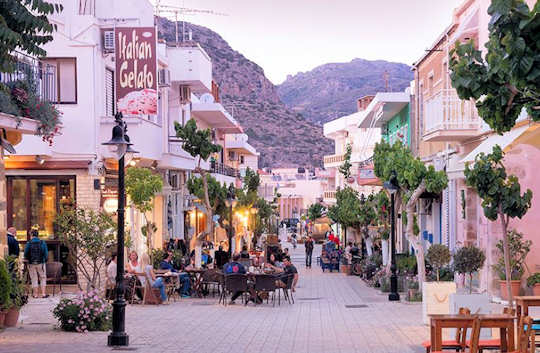 Paleochora village street, south-west Chania, Crete
| | |
| --- | --- |
| The Aris Hotel, Paleochora | |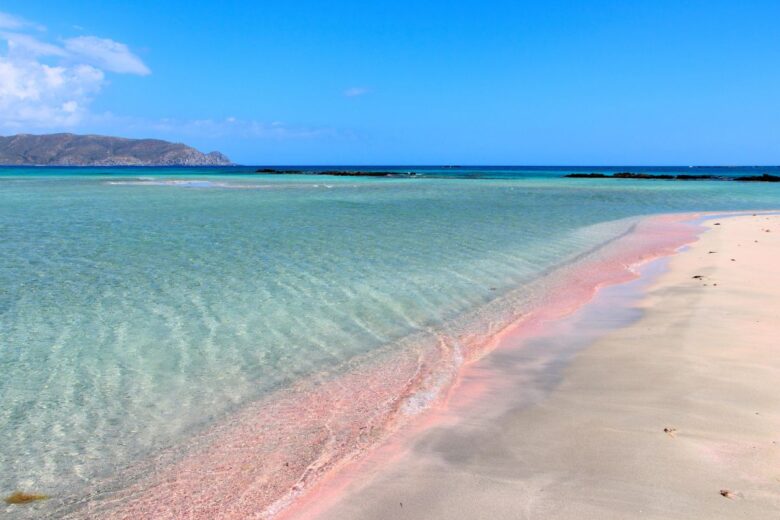 Elafonisi Beach is known for its unique pink sands
| | |
| --- | --- |
| Samaria Gorge | |