Elafonisi, Balos, Falasarna, Chania and Lake Kournas in Crete
by Marlena
(Poland)
Hi,
My friend and myself are planning to visit Crete for a 5 full days and would like to ask for the best ideas how to organize it to make the most of it :-)

We will arrive in Chania on 24th of September and leave on the 30th. We would like to see Balos Lagoon, Elafonisi and Falasarna beaches as well as Chania itself and Kournas Lake, therefore we were thinking to stay 24-28th in Kissamos and the rest in Chania.

Do you think it is a good option? Also, can you recommend the best way to Balos Lagoon? I was told that the best option is a boat, but then you miss the view...

On the other hand there is an other option - a car trip, however it is very difficult and we are unfortunately not the best driver ;-)

Any advises and tips will be very much appreciated :-)


West Crete Beaches and Lake Kournas
Hi Marlena,
We think the best idea is for you to stay in Kissamos as planned, for the first part of your trip, from there you can take the local bus to see Elafonisi and Falasarna. These will need one full day each.
You can take a boat trip from Kissamos harbour to see Balos Lagoon – it is so beautiful. You will still get the opportunity to climb up Gramvousa Islet to see the view and the old castle. This is almost a full day tour, then you will get some time to relax on the beach by Kissamos.
Then you can stay in Chania town and take the local blue bus to Georgiopoulis and then you need to take a taxi (4 km) to
Kournas Lake
. Georgioupolis is a lovely beach with a little white chapel, so this will be a good day out. There are tavernas for lunch at the lake or at
Georgioupoulis Beach
too.
Tips for accommodation in Kissamos, we suggest Defini Apartments or Med Studios. They are both on this page:
Kastelli Kissamos Town & Hotels...
For accommodation in Chania, we suggest you stay within the walls of the old town, to soak up the atmosphere. Try Madonna Studios, Mama Nena Charming Hotel, Alcanea Boutique Hotel or Pension Eva. If you require a more budget option, try the Hotel Helena or Diporto. If you budget does not stretch that far, stay outside the old town walls.
Chania Hotels...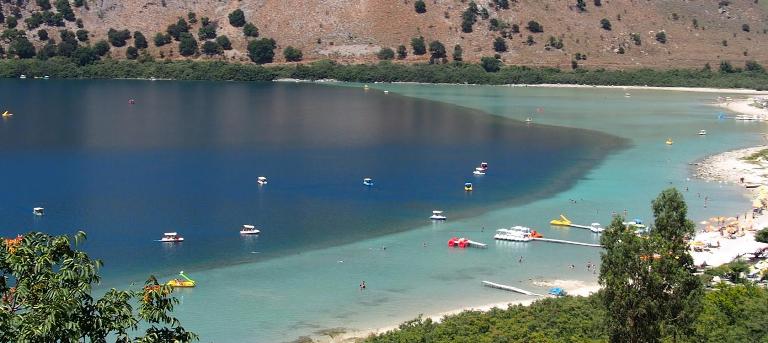 Bon Voyage! Kalo Taxidi!