Crete Heraklion Hotels
This page may contain affiliate links, see our disclaimer here.

---
Small Rural Cottages & Studios
Crete Heraklion Hotels - choose your country retreat by the map below.
More about the region of Heraklion...

We have chosen for the most part small, family-run cottages, agrotourism villages, guesthouses, pensions and B&B's with local character, if they are 1 km from the beach they are considered 'rural' because our beach pages cover accommodation houses just walking distance to the beach...
---
Arhontiko Studios
Arhanes Village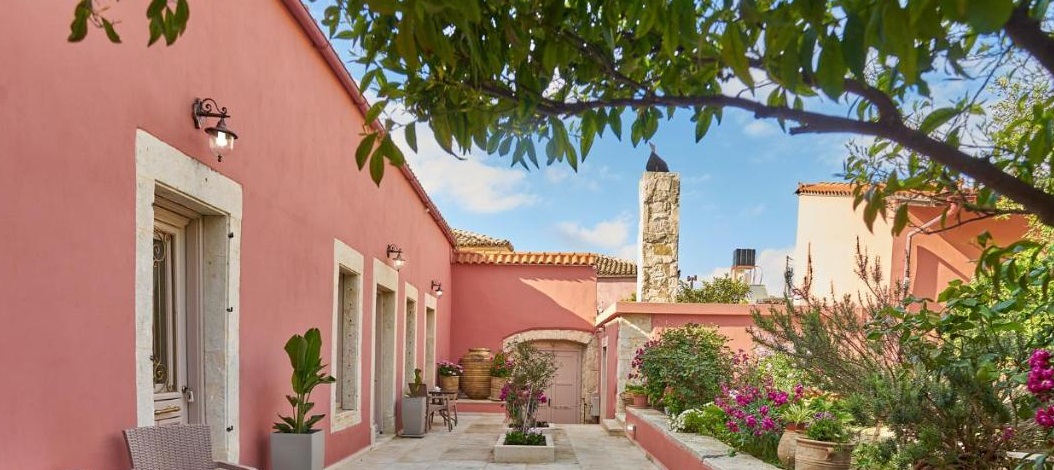 Crete Heraklion Hotels - The village of Arhanes is located just 14 km from Iraklion town and 7 km from Knossos. Surrounded by fields of low vines, there are many quality vineyards to visit, not to mention the historic sites such as Festos and Malia within Iraklion prefecture alone. The location is central to the whole island of Kriti.
The traditional 19th century mansion in the centre of the village of Archanes, dating from 1893, has been lovingly restored and created into the Arhontiko Αρχοντικό studios for guests, with every detail of the restoration attended to, from the stone work to the furniture and decoration. The result is spectacular, comfortable, authentic and cosy.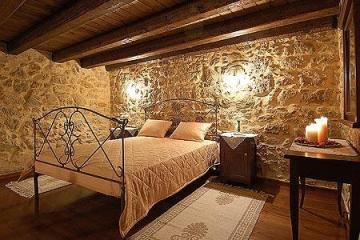 To  Αρχοντικό, directly translating to 'The Mansion' is a stately and grand residence, yet far from pretentious. This stunning old home takes us back to a time of both beauty and simplicity, where you feel time stretches out and life feels less complicated. The Mansion is stunningly decorated with genuine traditional decorations and furniture.
The attention to detail and the quality and taste of the interiors and exteriors is remarkable. The deep history of this building embraces and protects visitors while they rest and enjoy the beautiful town of Arhanes. For a truly special stay you will be glad to have stepped beyond the threshold of the Arhontiko and stayed a while. Ela, your tsikoudia is poured and waiting for you.

There are just two studios housing up to 4 guests each, in this building that was a former house, and home to rebel armies and now a declared "Protected Traditional Building". This village and this studio really are treasures that make us proud to be Cretan.

More information and bookings for Arhontiko Studios, Archanes
---
Rural Heraklion
Eleonas Eco Resort
Zaros

Crete Heraklion Hotels
The village of Zaros sits at the foothills of Psiloritis, the highest mountain in Crete. This lovely green mountain village nestles into the hillside, creating a peaceful haven and surrounded by great scenery, history and nature, makes a wonderful rural retreat only 44 km from Heraklion town.
See more about Zaros Village on this page...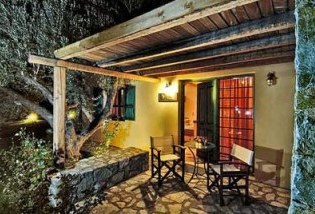 Eleonas Traditional Resort offers a set of cottages dotted about on a large leafy property located 2 km from Zaros in the Cretan mountains. Eleonas has been developed as a true rural retreat and is simple, country and wholesome at every turn.
Manolis Saridakis and his family will welcome you with true Cretan hospitality…
The Cretan hospitality, especially around the kitchen hearth, is important, the Saridakis family, especially Mrs Koula, love cooking 'with a mixture of love, good nature and a lot of imagination'. Traditional local dishes are the centre of the menu, including sage chicken, rabbit with peppers and lamb with artichokes. Local Cretan wines round out the selection.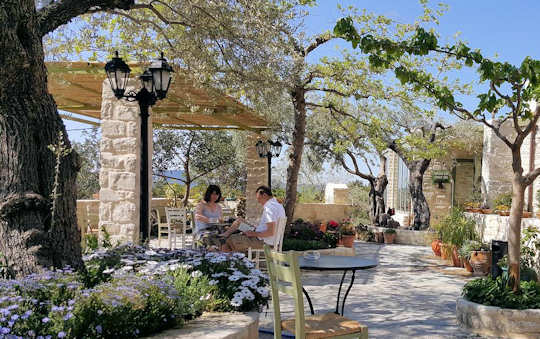 This is a family friendly-resort, with loads of activities for the family, from trekking and horse riding to archery, caving and canyoning.
Nearby are some lovely trout and salmon farms serving fresh fish in their traditional tavernas. One of our favourites!

More information for Eleonas Traditional Resort, Zaros
---
Rural Heraklion Hotels
Achlada Mourtzanakis Residence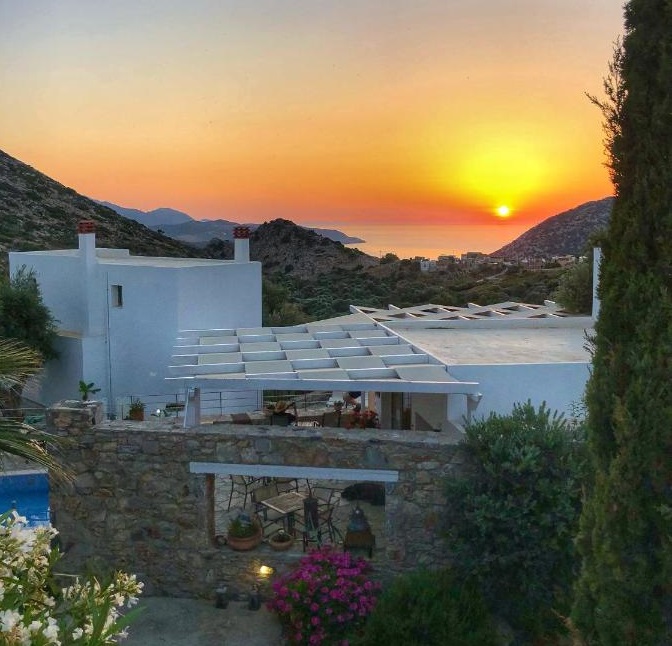 Crete Heraklion Hotels
The Achlada Mourtzanakis Residence is located 7 km inland from the beach, in the hills overlooking some of the most beautiful coastal bays on the north of Crete, in the small village of Achlada, which means 'place of the pear' in Greek.
Created by Marcos and Smaro to represent the traditional Cretan house, the eco tourism accommodation is perfectly set for rambles in the olive groves, for walks on the region's historical paths to ruins.
This is a relaxed setting just minutes from Heraklion town, port and airport, where you will find the Cretan hospitality alive and well.
The Mourtzanakis family have created a serene setting for travellers to soak up the wild and tranquil mountains of Crete.
With a love of tradition and Crete's wonderful heritage, they have created Mourtzanakis Residence in the traditional Cretan cupoid style perched in the wildflower-scented hills of Achlada, overlooking the bay of Agia Pelagia.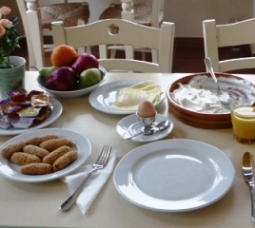 Tastefully decorated in a combination of modern and traditional furniture and fixtures, these villas offer a haven on your travels through Kriti with all the mod cons of our modern lives.
Satellite TV, air conditioning, a pool with a view and wifi internet are all at your fingertips, but you may find that you will resist using them and simply have a break from the fast pace of everyday life.
Soak in the deep and revitalising tranquility of these rugged Cretan hills with their sweeping views of the sea, while the gentle winds of Crete carry your worries and stresses away.
Natural stone, resplendant and clean white wash and earthy wood surround you in this modern yet traditional residence, fusing the best of Cretan beauty, simplicity and function.
Conveniently accessed via country roads off the northern National Road, Achlada is only 25 km from Heraklion.
Catering for couples and families alike, Mourtzanakis guesthouses are an ideal retreat for your Cretan holiday. Only a short drive from the beautiful beaches and cafes of Agia Pelagia.

The Achlada Mourtzanakis Residence
---



Crete Heraklion Hotels
Pension Aretoussa, Pitsidia
| | |
| --- | --- |
| | This small family-run pension in a tiny village in the south of Crete is inland from many beautiful beaches and just minutes from the famous archaeological sites of Phaistos, Gortys and Agia Triada. |
The village of Pitsidia is 65 km from Heraklion in the central south of the island, in the Messara valley.
| | |
| --- | --- |
| The pension is sweet and homely, surrounded by flowers, greenery and a garden. There is real hospitality here, at a good value price. There are simple rooms, air conditioning and home-cooked breakfasts. The Spinthakis family will look after you. This is a small place with 15 rooms, allowing for friendliness and personal service. | |
Nearby is the unusual and beautiful Matala Beach with tavernas, cafes, plenty of shopping and supermarkets. Also nearby is Kommos beach, Kokkinos Pirgos and many others of the southern coasts, overlooking the Libyan Sea with sunsets every evening.
This is a good budget choice of our Heraklion hotels.

More information and bookings for Pension Aretoussa
---
Arodamos Guesthouse, Krouson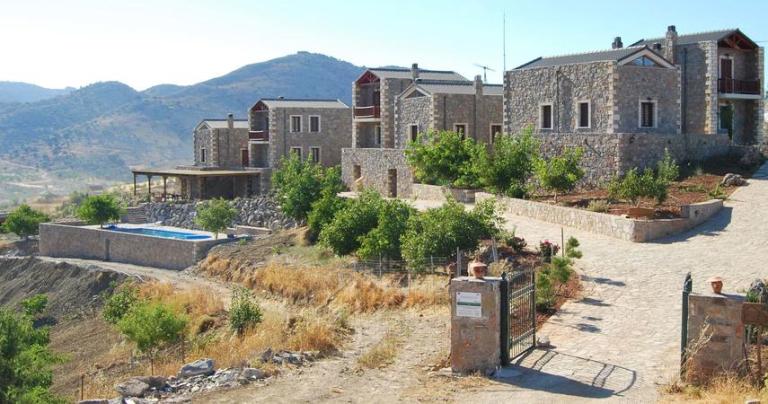 Six houses sit upon a hill with a glorious view
Crete Heraklion Hotels - this family-run traditional Cretan home way from home is located 33 km from Heraklion on the fresh Livadi Plateau in the foothills of Psiloritis. Here your whole family will be greeted by Yannis and Irini Tsikandilaki and treated to a real experience of Cretan farm life, with all modern comforts.
Check rates and availability at Arodamos Guesthouse...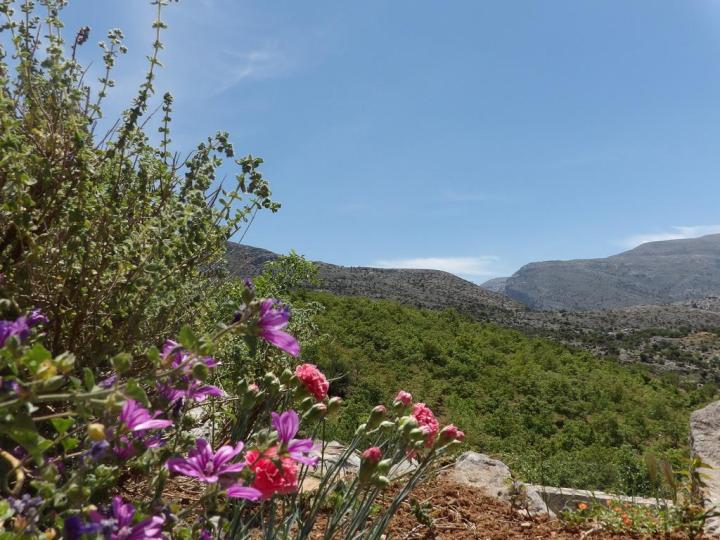 The Arodamos groves in spring
---



Traditional Cretan House
Agios Miron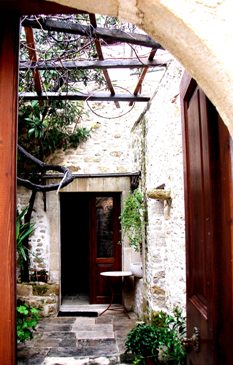 Crete Heraklion Hotels
- This is a lovely Cretan guesthouse full of character and local flavour, with only 11 rooms it is nice and small, allowing that personal touch and discovery of the real Crete. Popi and her family will look after you...
"It is the nicest rural village we found in Crete. The house is a real old Cretan rural house, restored, and is simply perfect. The owner is very kind, friendly...Great"
If you are after an authentic Greek experience in a genuine village, this is the place to come. If you want fancy boutiques and gift shops, perhaps this is not the place for you.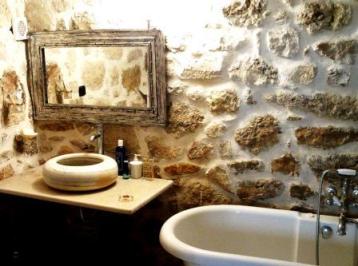 Live amongst local people in a rural village of Crete, try the local tavernas and maybe, just maybe, you might learn some Greek too!
A simple place surrounded by green foothills and fresh air all around...
Agios Miron Traditional Cretan House

---
On the Map...
Choose from Crete Heraklion Hotels by location with this map:
---
Getting Here...
Crete Heraklion Hotels in rural areas - always just a short drive from the town of Heraklion and the Heraklion International Airport with code HER.
Details of how to get here are below...

---