Bus Chania Town to Airport
by Jake
(UK)
Hi, I would like to know if you have any map with bus stops for buses going from Chania town to the Chania airport?




Bus to Chania Airport
Yes – here is a route map for the bus from Chania town to Chania Airport, Crete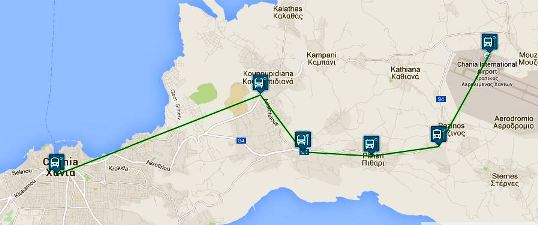 The bus stops as follows:
Central Chania Bus Station
is at the corner of Kydonias and Kelaidias Streets, just off 1866 Square, in the centre of Chania town, not far from the old zone.
To get to the bus stop from the old zone, walk up Chalidon Street then across 1866 Square.
Kounoupidiana
– the stop is at 17 Eleftherios Venizelou Avenue just before the service station and before the corner of Aristotelous Street
Pithari
- the next stop is at Pithari at 3 Ethniki Odos Aerodromeio Soudas, before the corner of Kato Horio St
Aroni
– the next stop is at Aroni at Ethniki Odos Aerodromeio Soudas (opposite the pharmacy)
Pazinos
– the stop is at the village of Pazinos just outside the airport
The timetables for the bus route from Chania to Chania Airport can be found on the Chania Rethymnon KTEL site e-ktel.com or on the regular Crete KTEL site. The times of the buses are in time for the flights and change depending on the season and the arriving and departing flights.
Generally there are buses from 5.00 in the morning until 11 at night and every hour or half hour during the day. It is best to check the timetables for exact times.
The fare costs around 2.30 Euro to the airport or from the airport to town, you can purchase a ticket on the bus.
To catch the bus from the airport, it is easy as the bus stop is right outside the door of the airport.

You are looking for the buses named KTEL and the sign will say XANIA.
The travel time is about 30 minutes.
See more on KTEL Crete here...
See more about Chania Airport here...
See more about Chania Town here...
The Chania region has plenty to explore...
More about Getting Around in Crete here...
The nicest part of Chania to stay in as a visitor is the old zone, there are lots of small pensions and boutique hotels here, but of course many of them are expensive. To get a real budget hotel, you might need to stay outside the old zone. Some cheaper ones inside the old town walls are 'Casa Latina' or 'Rooms 47' or you could try 'Diporto'.
Kalo Taxidi! Bon Voyage!