Athens to Heraklion Flights
by Mr Snowdon
I have a 7 night holiday from 21-28 August in Stalis.

I would like to fly to Athens on the 22nd early flight and get the last flight from Athens to Heraklion on the same day in order to watch a Europa football match.

Please could you advise flight times?


Evening Flight Athens to Heraklion
There are several flights daily from Athens to Heraklion with Olympic Airlines. The last one departs at 22.20 and arrives in Crete at 23.20
With Aegean airlines, the last flight from Athens to Heraklion departs at 19.45 and arrives at 20.45
See info to book your flight...
See more about Getting to and from Crete here...
Stalis is a beach resort 30 km to the east of Heraklion Airport. Upon arrival at this late hour, it would be best to take a taxi, or even better, arrange a pre-booked taxi, from the airport to your destination.
Pre-book a taxi transfer in Crete...
See more about Getting Around in Crete...
Stalis
is preferred by beach lovers, and is part of the busy resort area which continues along the north coast and includes Hersonissos and Malia. Getting away from the coastal area, you can explore more of the history, nature and culture of Crete.
Not far from here is the archaeological site of
Malia
, one of the four Minoan Palaces on the island, a culture which dates back to 2000 BC, one of the first civilizations in Europe.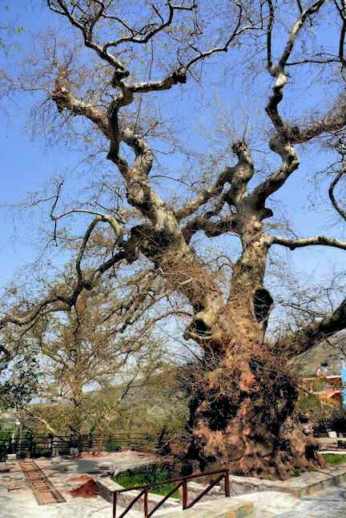 A village to visit 10 km inland from here is
Mochos
, where most of the original residents of Stalis – Stalida came from, there was never a permanent settlement here, but the villagers of Mochos visited the coast in summer. Already the height of the hills gives you a nice lookout.
Continuing on for 7 km, you will come to the pretty village of
Krasi
, where a lovely, huge old plane tree dominates the central plaza or
plateia
. This is a good shady spot to come on hot summer days. The name of the village means 'wine' so you see, there is a hint of some of the local tasty products you could choose to sample whilst sitting under the tree...
Continue on from here to visit the
Lasithi Plateau
, with many good choices available for lunch, and places to visit or sit and relax in the cooler mountain air...part of the
Dikti Mountains
...
Close by to this plateau is a large cave which is worth exploring.
Psychro Cave
also known as Dikteon Cave, if you drive up you will enter Lasithi Plateau and follow signs to the cave, at the car park you might be offered a donkey ride up to the cave. This is not really necessary because it is only a short walk...so unless you are feeling particularly romantic, best to give it a miss...the cave is quite modest, with a height of 15 metres, three chambers and good formations, structured pathways and a wonderful history...
Information for this trip:
Heraklion Airport...
Heraklion Town...
Beaches of Crete...
Malia Palace Crete...
Lasithi Plateau...
Dikti Mountains...
Kalo Taxidi! Bon Voyage!