Cheap Flights to Crete, Greece
Cheap Flights to Crete

Many of our readers from the North America are planning their trips, and ask us about cheap flights to Kriti.
Get prices and book flights here
Most likely the path to Crete in Greece will be through New York, and then Athens, Greece, with a local trip from Athens to Crete.
Prices change on these routes all the time and it is best to check on the services provided below.
---
European Routes...
We suggest the routes below and to search for up to date fares using the codes NY and ATH.
New York to Athens
Cheap flights from New York to Athens:
• Via London on British Airways
• Via Zurich on Swiss Airlines
• Via Paris with Air France
• Direct to Athens with Aegean Airlines, Olympic Airlines, British Airlines or Delta Airlines
---
Athens Info...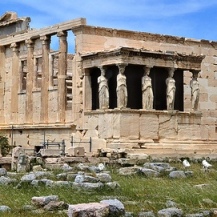 The airport in Athens, Greece is called Eleftherios Venizelos and the code is ATH. It is located 27km out of the city of Athens. It is not necessary to spend the night in Athens as there are many flights per day to Crete.

If you are interested in seeing Athens, see our Athens Stopover information.
We have plenty of information regarding Athens taxis, tours and where to stay near the airport (if you plan to), here on our dedicated page Athens Flights...
---
Crete Airports

The airports and their codes in Crete are Chania (CHQ) and Heraklion (HER), which both accept flights from all over Europe.
See how to choose an airport in Crete for your travel plans...

See the airport locations in Crete on the map below, cheap flights to Crete could fly into either of these international airports on the north coast of the island...
---
Transfer in Zurich...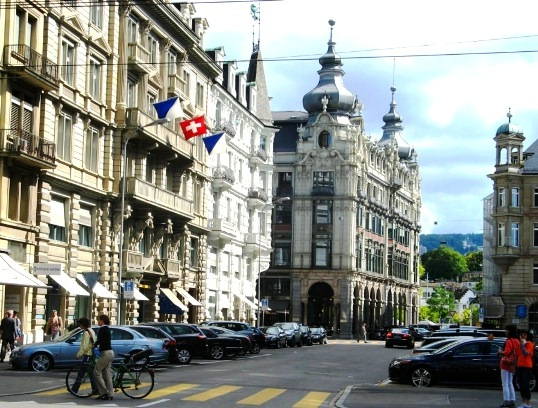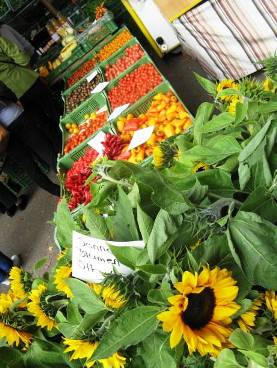 To fly to Athens via Zurich in Switzerland we always check for good fares on Swiss Airlines.

We love stopping over in Zurich, it makes for a nice and peaceful arrival in Europe...above the streets of Zurich with beautiful architecture, left the sonnenblumen (sunflowers) and fresh fruit at the markets at the edge of the scenic Zurichsee Lake Zürich...
Other destinations in Switzerland include Basel, Geneva, Berne and Lugano.
---
Cheap Flights to Crete
Flight durations
An idea of the non-stop travelling times from USA or Canada to Greece:
the flight time from New York to Zurich or London is around eight hours
the flight time from New York to Athens (direct) is around ten hours
the flight time from Zurich to Athens is around three hours
the flight time from Athens to Crete is approximately one hour
the flight time from London to Crete is around four hours
flight time from Toronto to Athens is around ten hours
---
Transfer in London

In summer there are many direct flights from London to Crete, so if you are coming from the USA you can use London as your hub city.
There are direct flights to London from many US and Canadian cities. Be sure to check the transit times and departure and arrival times. Aim to arrive in Crete before 9pm at night for a smoother arrival experience. Try to keep your transit in the airport in London below three hours. No need to wait any longer or the whole trip will be much too long.
Airports in London include London Heathrow LHR and London Gatwick LGW. If your flights does require you to change airports, it is a 45 minute transfer time, as the airports are located in different areas of London.
Cheap flights to Crete from London all airports (LON) are run in peak season by Easy Jet, Thomas Cook and Monarch
London to Heraklion HER or London to Chania CHQ