Agia Pelagia Beach
Agia Pelagia is about 20 km west of Heraklion, easily accessed 2km from the national road.
This little cove is gorgeous for swimming and has everything you would expect in a little Greek harbour town; crystal clear waters, sandy and pebbly beaches, and a string of tavernas right on the beach.
On the western end of the beach is exclusive access for the Out of the Blue Capsis Beach Resort, a large resort set in beautiful gardens, that also has exclusive access to another beach on the other side of the point, inside Ligaria Cove.
It is worth the walk up the hill to visit the resort for a meal or a coffee, as it is very beautiful and you can walk around the lush green gardens to the point.

There is plenty of parking in Ag. Pelagia or it can be reached easily by bus from Heraklion. Various rooms, domatia and hotels are dotted about.
This is a busy little resort town with nightclubs and bars, tourist souvenir shops, a supermarket, pharmacy, ATM and boutiques.
Back from the beach, the hills rise up quickly and most hotels and rooms have good views over the bay, which is a picturesque sweep of water.
The beach is well inside the surrounding peninsulars and so is quite a protected spot, good for swimming, with calm seas. It is a good spot for snorkelling or diving, and water bikes can be hired. Mononaftis Bay is to the west.

With all these facilities, the little cove has not lost its cosmopolitan charm and the promenade is romantic day and night.
We visited during a full moon, and swooned whilst looking at the fishing boats in the harbour, and seeing the pebbles through the clear, clear water. 
---
Diving in Clear Waters...
Scuba Diving is very good here, due to the clear waters and underwater rock shelves, and there are beginners classes, advanced classes and night dives offered here.
There are beach dives, boat dives and snorkelling trips just for fun. For the more experienced, certificate courses PADI, CMAS and NITROX are offered.
Diving locations include El Greco Reef and Cave, Mononaftis, Daedalos and even Dia Island.
A rich marine life can be experienced including stingrays, squid, octopus, moray eels, salemas, banded and saddled bream, sea rabbits, scorpion fish, sponges, sea anemones, conger eels, cuttlefish, shrimps, groupers, snappers, crabs, and the beautiful sea horses.
---
Cafe Bar by the Water...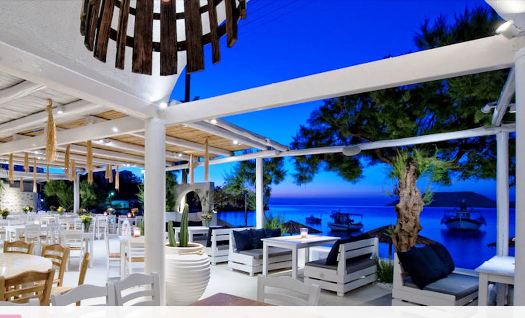 An excellent spot is Almyra (above), which has a bar, café and restaurant, all just a heartbeat from the water, and serves fresh local food, with great service (below).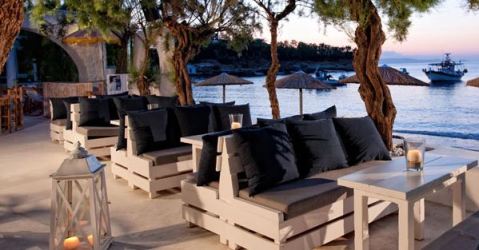 Agia Pelagia is one of our favourite beaches in Crete. It is still very Greek and charming. 
---
Accommodation in Agia Pelagia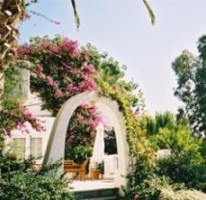 Check availability and rates at the beautiful leafy green Out of the Blue Resort in Agia Pelagia (pictured left).


One small family-run hotel in Ag. Pelagia is the Bellevue (below), situated quite high up from the water, being 1200 metres from the bay and 800 metres from Ligaria beach, this small collection of studios and apartments has a gorgeous view to Dia Island, and guests receive a warm welcome from George Pantounakis and his family. This will suit those on a budget looking for the real Cretan hospitality.
With lush gardens and a pool there is plenty of space to enjoy the sunshine, and a taverna serving authentic Greek meals in a friendly atmosphere. When walking down in the village you are sure to find George in his gift shop 'Dedalos' and he can show you to his cousin's bar.

More about Hotel Bellevue...
---
Some beautiful images below of this most enchanting bay: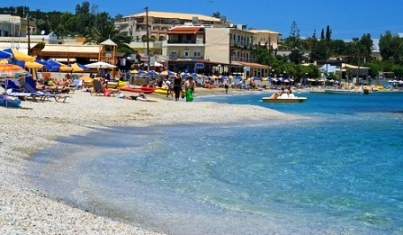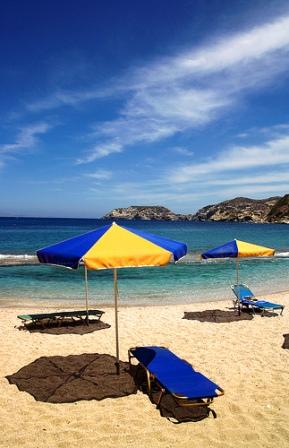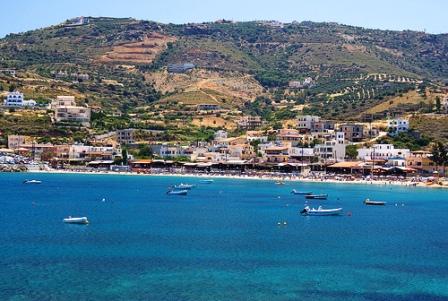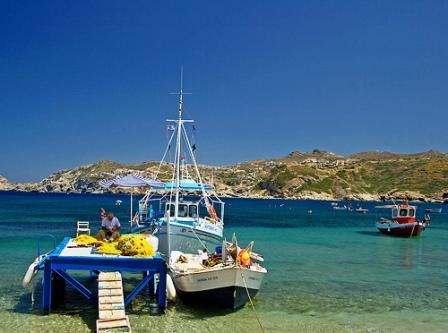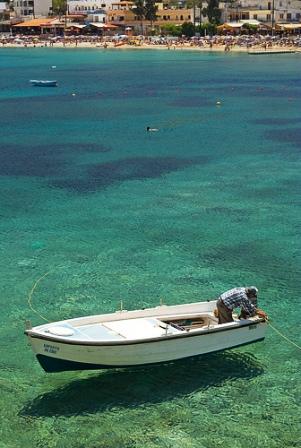 ---
Return from Agia Pelagia to We Love Crete Homepage
---