Agia Fotini
A Quiet Paradise in Crete
Agia Fotini Αγία Φωτεινή is located in the south of Crete, 52 km almost due south from Rethymnon town.
This taverna and rooms is located on a pristine natural beach.
Do you want to be..?
Miles from anywhere...
Gazing over the blue waters of the Mediterranean...
Sitting at a seaside taverna eating delicious Greek food...
Relaxed with no interruptions ...
On this undeveloped spot in the south of Crete you will find a local taverna, run by Stavros & Vicky Perakis with their children Vangeli and Evgenia.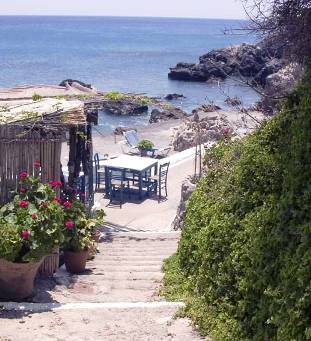 This is a traditional seaside taverna with modern touches of comfort, a simple taverna a stone's throw from the water.

Try the spinach pies, triangles of pastry filled with fresh spinach, horta, dill and fennel, or the fish such as silver bream or red snapper, or whatever Stavros catches on the day.
Many of the foods from the healthy Cretan diet are available here. Such as fresh local produce, home grown vegetables and herbs, fresh seafood.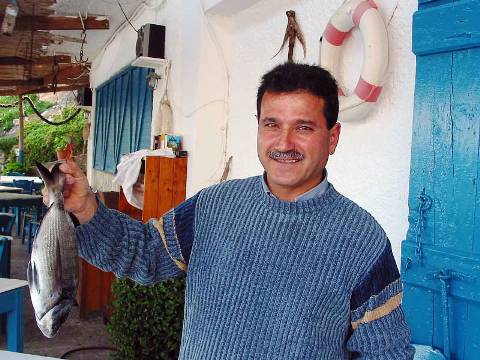 Agia Fotini - fresh catch of the day
Go there and just stop the world. Doze. Snooze. Float in the sea. Read a few pages of your book then let it fall lazily into your lap and gaze at the day...listening to the summer sounds.
If you really must move from this spot - other Crete beaches nearby are Triopetra, Ligres, and the stunning tropical paradise of Preveli Beach.
If you really must go touring, the villages of Kerames, Drimiskos, and Agalianos are nearby, and the towns of Agia Galini, Spili and the beautiful Amari valley, which are all nice to explore.
The historic site of Phaistos is within a comfortable driving distance.
The beauty is that you can return to this quiet Crete beach and relax the evening away whilst watching the sun set into the sea.
---
Getting to Agia Fotini...
By car this is a journey of about 50 km, taking you from the north coast of Crete to the south coast, looking over the Libyan Sea. Leave at least 2 hours for this journey.
From Rethymnon take the national road then the Spili/Tymbaki exit.
Drive to Spili, this is a good drive of about 28 km. Don't miss the opportunity to stop as it is a very beautiful village (see above). Refresh and get more petrol if you need it. Take the signs to Kerames. Keep following the sign posts to the taverna, going through Drimiskos to Kerames. Here you will find a couple of local kafenions, the traditional place for locals to have a coffee, and a small shop for simple needs. Turn right after the sign 'Kerames' and head down the hill towards the sea, this is a tarmac road which forks near the beach, turn left at the fork.
See more about getting to Crete here...
See more about getting around in Crete here...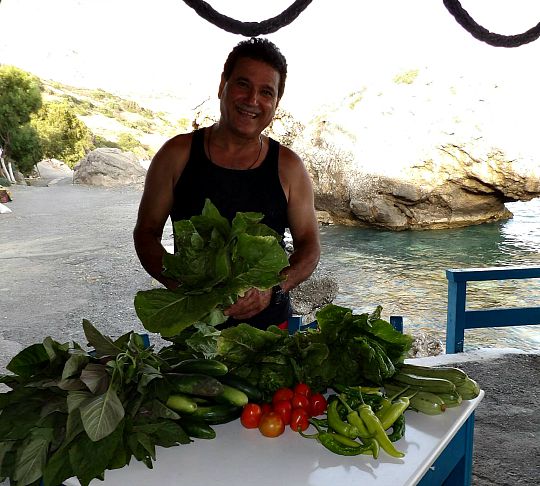 Cold raki by the bay - life is good
---