Welcome to our latest edition of Love Letters From Crete
Inside you will find:

• Places to See - Nida Plateau
• Food & Drink - Tsikoudia
• Cretan Musicians - Biography & Discography of Kostas Moundakis
• For Travellers - Cretan Facts & Maps
• Accommodation – Luxury Accommodation – Halepa Hotel in Chania

---
Nida Plateau
Nida Plateau is high in the mountains of Crete in Greece. Found in the mountain range known as Psiloritis, the plateau is 1500 meters from sea level and has a place in Greek mythology.
The plateau is 60 km south west from Iraklion, stop or stay at the notorious mountain village of Anogia to get the flavour of these wild mountains.
24 km higher up in the mountains from Anogia and totally unpopulated, the Nida Plateau is a high grazing ground for sheep in spring. At many times of the year it is cut off; completely snow-bound.
---
Tsikoudia
Tsikoudia...All over Greece, and much further a field, a fire-water called raki is produced from the grape skins and must left over from wine production. In Crete it is called tsikoudia. To know Crete, you almost certainly will become acquainted with this fine spirit.
---
Biography of Kostas Moundakis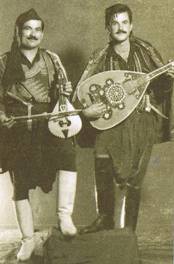 The biography of Kostas Moundakis is that of a Cretan hero. Born on 10th February 1926, in the mountain village of Alfa in Milopotamos, an area which to this day emanates true Cretan charm, not spoilt by the pace of the modern world and tourism. He would go on to become one of the most influential Cretan musicians.
---
Cretan Facts and Maps
We have collated a wealth of information and maps about Kriti for you, our travelling friends, including climate, store opening hours, main ports and airports and more.
Click here to go to the Crete Facts page…
---
Town Accommodation – Hotel Halepa in Chania
The Halepa Hotel is a small boutique hotel designed especially for those wanting an intimate elegant experience. Located minutes from the centre of Chania town, in the west of the island, this is a unique atmospheric hotel, sure to charm even the most experienced luxury traveller.
For other luxury accommodation ideas click here…
---
Accommodation Bookings on We Love Crete
Did you know you can make accommodation bookings via We Love Crete.com?
Look on our pages as follows to choose your guest house:
Town Accommodation in Crete
Rural Accommodation in Crete
Luxury Accommodation in Crete

Just click on the link next to the guest house you have chosen, and you will be taken to a terrific site called "Hotels Combined".
This site scans the internet for the very best prices, and provides hotel information, maps, photos and up to date availability. Make your secure bookings with a simple click.
Another quality service offered by we-love-crete.com
---
Something that you wanted to see but didn't find?
Contact us to request it.

Looking for a specific place? Have a look at our map page.
Join us in our love of this most beautiful island. Evíva!
---