Love Letter from Crete # 3
Welcome to our third edition of Love Letters From Crete

Inside you will find:
• Appeal - Plant Your Roots In Greece
• Village – Margarites Village
• Music – Biography of Andreas Rodinós
• Musical Instruments - Stagakis Hand Made Lyra

---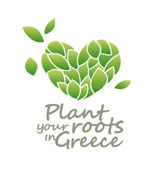 Visit the following site to contribute to the reforestation of Greece, recently devastated by serious fires. Much forest has been lost and we need to replant urgently.
The world Council of Hellenes Abroad - USA region - has a web-based donation site at http://en.sae.gr/

The aim of the Plant Your Roots in Greece program is to sensitise visitors to Greece and tourists in three areas:
1. To become aware of and contribute to the protection of the Greek environment through tree planting.
2. To strengthen the bonds with the birthplace, and more so for the younger generations.
3. To understand and adopt the concept of volunteerism as tree planting is always carried out in collaboration with Local Government Authorities, Archaeological Services and volunteer groups (high school and university students, athletes, scouts, hunters, fire fighters).
"Our vision is to see Greece green again, as we Greek immigrants to America remember it" says Mr. Spyropoulos "The main idea of the organisation is to combine the ancient Hellenic tradition of respect for nature with the Olympic ideal of volunteerism. We promote the spirit of reconciliation of man with not only the social but with the natural environment".
Trees have been planted in other regions burned by fire, such as in Pythagorion of Samos, Ancient Olympia and Kalavryta. Tree plantings have been done in Arta, Maniaki of Messinia, and Ano Viano in Crete. In collaboration with the Municipality of Delphi, on two occasions, the foundation has planted trees in the area.
"Is there a better way to celebrate an occasion (wedding, christening, anniversary, and birthday) or to honour one's memory than by making a contribution to the tree-planting of an area? " asks foundation board member, Mrs. Rose Marie Meier. "Many companies think that tree-planting is a perfect gift because it lasts a whole life. Indeed, what gift can be more important than that which contributes to the survival of our planet? "
Over the last four years, the foundation has carried out five tree-planting activities in Sounio as it has accepted the responsibility for the maintenance of the entire burned area across the Temple of Poseidon. "Cooperation with the Municipality of Lavreotikis is excellent and trees are always planted by volunteer and resident groups. " explains Mr. Spyropoulos.
Please give generously by donation if you cannot be in Greece to assist with reforestation after the fires. We will replant and grow a greener Greece. http://en.sae.gr/

Source - saeusa.org

---
Margarites Village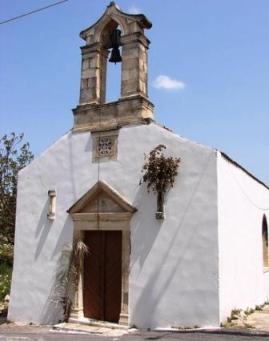 The village of Margarites Μαργαρίτες, is 30 km south east from Rethymnon town in the centre of the island of Crete in Greece.
Located in picturesque green rolling hills, Margarites is well known for its pottery, and attracts large tour buses in the busy season. After the rushed tourists have left, it is then possible to stroll around this very charming village and enjoy the many pottery studios. The tradition of pottery goes back many generations in this village and you will be able to find an elder to show you how the pots are hand thrown.


The beautiful photo of the church in Margarites (above) from Yiannis Makrakis, thank you Yianni.
The village has some extraordinary architecture and many lovely narrow winding streets, and is well worth exploring. The church of Agios Ioannis Theologos has frescoes from 1383. There are Venetian doorways, Byzantine churches and plenty of cafés to relax in, perhaps to try a Greek coffee.
In Margarites you will find authentic accommodation run by generous and hospitable locals. Such a small hotel is "I Velandia", with its own taverna offering great views of the local countryside and traditional Cretan food. See the mouth-watering menu at www.belanidiahotel.gr which includes skordalia, courgette balls, broad beans, black eyed beans, stuffed vine leaves and fried snails…and those are just the mezedakia!

Around and About Margarites
The neighbouring village of Tzanakiana is also very pleasant to visit, perhaps to stay a while at the beautiful House of Kourites a traditional pension.

The nearby Melidoni Cave has a rich history. Artefacts from the cave are displayed in the Archaeological Museum of Rethymnon. The myths surrounding the cave include the extraordinary story of Talos, a bronze giant. This creature circled Crete twice every day throwing rocks at invaders and pirates. The myth says that Medea, an enchantress, removed his special thorn and he bled to death.

Melidoni Cave also has a tomb and a plaque marking the death of 340 Cretan men, women and children killed by the Turks in 1824. The people had hidden in the cave and refused to surrender. The Turks lit a fire and all were asphyxiated.

Eleftherna, a Dorian and later Roman settlement, is 5 km from Margarites. This historic site is spectacular and surrounded by hills and gorges. There are remains of a fortified tower from Hellenic and Byzantine eras. Not well known on the tourist routes, you will be able to wander with plenty of space and time to enjoy nature and history.

---
Biography of Cretan Musician - Andreas Rodinós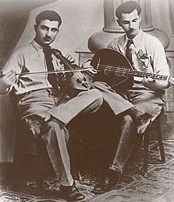 Andreas Rodinos Ανδρέας Ροδινός was born in Rethymnon in 1912. When only 10 years of age, he bought himself his first lyra for 5 drachmes. At this age, he was found holding a stringless lyra, adamant that he would some day learn to play. He was quoted to have said at this time
"I will learn to play the lyra. Of this I am hold no fear, and at midnight I will go to the lighthouse where I shall play…and even when the devils come and try to budge me with their horns, I shall speak no word, but play."
Here was a spirit far greater than the mortal body that was to contain it. The flame of passion for the instrument was ignited.
Rodinos began formal lessons on the lyra at the age of 13 from a relation on his mother's side. His teachers were some of the lyra's oldest exponents, such as Nikistratos, who sadly passed away only shortly after having commenced teaching Andrea, then Piskopis. Rodinos was an avid student, always hungry to learn and master the instrument.
By 16 he was renowned as an immensely gifted lyraris, and formed his own group with Stavros Psillaki on louto. Later he played with the great louto player blessed with a tremendous voice, Gianni Bernidaki. Rodinos was unique in that he would never accept payment for his performances.
A group consisting of Rodinos on lyra, and two friends, Lefteris Gaganis and Giannis Bervidakis (Baxevanis), wrote and recorded 2 albums. These albums contain songs that to this day are standards in Cretan repertoires. Songs like Rethymniotikos Sirtos, Kissamniotikos Sirtos and Rethymniotikos Pentozali.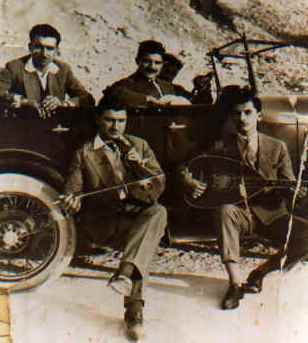 By the early 30's Andreas Rodinos' reputation reached as far as America, where Cretans abroad marvelled at the news they heard of this master lyra player. Still, despite sizable offers, he would not accept payment for his performances. The few times that he did accept payment, he gave the money to the church. For Rodinos, expressing his soul through this magical medium was reward enough.

For long hours he would lock himself in his basement and play hour upon hour. He would deepen his voice on the lyra and compose. Playing so much that with the passing of the years, he delved so deeply, expressed so much of himself through this simple and mysterious instrument, that progressively his health began to decline.

In 1933, when he was 21 years old, he was drafted into military service. During this period, he was hospitalised and regarded as psychologically unwell. Once again we find an artist suffering the loss of freedom and expression.

The following year, 1934, on the 9th of February, Rodinos passed, holding tight his case holding his two lyres. Only days before his passing, in the plateia Platanos in Rethymnon, Rodinos was heard to sing the following mantinada whilst playing his lyra.

"O plane tree, tomorrow I leave, so shed your leaves, For the lyra of Rodinos, you shall not hear again"

"αύριο φεύγω πλάτανε και μάδησε τα φύλλα για δε θα ξανακούσεις μπλιο του Ροδινού τη λύρα... "

So revered was Rodinos by his fellow Rethymniotes, that on the day of his burial, the town of Rethymnon closed its doors from trade and all walked in succession to his grave in memory of this inspiring artist.

Rodinos was the epitome of true Cretan passion.
---
Stagakis Cretan Lyra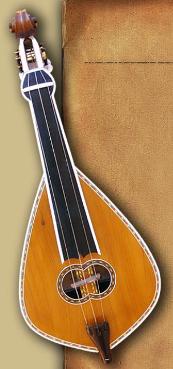 As haunting as the winds, and as deep as the roots of

Mount Psiloritis, the sound of the Cretan Lyra is an enigmatic and soulful instrument.
Since 1945, Manolis Stagakis of Rethymnon, has been making quality hand made Lyres that play & look like true works of art. And these instruments are truly nothing short of art. Every component possible of a Stagakis Lyra, are made by the hands of the Stagakis family, from the special glues psarokolla, to the varnishes gomalaka… and only the finest woods are selected for their sound and finish. The sound board kapaki is made of rare katrani wood which is at least 300 years old, and the back of the lyra is shaped from either walnut, mournia, austrian kelembeki or asfendamos wood.
The Stagakis workshop originated near the old town of Rethymnon, where Manoli Stagaki began making his fine lyres that where to be played by some of Crete's finest lyrarides. Such as Nikos Xilouris, Psarandonis, Skordalos and Mountakis.
In 1970, Manoli's son Michalis was to be the director and primary luthier at Stagakis, contributing greatly to the art and technique of lyra making, and even applying his attention and knowledge to the development of lyra specific strings, releasing the Lyra Di Creta strings through Dogal in Venice, Italy.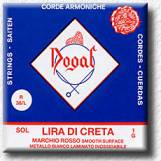 Sadly Michalis was to pass away in 1995, leaving his son, the third generation of Stagakis', to take the role of lyra maker. Today, Manolis Stagakis Jr. with the inspiration of his grandfather and his uncle Dimitri, himself a fine violin maker, continues on the proud tradition of making some of Crete's most treasured lyres.


For further information or to order your own unique hand made lyra, visit the Stagakis website at www.stagakis-manolis.gr


---


Something that you wanted to see but didn't find?
Contact us to request it.

Looking for a specific place? Have a look at our interactive map

Join us in our love of this most beautiful island.

Evíva!