Love Letters From Crete
Yiasas... Ela...Come explore the island of Crete in Greece.
Welcome to our latest edition of Love Letters From Crete
Learn Greek in Greece
For the Grecophiles amongst you, we have some suggestions for unique holidays in Greece, travels that will integrate your experience into everyday life in Greece.
These journeys will challenge and stretch you in new ways and provide unique memories...and perhaps new friendships...
Consider learning Greek or attending a Greek cooking class. Experience the relaxed and convivial island life first-hand.
Of course, cooking and knowledge of the local cuisine must be enhanced by long meals at the local tavernas... Language lessons and painting sessions must be interrupted by refreshing swims...
Greek Food in Greece
As the Cretan and Mediterranean diets become more recognised for their healthy, life-giving properties, we suggest ways to explore organic gardens and the natural cuisine of Crete.
We trust you enjoy this edition of our newsletter...
Naste kala
Kalo Taxidi!


---
---
Learn Greek in Crete


Greek Language Lessons in Chania

• Beginners programs start in May, June or July
• Active programs throughout the year
• School housed in a lovely 19th Century country home
• Located near Halepa the historic suburb of Chania



Learn to Speak Greek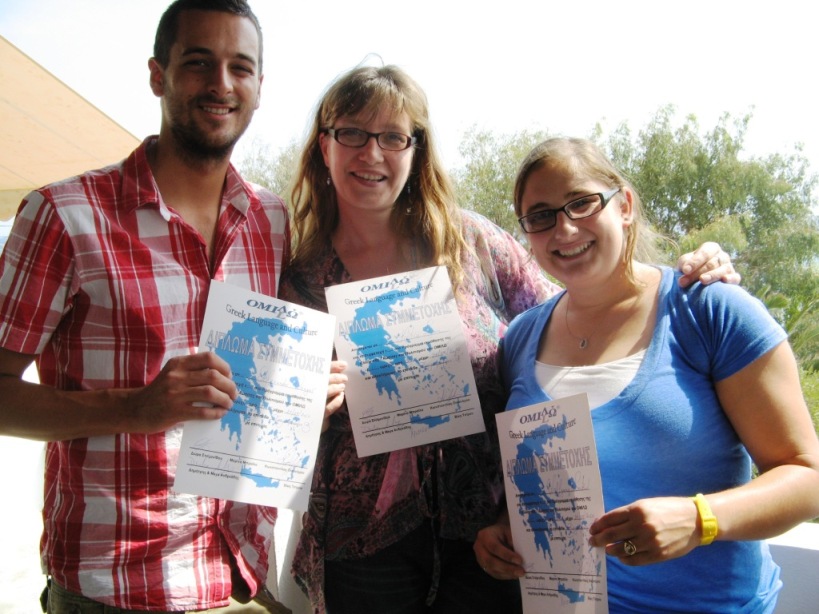 Omilo Greek Language School

We can enthusiastically recommend the team at Omilo Greek language school, based in Athens. They offer two-week intensive Greek language and culture sessions in various beautiful locations throughout Greece also, such as Syros, Andros and Nafplion.


Learn Greek in Nafplion
Celebrate Easter with the Greeks
April - May 2013
Language classes from 9.30 to 1.30 daily, with these cultural activities included:
• Walk in Nafplion
• Walk to Karathona Beach
• Greek dance lessons
• A small introduction into Greek music
• Taverna dinner on arrival day
• The Greek Church festivities on Friday and Saturday

Greek Cultural Week – July 2013
• Greek Cooking & Taverna Visits
• Traditional Greek Dancing
• Private Greek Language Lessons
• Painting in the Mediterranean Light



Learn Greek in Syros
• Beautiful beaches
• Historic Ermoupolis, the capital of the island, to explore

Eco Village in Crete
This is a unique village in the mountainous western region of Chania in Crete. Tassos and his fellow villagers will show you their environmentally sustainable village and provide fresh, delicious food.


Organic Food and Village Fare
At Enagron, the visitor can experience the following "For a better acquaintance with this diet but also with the traditional gastronomy, we organize a day activity, a short taste trip of "initiation" to the Cretan nutritional model.
We start the day with visits around our farm, the gardens, the vineyard, the orchard, the stable. We cultivate olives, grapes, fruits and vegetables. However, we do not use any pesticides or fertilizers because we want to get the authentic taste and the ultimate quality of the products. The same applies to milk and eggs produced in our farm.
After the return from the guiding tour around the farm, we visit the kitchen. Our cooks, Stavroula, Eirini and Virginia are expecting us there. They have all been born and grown up in the neighboring villages, have been familiar with the local tastes since childhood and in addition they have been trained on food hygiene. They will show us how to prepare some of the most typical dishes of Crete."
Enagron is located in the Psiloritis range in Rethymnon, in the village of Axos...


Independent Crete – Five Days in the West of Crete by Car or Motorcycle
---