Love Letters From Crete
Yiasas! Ela! Come explore the island of Crete in Greece.
Welcome to our latest edition of Love Letters From Crete
We have been busy creating many new pages for your information, entertainment and for making travel to Crete and Greece easier.
Please contribute your story and picture of your favourite beach in Crete, with our easy to use form on the new 'Favourite Beach of Crete' page.
We travelled to the Cycladic islands of Syros and Mykonos and have brought back our favourites and lots of local information for you.
We also spent some more time in Athens and particularly Kifissia and suggest some practical steps for learning Greek.
We have updated information for our friends travelling to Crete by air from North America, and found some fantastic quality picture calendars of Greece at incredibly low prices.
Poetic images of Greece including the beautiful Greek houses and Greek seafood have been included in our new image galleries.
Many of our readers have been falling in love with Crete and Greece and looking to move here, so we have put together information about Greek property, properties for sale in Crete and living in Crete.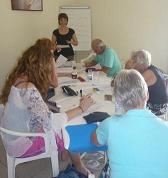 Learning Greek in Crete & Greece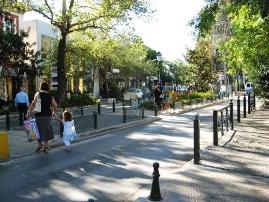 Kifissia – The Leafy North of Athens