Love Letters From Crete
Yiasas! Ela! Come explore the island of Crete in Greece.
Welcome to our latest edition of Love Letters From Crete
Inside you will find:
• Beaches – The hidden village of Kato Zakros
• Music – Traditional Instruments by Giorgos Papchatzakis
• Accommodation – A traditional house in the old town of Chania
• Travel – How to get from Crete to Santorini this Summer
• Local Business – A Family from Kaliniktis

Kato Zakros Beach
The village of Kato Zakros Κάτω Ζάκρος is located on the south east coast of Crete in Greece, 42 kms from Sitia in Lasithi.
The small hamlet of Kato Zakros, meaning 'lower Zakros', sits by the beach, inland is the beautiful rugged Zakros George leading to Zakros village, a farming community 7 kms to the north.
The ancient Minoan site of Zakros Palace, dating from 1900BC, is nestled behind the village and contributes to its protected status, keeping new development minimal. Important artifacts from this site include the rock crystal vase and bulls head rhyton displayed at the archeological museum in Heraklion.
A hideaway from the hustle and bustle, Kato Zakros embodies the relaxed Greek seaside village character. White washed buildings with blue trims line the shorefront, a string of tavernas lines the bay, tranquility reigns.
Rooms and apartments are available right on the water's edge. A little way back amongst some shade are the beautiful Stella's Traditional Apartments. Exuding traditional charm and run with marvellous hospitality by Elias and Stella, travellers will find a warm welcome here.


---
Traditional Instruments in Lasithi Plateau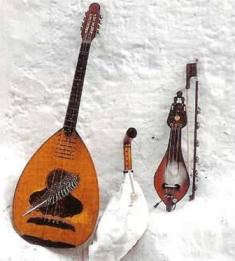 Giorgos Papchatzakis is a skilled luthier. He was born in 1966 and grew up in Neapoli in Crete.
After studying at the Luthiers School of Kastoria with the respected teachers Sean and Tassos Koukourigko for three years, he became a recognised artisan and has been perfecting his craft ever since.
Since 2004 he has run a workshop in Neapoli, Lassithi for the construction, maintenance and repair of musical instruments.
Giorgos keeps alive the traditional knowledge of these beautiful instruments at the heart of Cretan music and soul.
Many customers, be they amateur or professional musicians, have a special instrument built by him.
The workshop is located at Captain Kokkini 2, Neapoli, Lassithi, Crete
When you visit Giorgos mention We Love Crete and also his lovely wife Vivi !!
More information at www.crete-luthiers.gr


---
Historic House in the Old Town of Chania
To our friends who have enjoyed their stay at Milia Mountain Retreat, please see the recent news from Tassos below: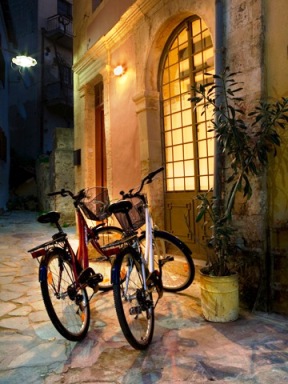 Dear Guest,
We would like to introduce our new effort to the accommodation field, this time in a Venetian house in to the heart of Chania's old town.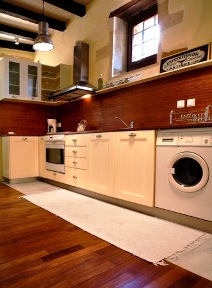 The location is excellent due to it is very quiet day & night and it is not crowded by mass tourism. If you like to spend some or more days in Chania you will enjoy very much the character of this "personal touch" house.
See it in www.to-spiti.gr and send us your opinion if you can in email.




Thank you for your attention and hope you will like it.
Kindest regards
Tassos Gourgouras
Milia Mountain Retreat
Vlatos, Kissamos
73012 - Chania Crete - Greece
tel/fax: +30 282 104 6774
+30 28220 51569
+30 6945 753 743
www.milia.gr
---
How to get from Crete to Santorini this Summer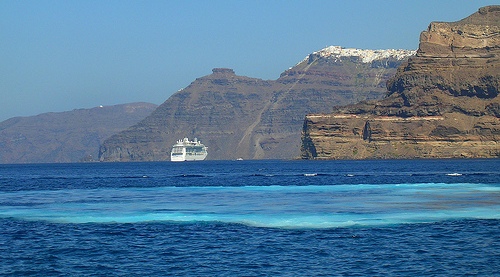 Getting from Crete to Santorini is easy. In summer, there are magical new ferries that can whizz you there in under two hours, and jet aircraft to take you there in half an hour.
Santorini is known as Thira, so look for this name when checking timetables and booking your trip.
Regular ferries take between four and five hours to do the crossing from Crete, which is approximately 110 kms or 70 nautical miles.
The fast service from Hellenic Seaways makes it possible to visit Santorini for the day from Heraklion in Crete. From Chania to Santorini
No ferries or flights. Depart via Heraklion, Agios Nikolaos or Sitia.
From Heraklion to Santorini


Service
Vessel
Duration
Contact
Hellenic Seaways
Flying Cat 4
1 hr 45mins
www.hellenicseaways.gr
Sea Jets
Super Jet & Mega Jet
2 hours.
www.seajets.gr
GA Ferries.
Traditional ferries
4.5 hours
www.ferries.gr/gaferries/
Sky Express
Small aircraft
Half an hour
www.skyexpress.gr

If you would like to take a day tour from Crete to Santorini, see more information at www.tourline.eu


---
A Family Business in Kaliniktis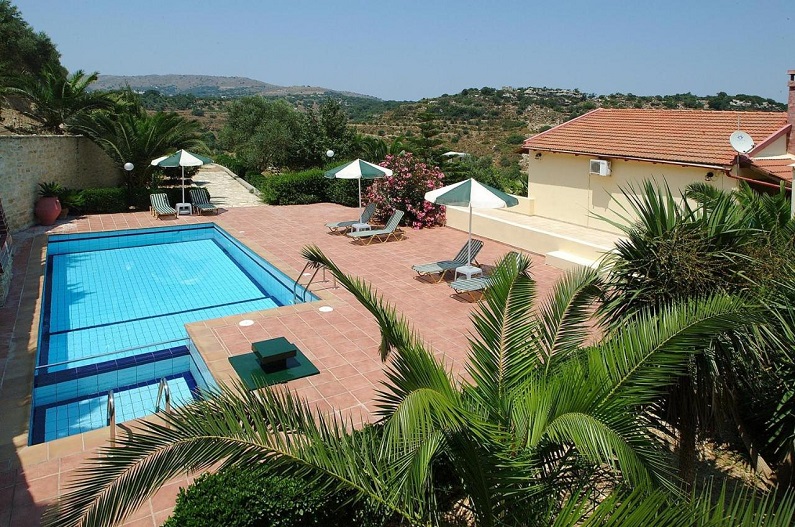 Villa Stratos is run by a local family. Eva Kapetanakis says: "This is a family business. Villa Stratos has taken its name from my husband Stratos, Villa Fouli from my eldest daughter Fouli and Villa Maria from my younger daughter Maria.
We make our best for our guests, in order to have relaxing and unforgettable holidays here in Rethymnon".
Stratos Villas are located in rolling hills in the central north of the island, only 7 kms from the beach.
Sitting on a small hill 12 kms from Rethymnon town on the north coast of Crete, Stratos Villas are 82 kms from Chania town and 70 kms from the international airport.
Agrotourism
The location of the villas just outside a small village, surrounded by agricultural land, makes it perfect for agrotourism adventures.
Whether it is walking tour or cycling in the nearby leafy paths, or hiking on the lush hills and discovering beautiful plane, oak and olive trees as well as various aromatic plants, bushes and herbs, there is plenty to do here.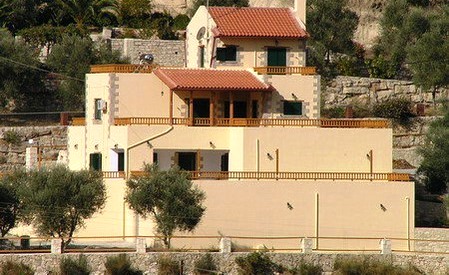 A small river 100m away from Stratos Villas is a relaxing spot for watching frogs, crabs, turtles, ducks and birds or simply meditating in nature.

From April to December there is gardening to enjoy, whilst in May, June and July there is sheep shearing and in November the new season's wine tasting is open to guests.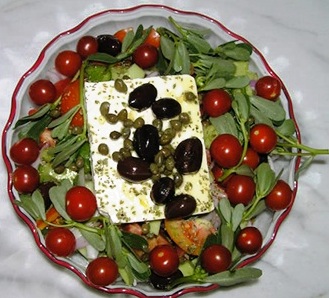 Cooking
Are you interested in cooking Cretan food? Evangelia, the now famous family cook, will be very pleased to show you the way pure traditional Cretan dishes and sweets are made. Pure virgin olive oil, home-made wine and raki, fruits and vegetables are produced in the house gardens. Plenty of other locally grown foods are also delicious.
Kaloniktis is an unspoilt farming village with narrow lanes and beautiful traditional Cretan architecture and Venetian buildings including a mill. The surrounding countryside is wonderful for walking.
Some guest comments about their stay at Villa Stratos: "We have enjoyed a lovely week! The villa is wonderful, much more comfortable than anywhere else we stayed at in Greece. The surrounding area is beautiful! We have enjoyed lazy days by the pool, watching the swallows drink the water! Eva and Stratos have been wonderful hosts and have made us feel very welcome! Thank you Eva for the delicious edible treats, we especially enjoyed the breakfast cake and Eva's own olive oil!!! We will recommend the villas to our friends and family and hope to return in the future!! Thank you for a wonderful stay! "
"It was with great pleasure that we were the first guests of your beautiful Villa Fouli. We had a wonderful vacation on this island with all the nice villages, beautiful beaches and mountains, Rethymnon with its Venetian and Turkish remains and its friendly inhabitants. But the one thing that made our vacation extra special was staying here in Villa Fouli. Every morning we woke up and saw the sun coming up behind the mountains. We loved looking at all the birds and enjoyed the complete rest. The children loved playing in the pool and walking through the big gardens."
"Dear Eva and Stratos, your house is beautiful, but the one reason that we loved it so much was definitely your hospitality. From the moment we arrived you took such good care for us. Thank you, thank you, thank you for making this vacation one to remember."
More information at www.stratosvillas.com


---

Something that you wanted to see but didn't find? Contact us to request it.

Looking for a specific place? Have a look at our maps page.



Join us in our love of this most beautiful island.

Evíva!
---