Welcome to our first edition of Love Letters From Crete
Inside you will find:
• Cafés - A Unique Cretan Café – Figaro in Rethymnon
• Beaches – The hidden village of Loutro
• Music – Biography of Thanasis Skordalos 1920-1998
• Accommodation – A rural traditional house in the mountains of Psiloritis
• Preview of upcoming topics

Cretan Musician
Thanasis Skordalos 1920-1998

Called by many the teacher ο δάσκαλος, Thanasis Skordalos was born in Spili, Rethymnon, Crete, where he discovered his love for the lyra at the age of nine. While he did not give an official performance till ten years later, he had developed a style uniquely his own. With a thin and soulful voice, a style where the lyra was not overplayed, yet infused with a deep pathos.
There are few traditional Cretan artists who created such a legacy as Skordalos. He has left us with a body of work that includes over 150 recordings, with precious live recordings, and albums entitled And If I left I Exist and For Ever.
---
Figaro Art & Music Café
Old Rethymnon town… Figaro beckons… the courtyard outside with ruins next door… archways covered with ivy, the terracotta rooftiles over the entrance are crowned by brightly coloured bouganvillia against the whitewash. Views up and down the street…the tall thin minaret of the seventeenth century mosque looking over everything.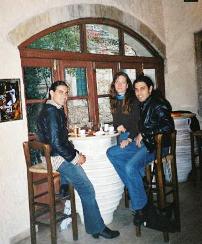 Two potted figs adorn the arched entrance, whilst setting the tone in front of the bar are huge ceramic storage jars known as plithari, used as concept tables. Wooden folding doors open wide. The large archway from the narrow street to the inside café is stone lined. The walls are rough washed.
Inside the atmospheric bar is wood lined, the music is more than likely latin or world or folk, and the customers are local students.
Inside another courtyard… bright sun with clear panels allow light of the sky… decorated in a modern style… white and red … pretty candle holders and plenty of room to spead out and play tavli.
Figaro Café is locted on Emm. Vernardou 21, just after Neratze Mosque in the old town of Rethymnon.
---
Loutro Village and Beaches

Loutro is a tiny inaccessible seaside village in the south of Crete, sparkling white next to a turquoise green and blue bay, with the harsh sandy mountains rising up behind her.
Located 75 km from Chania, bus connections to Sfakia then boats to Loutro are the only way to get here, except for hiking in.
A little village with that indescribable Mediterranean feeling of freedom, white light and space.
The tight little harbour of the village makes it a safe port even in bad weather conditions, its inaccessibility means there are no large hotels, no crowds and no cars!
Swimming is enjoyable between April and November. Within walking distance are beaches such as Loutro Bay Beach, Ilingas Beach and Timios Stavros Beach. By boat visitors can swim at the incredibly beautiful Glyka Nera Beach, which means sweet water, and Marmara Beach.
There are plenty of little pensions offering domatia, there are cafés and restaurants, a mini market and internet is available. Why not unhook from the world, though, and just relax in the sun?


If you have had enough of lazing around in the sun, canoes can be hired, you can snorkel and dive, even take a dive course…
Nearby are a few Venetian ruins, dotted around the limani. Also a beautiful white-washed chapel framed perfectly against the blue sea for photographers.
Then for the walkers and hikers there are endless explorations in the mountains and gorges of Crete. Hiking gorges nearby are Aradena Gorge, Imbros Gorge, and Samaria Gorge, you can take a boat to Agia Roumeli to begin your walk.
Serious hikers can walk up the steep hill to the ancient village of Anopolis, high in the hills, and be rewarded with stunning views over the Libyan Sea.
From Loutro you can visit Gavdos Island by ferry, via Sfakia.
Sitting down to your evening of happy dining and meeting people, you look out over the pristine bay and the sunset. Try the local fresh cuisine such as fresh greens, salad, tsatsiki, fried courgettes, octopus, squid, red mullet, swordfish, and lamb or fish souvlaki. Don't forget your tsikoudia and have a great night! Stin iyia sas!
Visitors can arrive in Loutro by ferry, private charter or taxi boat from Sfakia in the south of Chania prefecture of Crete. See below for more details of transport within Kriti.
Here is a short video of beautiful Loutro…


---
Cretan Traditional House
Accommodation
Looking for a true rural accommodation experience in Kriti? The Psilioritis range dominates the centre of the island and is the source for inspiration, strength and hardiness of the Cretan character.

The mountains are the backbone of Crete and a visit will open your heart to the real Crete. Giannis and Fani have created Enagron in the village of Axós, in Rethymnon prefecture near Mt Ida, also known as Psiloritis. The essence of nature surrounds them, in their own words:

"We are fortunate since we can experience the light of the day and the silence of the night again. We discover again all the elements that compose nature, as well as their purpose; the rain falls to nourish us, rather than drown us, the wind to caress us, rather than drift us away, filling us with nature's most extraordinary scents and aromas."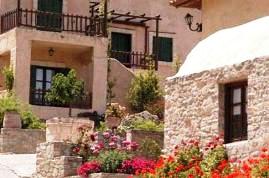 Located 44 kms from Iraklion, the village has played a part in the history of the island and there are many sights to visit, either on foot or by car, in the local area.
The Enagron Traditional House has been built of rock and rough washed as in the local style, with large wooden beam features. Terracotta and stone interiors with natural textures playing softly on your eye, these maisonettes and studios have been built in the traditional style complete with modern facilities.
On the property is a full Cretan taverna with meals prepared from fresh local produce, and an atmospheric kafenion, just like a village, where you can sit and discuss and talk and philosophise with friends.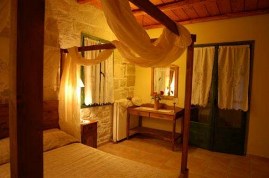 More information and rates are available at www.enagron.gr Congratulations to Giannis and Fani on their most beautiful creation.






---
New Topics
See our Crete for Travellers page for great detailed information for visiting Kriti, with flights, ferries, bus service, taxis and more. Also an Athens Stopover page for those coming from far away. What to see in the ancient capital, where to stay and hotel ideas.


---
Upcoming Topics
We are busy creating more pages for the website about Cretan musicians, Cretan history and rural accommodation in Crete. We are putting together more travellers information such as books and guides, pre-reading ideas and reviews.

We are busy writing about Cretans all around the world and their various associations and clubs. We will be happy to present a whole page on Cretan language and greetings, and more about Cretan musical instruments.


---


Something that you wanted to see but didn't find? Contact us to request it.

Join us in our love of this most beautiful island.

Evíva!